Quote:
Originally Posted by
Aura
Hey S1rrah, do I dare suggest....
....
the
Headamp Pico?
Keep in mind you'd probably want to pre-order now, considering that Justin from Headamp isn't going to get to the bottom of the list for months
.
In all seriousness though, maybe think about the iBasso D1 if you want to stick in the same range as the 0404. Apparently opamp-rolling does wonders for the DAC portion of it.
Or, you can just say "what the hell" and buy another 0404
.
Just some ideas....
To be honest, the "what the hell" option is a fairly strong contender ...
But my main purpose in waiting is so as to be able to invest in something with better input/recording capabilities; since I'm recording as much as listening (see the
OSAMT
link in my sig)
...
My first choice in external DAC/recording interfaces, once I get the funds in the next few months is the EMU 1616M, which has received rather high praises across the board in regards to it's built in XLR and phono preamps:
...
...
It will take some serious configuration time, including the use of hardware profiles under WinXP; it's not a simple plug and play USB type of application like the 0404 of the same family/product line and will require the use of hardware profiles to allow it to peaceably coexist with my X-fi (which I
must
retain for movies, etc.)
...
My second choice, and should it be available at the time of my future purchase, is the
ESI-U46 XL
, a rather intriguing USB DAC/recording interface that seems to be a direct competitor to the 1616M but which lacks the PCI card (and the phono preamp/ground) that hallmarks the 1616M.
Personally, I'm leaning towards the 1616M, configuration hassles and all, since I've a rather large collection of vinyl recordings that I'd like to copy to CD.
Here's the ESI joint I'm considering:
...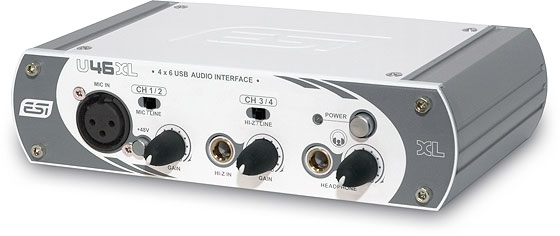 ...
Either way ...
Whatever I end up spending money on will be just as adroit at outputting sound as it is at inputting the same.
And that includes the very likely possibility that I might just end up with another EMU 0404 at the end of all this.
...
BTW ... did I mention that you all should check out the
OSAMT
link in my sig to better give props to those OCN'rs who have published music there?
yes ... I'm blatantly and shamelessly plugging ...
CPU
Motherboard
Graphics
RAM
6700K @ 4.7ghz
Asus Sabertooth Z170 Mark 1
Seahawk X 1080 ti
16gb Corsair Dominator Platinum @ 3200mhz
Hard Drive
Optical Drive
Cooling
OS
2TB Samsung Evo 950
LG Blu Ray / DVD
H115i
Win 7
Monitor
Keyboard
Power
Case
Acer XB270HU
Logitech G710
EVGA 1000w
Corsair 780T
Mouse
Mouse Pad
Audio
Logitech G502
My girlfriends butt.
Asus z170 onboard
View all
hide details
CPU
Motherboard
Graphics
RAM
6700K @ 4.7ghz
Asus Sabertooth Z170 Mark 1
Seahawk X 1080 ti
16gb Corsair Dominator Platinum @ 3200mhz
Hard Drive
Optical Drive
Cooling
OS
2TB Samsung Evo 950
LG Blu Ray / DVD
H115i
Win 7
Monitor
Keyboard
Power
Case
Acer XB270HU
Logitech G710
EVGA 1000w
Corsair 780T
Mouse
Mouse Pad
Audio
Logitech G502
My girlfriends butt.
Asus z170 onboard
View all
hide details