Completed one of the priorities on my to-do list over winter break last night - successfully switched my Little Dot II from 220-240V to 110V so I could actually use it here in the States.
My friend's father is an electrical engineer, so he provided all of the help necessary. Essentially, and pardon me if this does not make sense since circuits are not my forte in the slightest, the four wires that comprise the power windings for the transformer were placed in a serial layout. All we needed to do was place them in parallel, which simply involved stripping the two wires leading to the power plug termination on the back of the amp and soldering them to the other two wires (having them correctly correspond to each other of course). This successfully stepped the amp down to 110V, which we confirmed through a few tests with a voltmeter. I didn't understand all of the intimate details of it, but my friend's dad told me that it is perfectly fine for normal use now. It was pretty fun to use his external transformer to slowly run up the voltage through the amp when we were still trying to figure out exactly what needed to be done to switch it.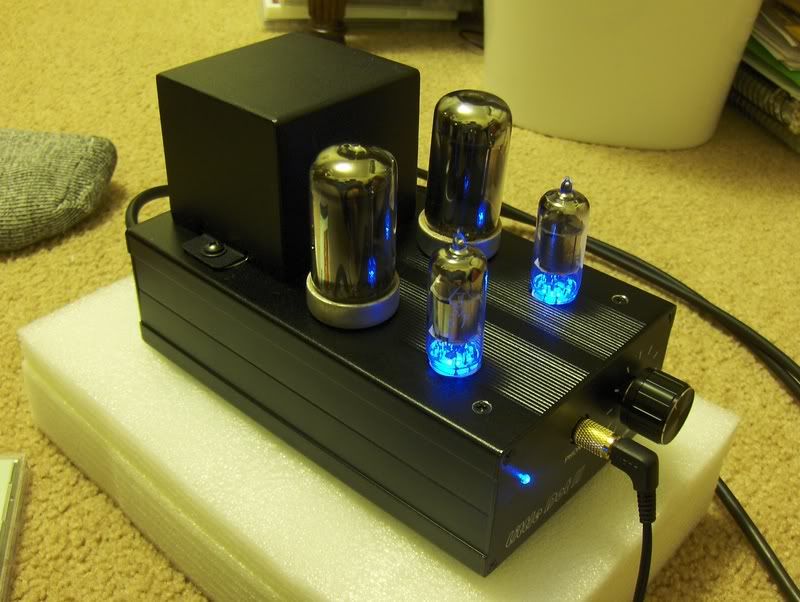 It is alive
. Sounds pretty good and will see a lot of use at school, as I only intend to bring this amp, my cdp, and the HD580 with me for the semester. The rest of the rig will stay safely at home, away from the chaos that is life in a dorm.
CPU
Motherboard
Graphics
RAM
C2D e6600 (3.3ghz)
Asus P5Q (P45)
eVGA 8800GTS 320mb (670/1000)
2x1GB G.Skill HK (900mhz @ 5-5-5-15)
Hard Drive
Optical Drive
OS
Monitor
WD Black 640GB (OS) / WD AAKS 500GB + WD JS 250GB
Sony DVD-RW
Vista Ultimate 32bit
Dell E207WFP (1680 x 1050)
Keyboard
Power
Case
Mouse
Basic Dell ;>
Corsair HX520w Modular
Modded CM Centurion 590
Logitech G5
Mouse Pad
XPS pad
View all
hide details
CPU
Motherboard
Graphics
RAM
C2D e6600 (3.3ghz)
Asus P5Q (P45)
eVGA 8800GTS 320mb (670/1000)
2x1GB G.Skill HK (900mhz @ 5-5-5-15)
Hard Drive
Optical Drive
OS
Monitor
WD Black 640GB (OS) / WD AAKS 500GB + WD JS 250GB
Sony DVD-RW
Vista Ultimate 32bit
Dell E207WFP (1680 x 1050)
Keyboard
Power
Case
Mouse
Basic Dell ;>
Corsair HX520w Modular
Modded CM Centurion 590
Logitech G5
Mouse Pad
XPS pad
View all
hide details