Well I was wondering if running tighter timings on RAM is better than running higher speeds with more lose timings. So I ran a small test to see what is better. For the test I am using Corsair XMS 800MHz 2x2Gb Sticks. I am also running an e6750 OCed to 3.45Ghz. I will post more info such as games and Benchmarks as soon as I get time and I am not sure if the RAM has more OC potential but I will do more tweaking when I get home and update.
(Ignore the Memory timings in the pictures as Everest must read them wrong)
It does look like the C2D do benefit more from speed than timings. Like I said I am going to try and push the RAM a bit further later tonight.
STOCK - 5-5-5-18 2T 800MHZ
4-4-4-12 1T 800Mhz
5-5-5-15 2T 950MHz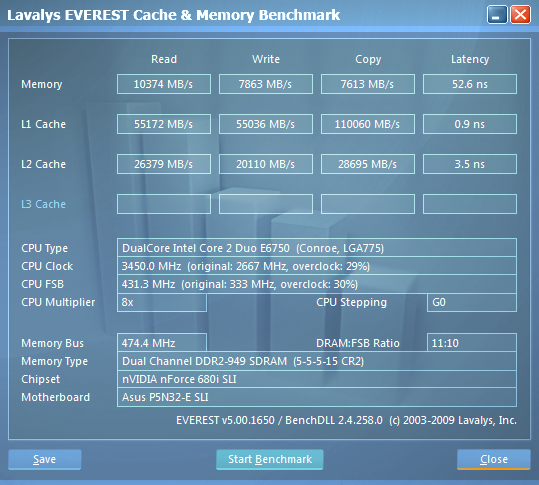 CPU
Motherboard
Graphics
RAM
Intel® i3 3.06GHz
Apple Logic Board
ATI® 4670
4GB DDR3 1333
Hard Drive
Optical Drive
OS
Monitor
Seagate Barracuda 500Gb 7200RPM
8x Superdrive
Mac OS X 10.6.4 Snow Leopard
21.5" LED Backlit 1920x1080
Case
Mouse
Aluminum Unibody
Magic Mouse
View all
hide details
CPU
Motherboard
Graphics
RAM
Intel® i3 3.06GHz
Apple Logic Board
ATI® 4670
4GB DDR3 1333
Hard Drive
Optical Drive
OS
Monitor
Seagate Barracuda 500Gb 7200RPM
8x Superdrive
Mac OS X 10.6.4 Snow Leopard
21.5" LED Backlit 1920x1080
Case
Mouse
Aluminum Unibody
Magic Mouse
View all
hide details