Quote:
Originally Posted by
Kaneda13
Treacherous Intellect: Working out great for me. i'm idling about 30*C with it. i like the subtle blue glow from the screen too, haven't decided if i'll turn on the pulse or just leave it on all the time once i get the new glass in.
well the blue always looks great and when u add a new widow it really pops!
and when u add some fans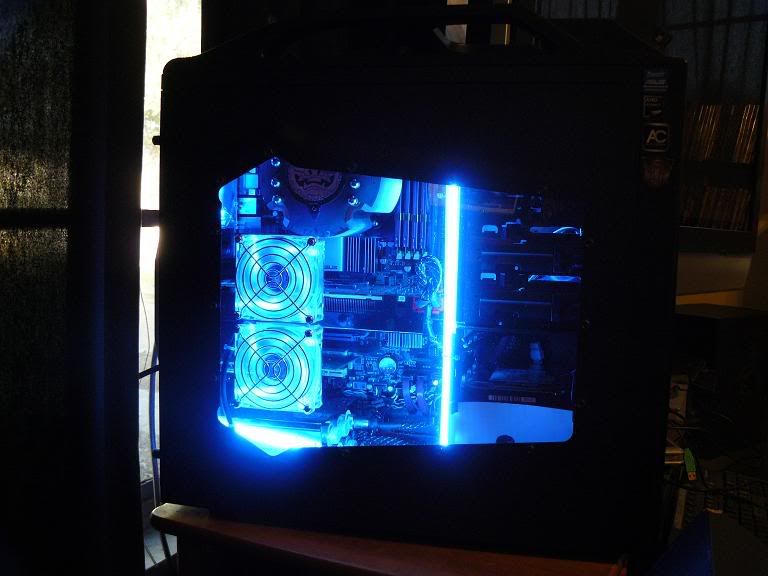 CPU
Motherboard
Graphics
RAM
AMD Phenom II X4 955 BE @3.6 Yeah DKev Im comming!
Asus M4A78-E Chipset AMD 790GX
Palit GeForce GTX 260 896MB 448-bit GDDR3
A-DATA 2GB 240-Pin DDR2 SDRAM DDR2 800 (X4)
Hard Drive
OS
Monitor
Power
Western Digital Caviar Black WD1001FALS 1TB
Vista Home Premium SP2
Maxent 42HPM20 (42" Plazma Monitor)
KINGWIN Mach 1 ABT-600MA1S 600W SLI Certified
Case
Cooler Master Storm Scout
View all
hide details
CPU
Motherboard
Graphics
RAM
AMD Phenom II X4 955 BE @3.6 Yeah DKev Im comming!
Asus M4A78-E Chipset AMD 790GX
Palit GeForce GTX 260 896MB 448-bit GDDR3
A-DATA 2GB 240-Pin DDR2 SDRAM DDR2 800 (X4)
Hard Drive
OS
Monitor
Power
Western Digital Caviar Black WD1001FALS 1TB
Vista Home Premium SP2
Maxent 42HPM20 (42" Plazma Monitor)
KINGWIN Mach 1 ABT-600MA1S 600W SLI Certified
Case
Cooler Master Storm Scout
View all
hide details