Hi All
Been planning a few mods for my next big update next year (bulldozer woop woop
) and I think I am going to down the water-cooled route.
Now I am a complete noob when it comes to water cooling but looking at a few peoples liquid builds on here I see it is rather tricky to fit a decent setup within the scout. I had a few hours free today to try and design a solution that will enable me to fit 2x360 rads and a possible 120 rad on the exhaust of the case if it is needed.
My plan is to build a second section that is riveted and bonded to the bottom of the case that will allow the fitment of the 2X360 rads. I would then route the pipes through the floor of the case near the hard drive mounts and then make a new custom PSU cover to still cover up the wires and general uglyness.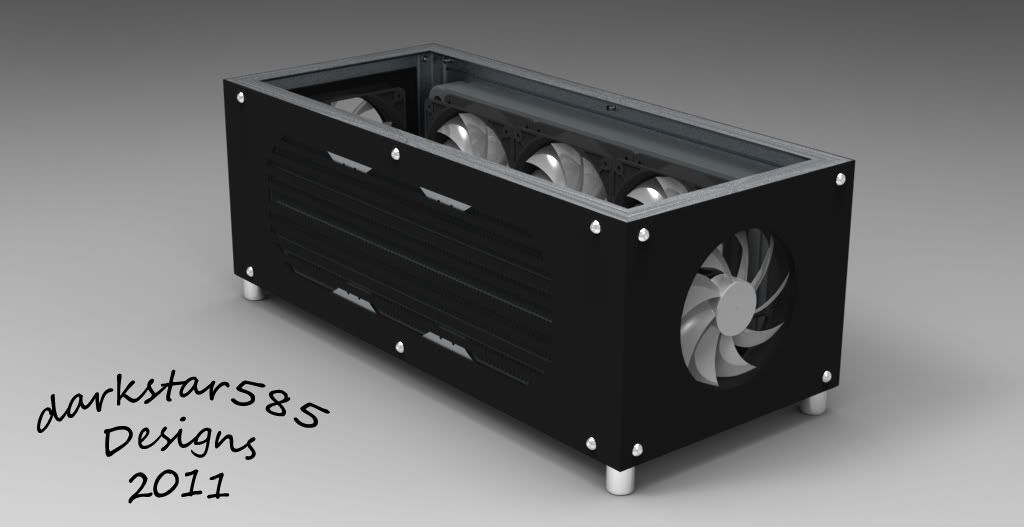 the frame of the addition will consist of 20x20x3mm steel angled iron that I will weld into this structure below:-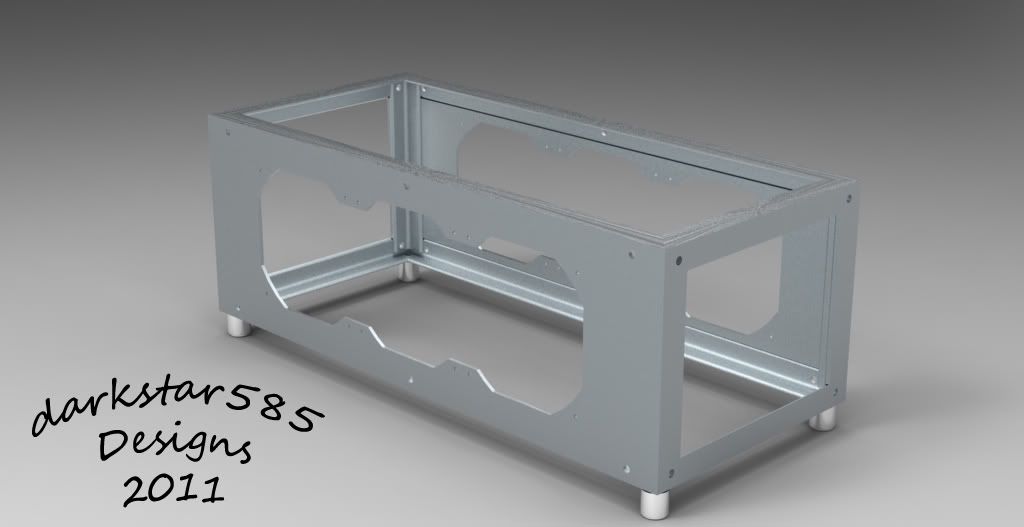 I will also weld two plates the the sides on the structure to allow for the radiators to be mounted on.
the radiators will both have 3 fans set out in push arrangement and the frame will also have 4 fans pulling air into the new box.
As you can see from the image above I have left some space at the front of the box to enable the fitment of the pump/pumps but if the temperature is not as brilliant as I hoped it would be there would still be the option of an additional fan.
expanded view of the set up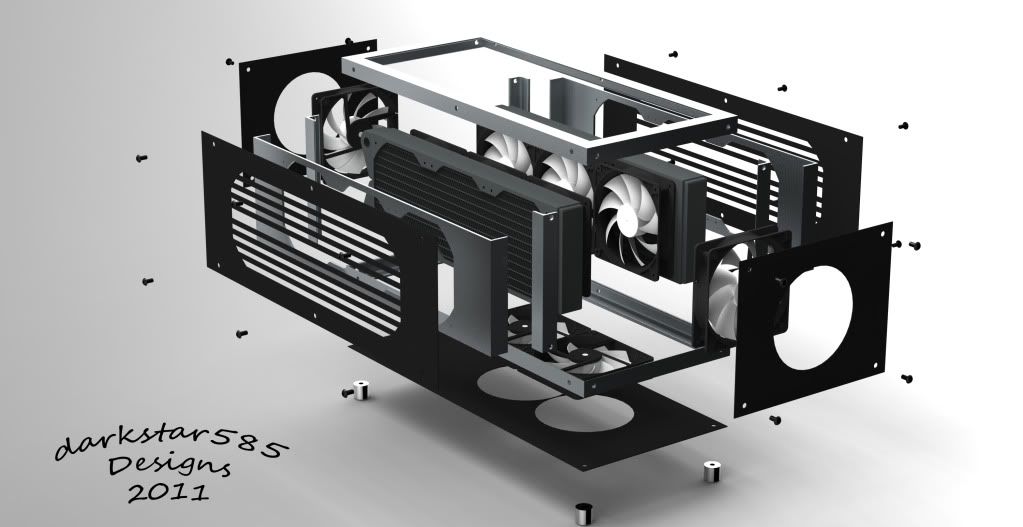 sorry the pictures are not very big would you believe it has taken 6 hours just to render these sizes! (I need a render farm or bulldozer badly)
my question to all you liquid coolers out there will this set up be enough as I will only run 3 fans per rad?
Also what would be the best way to plumb the rads into the system? i.e should I run them parallel with two splitters one for the hot and one for cold on the rads?
Or
Should I run them in series i.e into one rad then into the other and out again?
I hope you guys like my design and feel free to comment on any of it
Edited by darkstar585 - 9/14/11 at 3:25pm
CPU
Motherboard
Graphics
RAM
i7 2670QM
Bios unlocked
NVIDIA GT540M (OC GT55M Speed)
8gb 1333MHz
Hard Drive
Hard Drive
Optical Drive
Cooling
WD 750gb
Samsung 840 pro SSD
Removed for SSD!
what cooling? burning
OS
Monitor
Keyboard
Mouse
Windows 7 x64 home premium
15.6" HD LED
clinky stylee
touchpad
View all
hide details
CPU
Motherboard
Graphics
RAM
i7 2670QM
Bios unlocked
NVIDIA GT540M (OC GT55M Speed)
8gb 1333MHz
Hard Drive
Hard Drive
Optical Drive
Cooling
WD 750gb
Samsung 840 pro SSD
Removed for SSD!
what cooling? burning
OS
Monitor
Keyboard
Mouse
Windows 7 x64 home premium
15.6" HD LED
clinky stylee
touchpad
View all
hide details