Quote:
Originally Posted by
fletch_r21;15226939
Hi All!
Have never posted on here before, and have nearly had my Scout a year! So thought it is about time I should. Have not done much to it, until today where I actually managed to start some mods. Got a lot more planned for it, which includes new Smoked Perspex window without the fan grills, and a 90 degree bended black acrylic PSU Cover. Today I have used a white Carbon Fibre 'Style' wrap to cover both side panels. After seeing the results I am going to order some more to cover a few more parts while leaving some parts of the black showing through.
Here are some photos!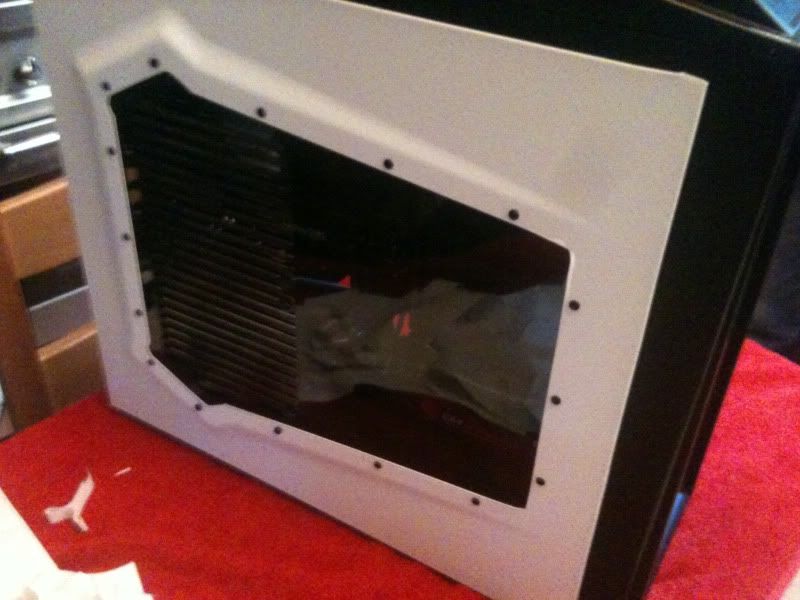 System Specs:
i5 2300 @ Stock Speed
16GB 1333Mhz Ripjaw Memory
Nvidia GTX 465
Samsung Spinpoint 1TB HD
Hyper-X 530 Watt Modular PSU
3 x Xigmatek 120mm Fans
I have seen some amazing scouts on here! Keep up the good work! I hope I can fit in with this!
Thanks!
Rich
Fletch_r21
Fletch.. you got to finish that up.. that White Carbon fiber is off the Chain dude.
CPU
Motherboard
Graphics
RAM
Core i7 3820
ASRock X79 Extreme 9
Sapphire 5770 X 2 In Crossfire
16GB Corsair Vengence
Hard Drive
Hard Drive
Hard Drive
Hard Drive
Plextor SSD 128 GB
1 TB WD Black
1.5 tb WD Black
2 tb Seagate Green
Hard Drive
Optical Drive
Cooling
Cooling
WD RAPTOR 300
Plextor PX850SA
Corsair H-100 Water cooling on processor
Factory Cooling for both 5770 Graphic Cards
OS
Monitor
Monitor
Keyboard
WINDOWS 7 Ultimate 64
ViewSonic VX2235wm
Samsung 920 BW
APC With Cherry Switches.
Power
Case
Mouse
Mouse Pad
Corair HX-1000
CM Storm Trooper Enigma Cobra Edition
Microsoft SideWinder Gaming Mouse
ASUS Black Leather
Audio
Creative Core Recon 3Di
View all
hide details
CPU
Motherboard
Graphics
RAM
Core i7 3820
ASRock X79 Extreme 9
Sapphire 5770 X 2 In Crossfire
16GB Corsair Vengence
Hard Drive
Hard Drive
Hard Drive
Hard Drive
Plextor SSD 128 GB
1 TB WD Black
1.5 tb WD Black
2 tb Seagate Green
Hard Drive
Optical Drive
Cooling
Cooling
WD RAPTOR 300
Plextor PX850SA
Corsair H-100 Water cooling on processor
Factory Cooling for both 5770 Graphic Cards
OS
Monitor
Monitor
Keyboard
WINDOWS 7 Ultimate 64
ViewSonic VX2235wm
Samsung 920 BW
APC With Cherry Switches.
Power
Case
Mouse
Mouse Pad
Corair HX-1000
CM Storm Trooper Enigma Cobra Edition
Microsoft SideWinder Gaming Mouse
ASUS Black Leather
Audio
Creative Core Recon 3Di
View all
hide details