Quote:
Originally Posted by
Danny Boy
was thinking of getting 2 of those and then a fan controller....is all the fans that come with the scout led's or is the top fan not led?
Hey Danny, on (this forum thread) page 615, I responded to your question regarding the included fans on the CM Scout.
As for what to buy? Hmm $55.00 Amazon credit? Are your optical drives black? If not, may want to pick up a black one to match the outside of the Scout. Just an idea off the top of my head.
On an un-related note, I thought I'd share this with the Scouts: (Sorry, this is a bit off topic)
Quote:
Source: CNN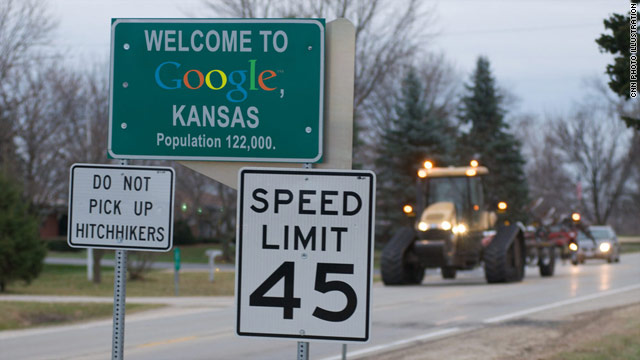 Topeka 'renames' itself 'Google, Kansas'

In a formal proclamation Monday, Bunten announced his city will be known as "Google" -- Google, Kansas.
"It's just fun. We're having a good time of it," he said of the unofficial name change, which will last through the end of March. "There's a lot of good things that are going on in our city."
CPU
Motherboard
Graphics
RAM
Phenom II X4 965 BE 125W
GIGABYTE 890GX
XFX 5770 X2 XFIRE
Mushkin Blackline DDR3 1333
Hard Drive
Optical Drive
OS
Monitor
WD 1TB Caviar Black
LG 24X DVD-RW
Win7 Pro x64
Acer X203
Keyboard
Power
Case
Mouse
Saitech
Corsair 750HX
CM Storm Scout
Logitech G9
Mouse Pad
OCZ
View all
hide details
CPU
Motherboard
Graphics
RAM
Phenom II X4 965 BE 125W
GIGABYTE 890GX
XFX 5770 X2 XFIRE
Mushkin Blackline DDR3 1333
Hard Drive
Optical Drive
OS
Monitor
WD 1TB Caviar Black
LG 24X DVD-RW
Win7 Pro x64
Acer X203
Keyboard
Power
Case
Mouse
Saitech
Corsair 750HX
CM Storm Scout
Logitech G9
Mouse Pad
OCZ
View all
hide details