For another Look At Sahar Khadjenoury
I will Share with you
why Cooler Master needed her expertise
for the Excalibur Fan Release..

See She is really an overclocker... She is just
in Disguise.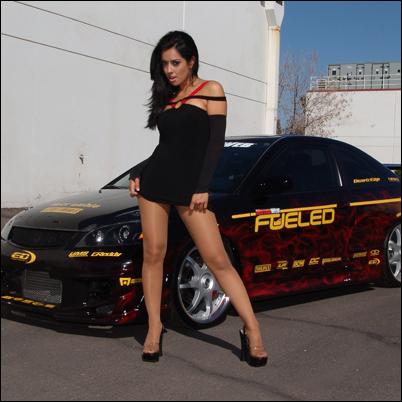 With Assets like these No Wonder she was Chosen
As the ExCaLibUr Release...
This is seXY to us CM...




Sorry CM.. We are Hardware Geeks and while we appreciate a beautiful woman we want her to be able to know how to overclock and watercool and name off at least 5 of the latest Processors as well as, give her opinion on her favorite Cooler Master Case. Now that would be Capturing your Target audience.
Edited by Enigma8750 - 3/22/10 at 8:40pm
CPU
Motherboard
Graphics
RAM
Phenom II 940 BE
ASUS M3A32-MVP DELUXE Wifi
Sapphire 5770x2 Crossfire
4 Gb. of G.Skill 5-5-5-15 1066
Hard Drive
Optical Drive
OS
Monitor
SSD 60g OS. 500GB + 300 GB VelociRaptor 10000 rpm
PLEXTOR PX-850SA
Windows 7 Professional
SAMSUNG 920 BW
Keyboard
Power
Case
Mouse
Saitek Cyborg
HX1000 Watt Corsair modular
CM STACKER ENIGMA EDITION
Microsoft SideWinder Gaming Mouse
Mouse Pad
Black Leather with grey stitching
View all
hide details
CPU
Motherboard
Graphics
RAM
Phenom II 940 BE
ASUS M3A32-MVP DELUXE Wifi
Sapphire 5770x2 Crossfire
4 Gb. of G.Skill 5-5-5-15 1066
Hard Drive
Optical Drive
OS
Monitor
SSD 60g OS. 500GB + 300 GB VelociRaptor 10000 rpm
PLEXTOR PX-850SA
Windows 7 Professional
SAMSUNG 920 BW
Keyboard
Power
Case
Mouse
Saitek Cyborg
HX1000 Watt Corsair modular
CM STACKER ENIGMA EDITION
Microsoft SideWinder Gaming Mouse
Mouse Pad
Black Leather with grey stitching
View all
hide details