Ok so right now I have a 5 year old Dell XPS M140, which is basically garbage to compared towhat I just ordered off Newegg 2 days ago.
Its coming in 2 packages, one with the case and then the rest of it, both arriving on Tuesday the 23rd.
I simply cannot contain my excitement, and need Tuesday... NOW PLEASE!!!
Current Location:
6/18 3:47pm - Baldwin Park, CA
6/18 10:03pm - Ontario, CA
6/20 5:00pm - Dallas/Ft. Worth, TX
6/21 8:41pm - Philadelphia, PA
6/23 4:12am - Richmond, VA
6/23 5:44am - Out for Delivery
Now, I did get some help from the Afterdawn fellas, so let me know if they led me astray:
And now for PICS!
Before:
My Set Up
A Closer Look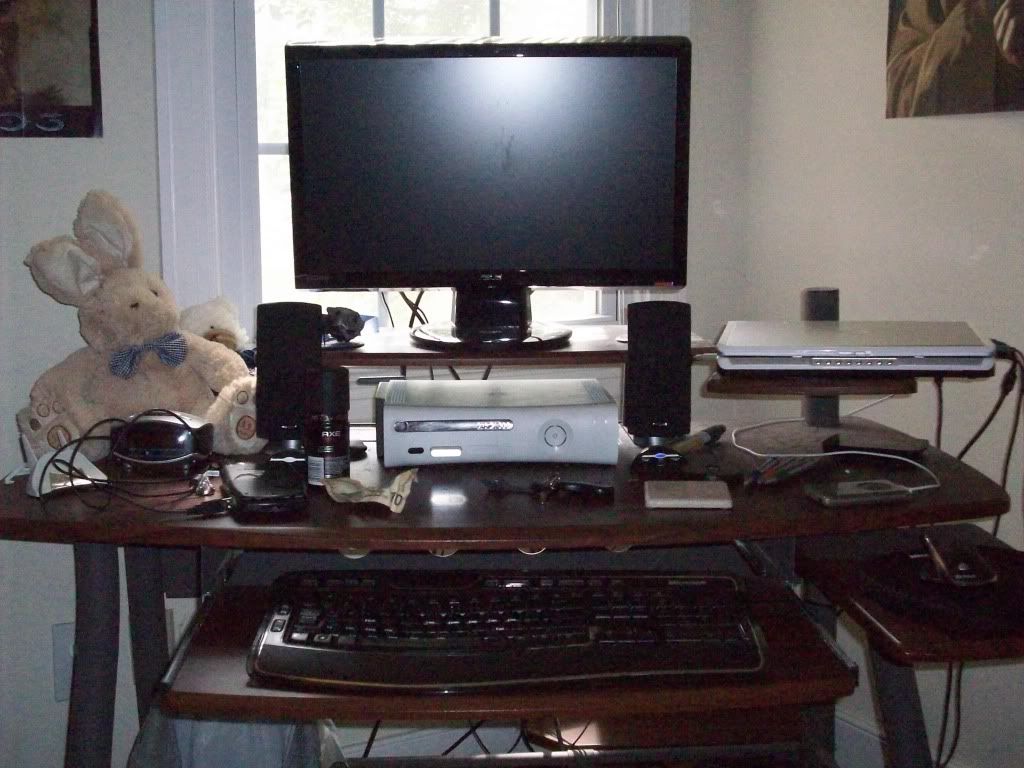 You know what that is...
After:
To be continued...
Edited by bigmac375 - 6/23/09 at 7:05am
CPU
Motherboard
Graphics
RAM
Core 2 Quad Q8400
GIGABYTE GA-EP45-UD3R
XFX-YDFC Radeon HD 4850 512MB
G.SKILL 4GB (2 x 2GB) DDR2 1066
Hard Drive
Optical Drive
OS
Monitor
WD Caviar SE16 WD5000AAKS 500GB 7200RPM
LG DVD±RW Black SATA
Windows 7 Ultimate 64-bit
ASUS VH222H Black 21.5" 5ms 1080p
Keyboard
Power
Case
Mouse
Microsoft Wireless Laser Keyboard 7000
CORSAIR CMPSU-400CX 400W ATX12V V2.2
NZXT Apollo Black SECC Steel Chassis ATX Mid Tower
Logitech G9
Mouse Pad
Microsoft Ergonomic Mousepad Black
View all
hide details
CPU
Motherboard
Graphics
RAM
Core 2 Quad Q8400
GIGABYTE GA-EP45-UD3R
XFX-YDFC Radeon HD 4850 512MB
G.SKILL 4GB (2 x 2GB) DDR2 1066
Hard Drive
Optical Drive
OS
Monitor
WD Caviar SE16 WD5000AAKS 500GB 7200RPM
LG DVD±RW Black SATA
Windows 7 Ultimate 64-bit
ASUS VH222H Black 21.5" 5ms 1080p
Keyboard
Power
Case
Mouse
Microsoft Wireless Laser Keyboard 7000
CORSAIR CMPSU-400CX 400W ATX12V V2.2
NZXT Apollo Black SECC Steel Chassis ATX Mid Tower
Logitech G9
Mouse Pad
Microsoft Ergonomic Mousepad Black
View all
hide details