Quote:
Originally Posted by
moorhen2
I have seen that zallman brush on TIM,and used it,i was not impressed to say the least,they make some good HSF's,but in my opinion there TIM leaves a lot to be desired,but each to there own and all that.I would personaly recomend a better make of TIM,ie AS5,MX-3,OCZ freeze and the like,youl get far better results.

As for your 12v rail,i think you should look into it,as your right,should be just above the 12v mark,well mine is anyway,is your PSU single 12v rail,or multi,???
The reviews indicated people were actually getting lower temperatures than AS5. At this point though, I find everyone has different results with the same things. It's pretty annoying.
It's a single volt rail. Corsair TX850W with 70 amps on a single +12. The voltage doesn't appear to change at all- a good thing, but I really have no way of telling if the 11.8 is accurate or not since I don't have any devices with which to measure the real amount. Using Everest/Speed Fan/HW Monitor to measure: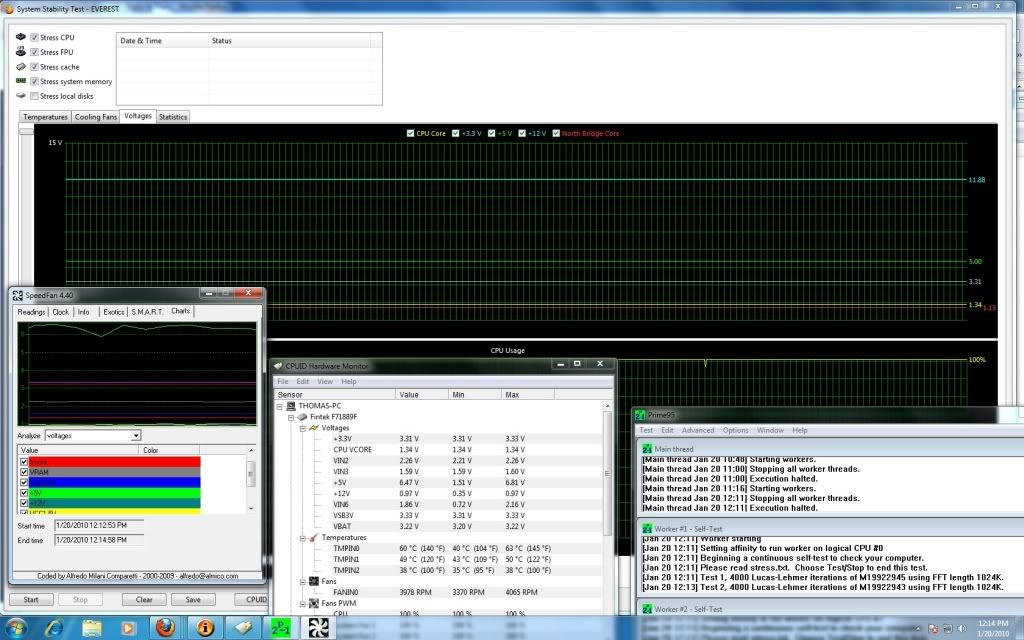 Again, I might just be paranoid here since I don't have any stability issues. I also know that software is unable to monitor voltages accurately at the moment. Should I be concerned? Are there any other programs I can cross check Everest's values with?
Thanks again.
[edit] I can't seem to find a listing for the 12v rail in the bios. Am I just blind, or is it actually not present? I found an amperage listing for ICore, ICore_NB, and I12v, all of which switched back and forth between two close numbers. The only voltages I found were CPU VCore, NBVcore, 3.3, and 5v?
Edited by Spawnblade - 1/20/10 at 11:47am
CPU
Motherboard
Graphics
RAM
AMD Phenom II x4 955 BE C2
MSI 790fx-GD70
EVGA Geforce 8800 GT Superclocked
G. Skill Ripjaw Series 4 GB DDR3 (1600)
Hard Drive
Optical Drive
OS
Monitor
Seagate ST31500341AS / WDC WD5000AAKS-00YGA0
Lite-On DVDRW LH-20A1S ATA Device
Microsoft Windows 7 Ultimate
EnVision G22LWk 22" LCD
Keyboard
Power
Case
Mouse
Logitech G-11
CORSAIR|CMPSU-850TX 850W RT
Antec 1200
Logitech G-5
View all
hide details
CPU
Motherboard
Graphics
RAM
AMD Phenom II x4 955 BE C2
MSI 790fx-GD70
EVGA Geforce 8800 GT Superclocked
G. Skill Ripjaw Series 4 GB DDR3 (1600)
Hard Drive
Optical Drive
OS
Monitor
Seagate ST31500341AS / WDC WD5000AAKS-00YGA0
Lite-On DVDRW LH-20A1S ATA Device
Microsoft Windows 7 Ultimate
EnVision G22LWk 22" LCD
Keyboard
Power
Case
Mouse
Logitech G-11
CORSAIR|CMPSU-850TX 850W RT
Antec 1200
Logitech G-5
View all
hide details