I have a
Kingston HyperX
memory
Here is what the box says:
KHX8500AD2K2/4GR
4GB Memory Kit
4GB PC2-8500 CL7 240-Pin DIMM Kit (2 pcs.)
Assembled in China

081814
bought in from fry's electronics:
it says also from the Fry's sticker:
4GB PC8500 Dual Hyper X
(2x2 GB) Speed 1066Mhz
lifetime warranty

$ 129.99
I cant seem to find my memory (KHX8500AD2K2/4GR) in kingston's website.
I cant also find out if my memory sticks are Single Channel or Dual Channel
The closest i could find were:
for
single channel
:
KHX8500D2/2G
2GB DDR2 1066MHz Non-ECC CL5
5-5-5-152.25V
*(i probably have 2 pcs. of these)
for
dual channel
:
KHX8500D2K2/4G
4GB DDR2 1066MHz Non-ECC CL5 (kit of 2 – 2GB)
5-5-5-152.2V
*(or i probably have 1 set of this)
im guessing that what i have is the dual channel kits but i cant be sure since it is said in the box that i have purchased
that the kit is named
KHX8500AD2K2/4GR
not
KHX8500D2K2/4G
.
The main problem i am having is that i can't seem to run these memories to their specified speed of
1066Mhz. It is downclocked to 800Mhz only.
I have tried going to the
BIOS>Cell Menu>
?????????????????????? [to be edited]
but when i save that setting i could not boot to windows anymore. So, i had to bring it back the ratio to
1:2
People have suggested around the net for me to adjust the
voltages
of the memory but i am not able to find the adjustable settings for it.
all i have in my BIOS is a
"read only"
information.
Here is what the K9a2 Platinum (v1) manual says as well (from BIOS>Cell Menu> ):
"CPU Voltage / Momory Voltage / NB Voltage / Hypertransport Voltage
These items dispaly the power status of CPU, Memory, FSB and chipset. Read-only."

where am i supposed to change the voltage settings then?
i read somewhere that i should calculate something like this and this would give me info why my memory is downclocked to
800 Mhz
.
Given:
CPU 2600Mhz
Memory 533 (1066 effective)
Solution:
2600/533 = 4.88~
then choose from either 4 or 5 since i need a whole number. They say that i should choose 5.
2600/5 = 520 (x2 =
1040Mhz
)
I wish i was even near 1000Mhz!
in
CPU-Z
, here's my memory information: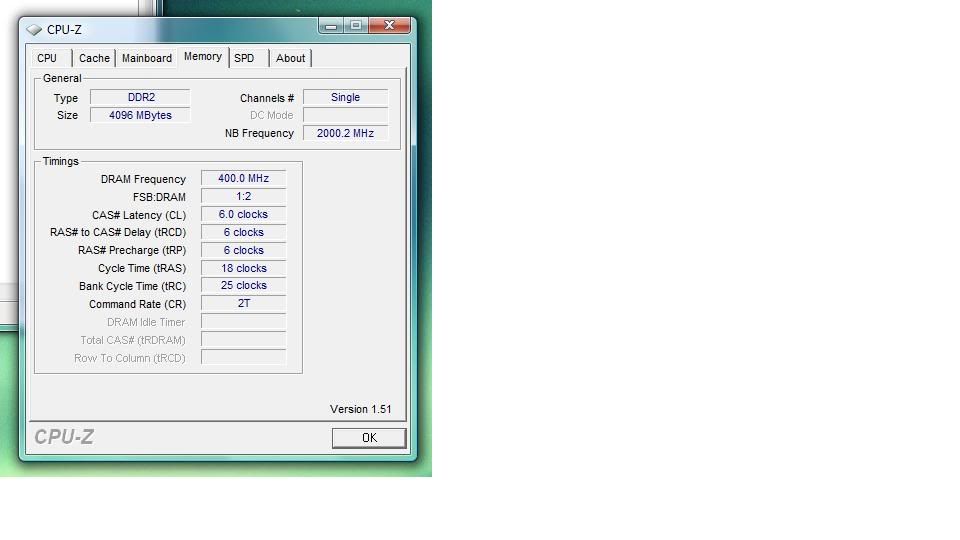 As for changing the timings i have yet to look again at the BIOS if it would let me even change the
latencies or timings
as of now the latencies and timings are set to auto as well at the voltage.
will be updating in a few mins
I am really sorry if i am posting this as "not one of those threads again".. but i cant really find the answers.. the closest was with this thread but the opener was shunned and said to read another posted topic that doesnt really seem to give good answers for the thread starter "lexie"
http://forum-en.msi.com/index.php?topic=128078.0
well, this person was even lucky to run at 1066Mhz and was able to test it.
System Information:
Phenom 9950BE
K9a2 Platinum V1 (790FX + SB600)
4870 512mb
650 watts
Windows Vista ultimate 64bit
CPU
Motherboard
Graphics
RAM
i5 2500K 4.3Ghz @~1.344 V
ASUS P8Z68 V PRO
Sapphire HD5870 2GB Eyefinity 6
G.Skill Sniper 1866 Mhz 9-10-9-28@1T
Hard Drive
Optical Drive
OS
Monitor
Samsung F3 1TB, Maxtor 500GB, SG 1.5 TB
LG Lightscribe
Windows 7 64bit
Samsung 2333HD (TN Panel)
Keyboard
Power
Case
Mouse
generic wireless keyboard from Logitech
Antec TruePower New 650 watts
NZXT Gamma
dell optical
Mouse Pad
simple
View all
hide details
CPU
Motherboard
Graphics
RAM
i5 2500K 4.3Ghz @~1.344 V
ASUS P8Z68 V PRO
Sapphire HD5870 2GB Eyefinity 6
G.Skill Sniper 1866 Mhz 9-10-9-28@1T
Hard Drive
Optical Drive
OS
Monitor
Samsung F3 1TB, Maxtor 500GB, SG 1.5 TB
LG Lightscribe
Windows 7 64bit
Samsung 2333HD (TN Panel)
Keyboard
Power
Case
Mouse
generic wireless keyboard from Logitech
Antec TruePower New 650 watts
NZXT Gamma
dell optical
Mouse Pad
simple
View all
hide details