Ok so I've been needing to make this for the bong lovers thread for a couple weeks. Here we go!!!
Benefits of a bong
The great part about bongs is simply you can get below ambient temps with no radiators and only one high flow fan which makes your case pretty much completely silent. And it also creates a lot of room inside the case. Can be done for like 30-60$ depending on skill and what you have laying around. (+ creativity) Bongs add a max of 1% humidity to your room. You will never feel that 1%.
Materials:
- (2) 2ft peices of 4in pvc 11$
- (1) 4 in y pipe 9$
- 38 quart cooler 18$ (how big you want your res is up to you)
- Full plastic shower head 2$
- Couple brass or copper barbs to
adapt shower head 3-9$?
- Ultra Black silicone 6$
- Couple feet of extra tubing varies (probably have some in your closet)
- High static fan 3-12$ (free if you have one laying around)
- Fan guard/filter (optional)
- Window screen material (optional) (plastic)
http://www.homedepot.com/webapp/wcs/...3+90401+500967
Tools
- Drill (and bits)
- Permanent marker
- scisors
- saw (or dremel)
Obviously you will need a pump with atleast 5ft of head but i would suggest more. I use a mcp355 which has 20ft of head.
I chose a 38court cooler because its big and sturdy I don't have to worry about my bong falling over and i can hold more water which allows me to refill less often. Due to this being an evaporative cooling system water loss is a side effect.
Ok so Take a peice of pvc and place it on your cooler lid and mark where you want it to go. Drill holes around the circle so you can cut it accurately on the inside. Cut it out and place on cooler, then slide the pvc down until it hits the bottom. Now you can mark how much you want to stick up to mount your elbow. (should be like 2 inces above the top) Notch the bottom of pvc or drill holes for water to go through. Silicone that bad boy up and this is what you should have.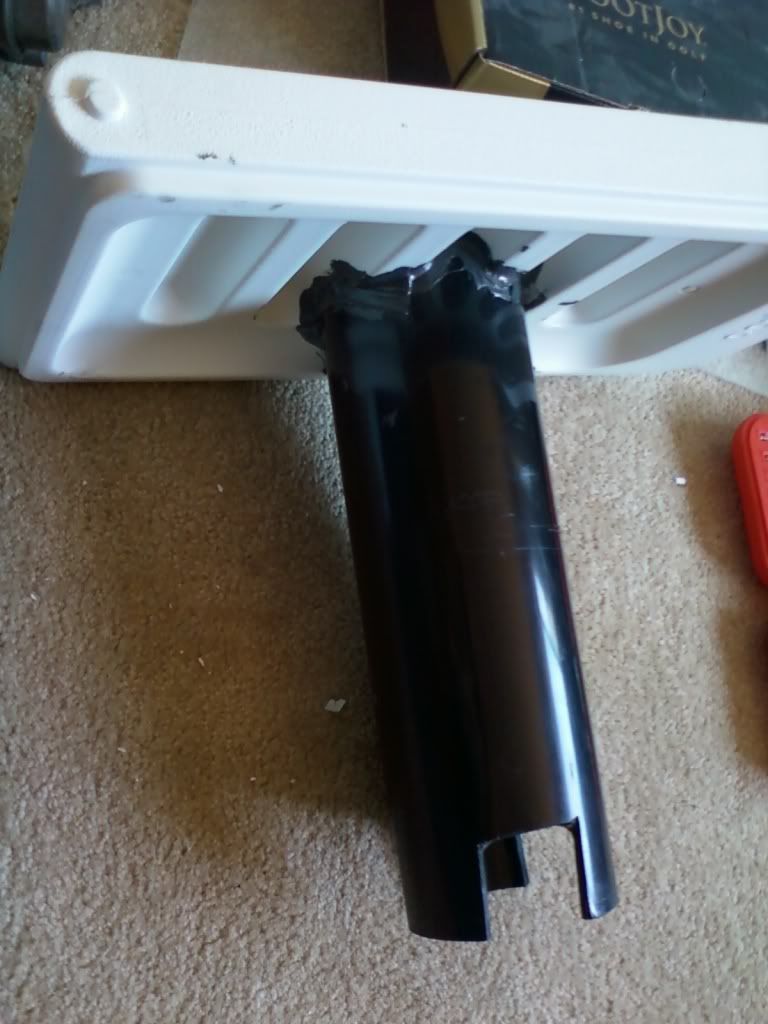 Now some of you might choose to run a submerged pump, I chose to run a mcp355 externally so I drilled a hole through the side as low as possible 1 size smaller than the tube.
Refrence: If you have 1/2 od tube drill 7/16
5/8 OD drill 9/16
This will allow the tube to slide in very tight but not squish it.
I chose to cut 2 small acrylic squares and drill the same size hole and put silicone in between acrylic and cooler for a home made gasket. Sand the surface where you will apply silicone.
Ok now for your shower head. Most shower heads are restricted internally. Pull it apart it will be pretty obvious. Find a drill bit that matches the internal diameter of your barbs and drill it out to that size. Thats done.
Now I used a fan guard to mount my showerhead. Simply drilled a hole in the top and put my fittings through it and tightened the fittings. Bent down the screw parts to sit over the edges.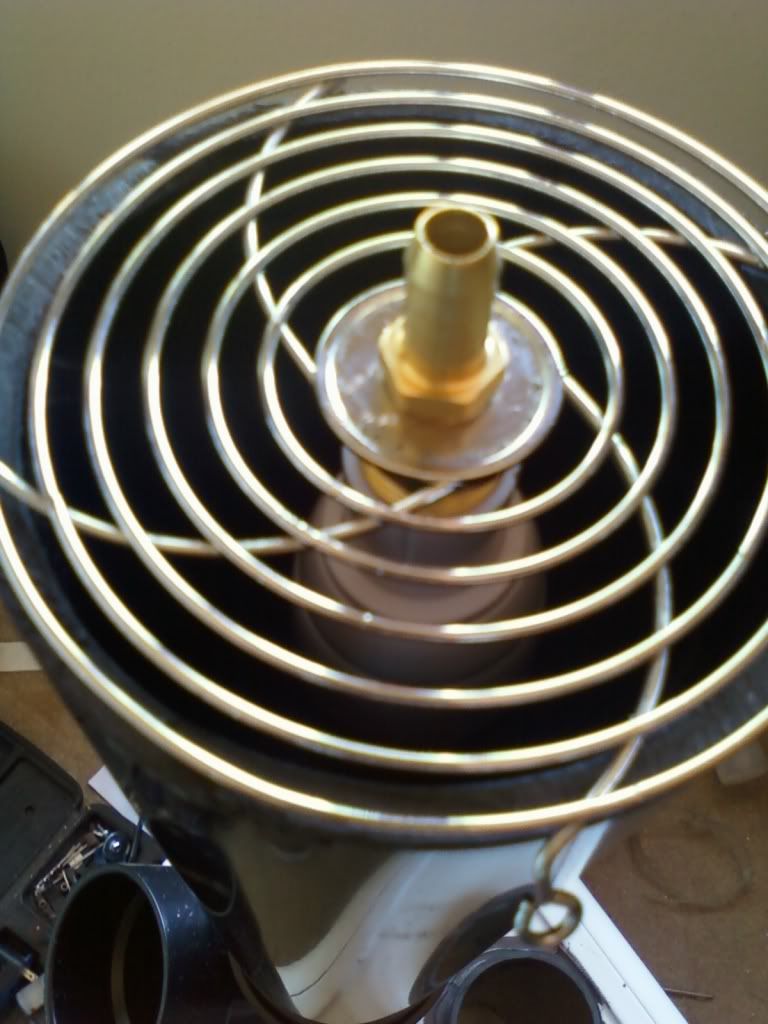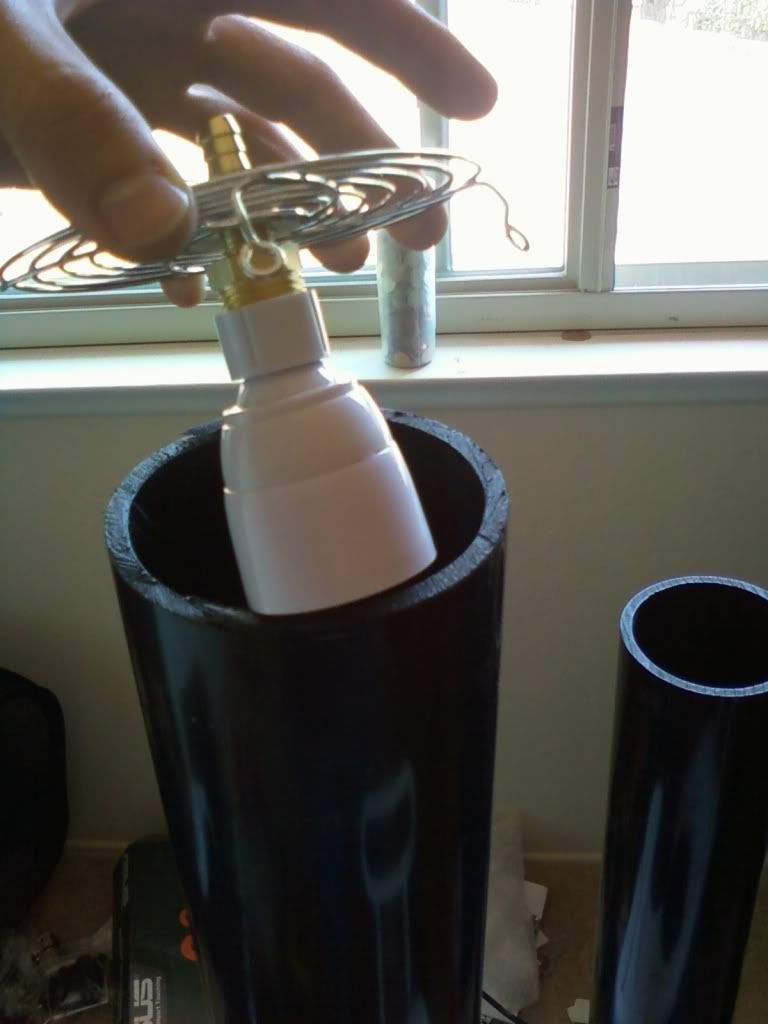 Now pretty much Clean everything out and assemble the y fitting on the base and the 2 ft piece on top of that. I used zipties to mount my fan and to hold the shower head mount.
DO NOT PVC GLUE ANY ITEMS
I run 5 gallons of water in my cooler. How much you want to use is up to you and the size of your resivor.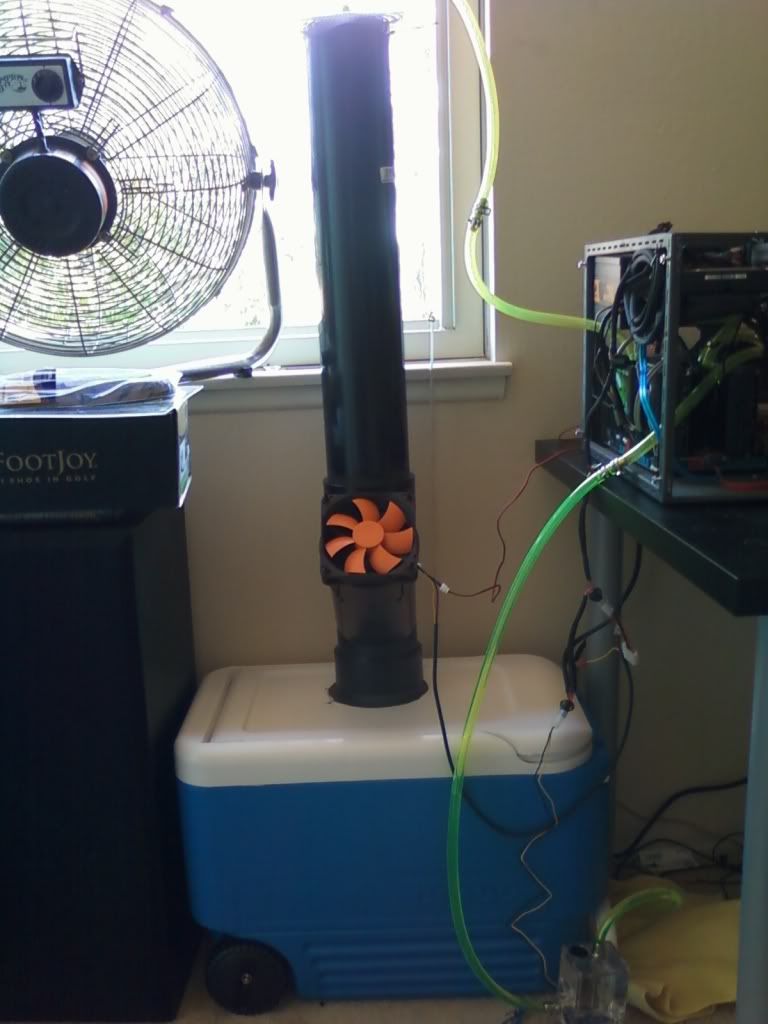 Turn that beast on and see how it runs.
Now here are some optional mods you can do to make your bong quieter and increase performance. (this is where screen comes in handy)
Take note of where your shower head spray hits the sides of the bong tube. Mark about an inch before it hits. Cut out a circle of screen to just fit inside of the tube. I ran a X of 2 zip ties weaved through the mesh. Drill 4 holes just large enough through the sides for the zip ties to go through and place a little silicone in the hole. This will help to break up the water droplets even more making more surface area. This allows for more evaporation.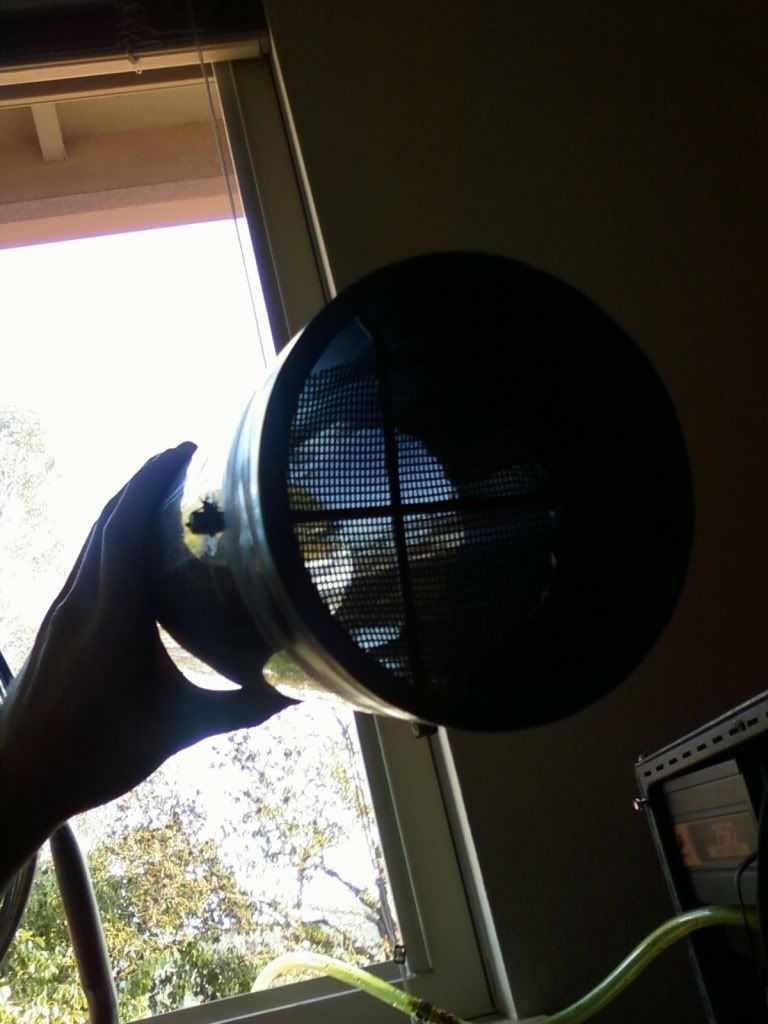 Now pop out the base and see what your water level you chose to run is.
And mark about 2-3 inches above the water line And repeat what was done to the top peice. This will reduce the bong noise
DRASTICALLY!
OK so take not of how much more room is in my case.
Before bong
After Bong
Ill get a better pic of that in a minute.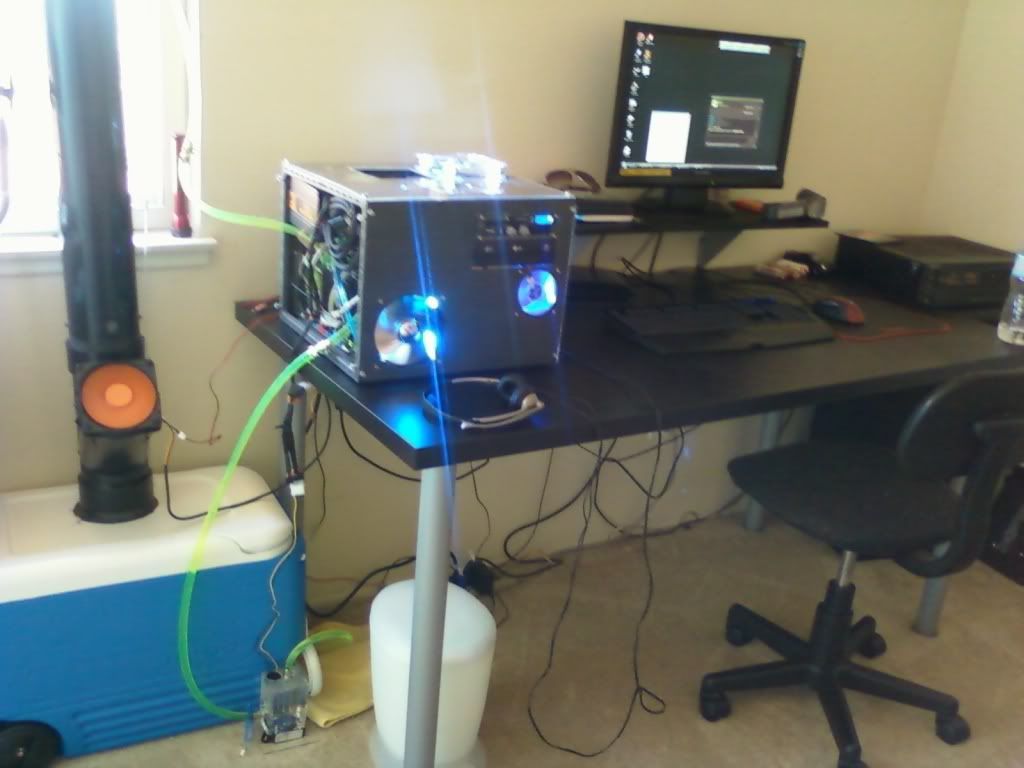 Now TEMPS
Before bong
Idle c Load c
Cpu 44 52
Gpu1 40 48
Gpu2 39 47
With BONG (avg 80f room)
Idle c Load c
Cpu 35 44
Gpu1 30 38
gpu2 29 38
On Cool nights cpu drops to 32i 40l
gpu's 25i-36l
So I think I covered most of the bases but its late and I'm tires so who knows what I screwed up. Lemme know what ya think and if you have questions ask away.
Edited by motoray - 8/13/09 at 7:17am
CPU
Motherboard
Graphics
RAM
Ryzen 1700
Msi x370 Titanium
Nano
Gskill tridentZ 3200
Hard Drive
Hard Drive
Cooling
OS
WD blue m.2 SSD
Intel 370 SSD
custom loop
W10
Monitor
Power
Case
Mouse
asus 24"
Corsair RMx 850 gold
Custom Define S cube
Razer naga
Mouse Pad
Rocketfish
View all
hide details
CPU
Motherboard
Graphics
RAM
Ryzen 1700
Msi x370 Titanium
Nano
Gskill tridentZ 3200
Hard Drive
Hard Drive
Cooling
OS
WD blue m.2 SSD
Intel 370 SSD
custom loop
W10
Monitor
Power
Case
Mouse
asus 24"
Corsair RMx 850 gold
Custom Define S cube
Razer naga
Mouse Pad
Rocketfish
View all
hide details