Quote:
Originally Posted by
gsk3rd
have the old ones been varified yet? I submitted one a few days ago.
Quote:
Originally Posted by
LiNERROR
i'm wondering too, i'd really like to get my #10 spot under the Intel benchmarks, with air no less...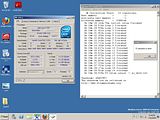 LOL please still post here to tell me if you have submitted one then, I don't get any emails or anything telling me apart from you guys!

EDIT: Images are still required for verification so please post them here!!!!!!!!!!!!
Edited by CorpussStalker - 7/22/09 at 1:02am
CPU
Motherboard
Graphics
RAM
4400x2@2.85Ghz
ASUS A8N-E
HIS 2900XT 512MB
3x1gb/G.Skill DDR500
Hard Drive
Optical Drive
OS
Monitor
180/250GB
SamsungDVD/PhillipsDVDRW
XP Pro/Vista Ultimate, dual boot
ACER X223W 22" WIDESCREEN
Keyboard
Power
Case
Mouse
Labtec Wireless
BFG Tech 650w
IQute 0508ula series
Labtec optical
Mouse Pad
Wooden table!
View all
hide details
CPU
Motherboard
Graphics
RAM
4400x2@2.85Ghz
ASUS A8N-E
HIS 2900XT 512MB
3x1gb/G.Skill DDR500
Hard Drive
Optical Drive
OS
Monitor
180/250GB
SamsungDVD/PhillipsDVDRW
XP Pro/Vista Ultimate, dual boot
ACER X223W 22" WIDESCREEN
Keyboard
Power
Case
Mouse
Labtec Wireless
BFG Tech 650w
IQute 0508ula series
Labtec optical
Mouse Pad
Wooden table!
View all
hide details