This is an NVIDIA pic, our colleague posted this above :
These are ATI pictures (in the first picture,compare the eyes, and the mask, ignore the brownish light from the picture above). We can see that the colours are different.Resolution wise, the NVIDIA is better. I don't have such a high resolution. My screen is 1600x1050 only
. The NVIDIA colours are not bad but this is how I play the game. 7000K, proper gamma, an RGB ratio that takes away the blueish overall colour that haunts 99 % of screens. My LCD is warmer and more vibrant ...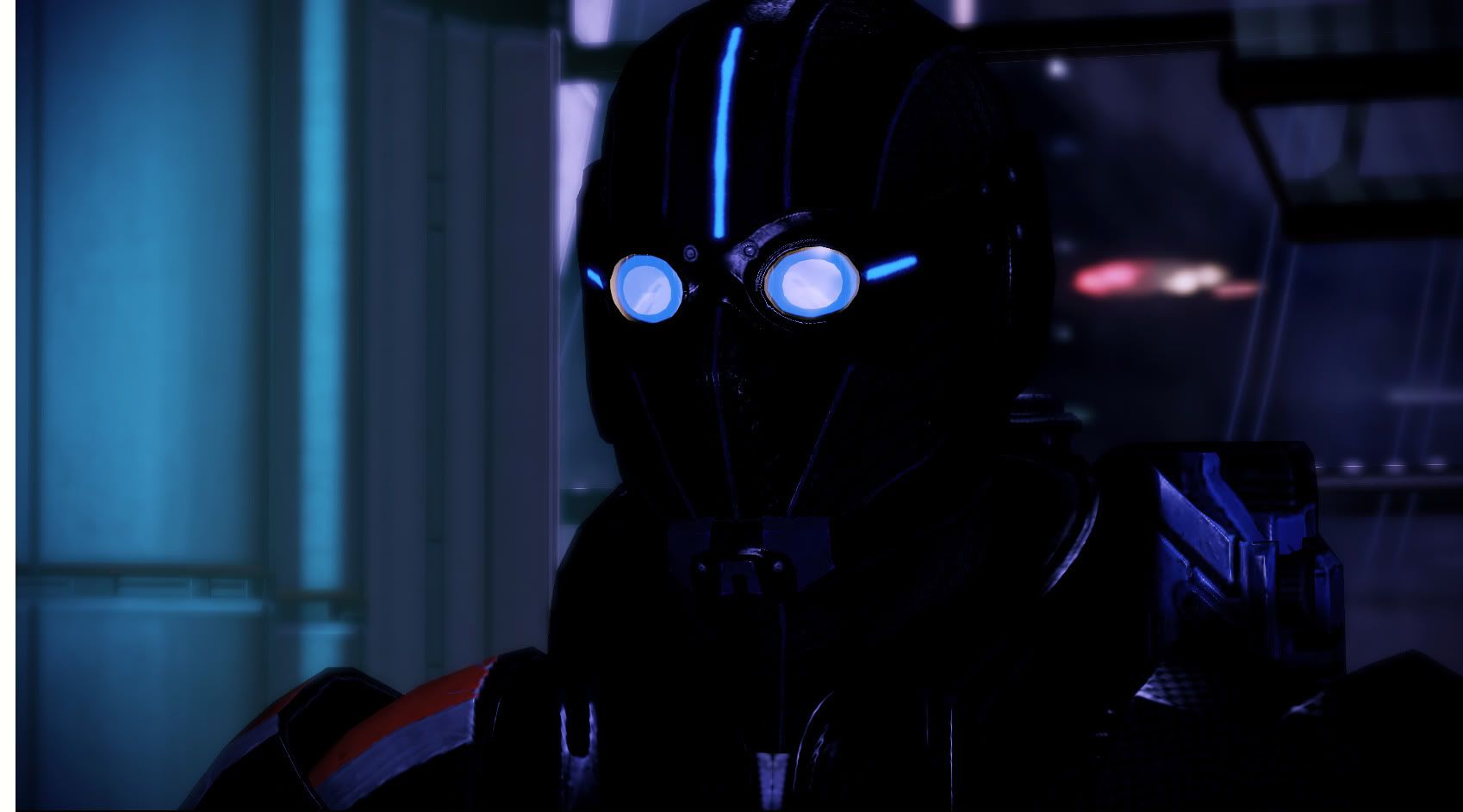 Adept FTW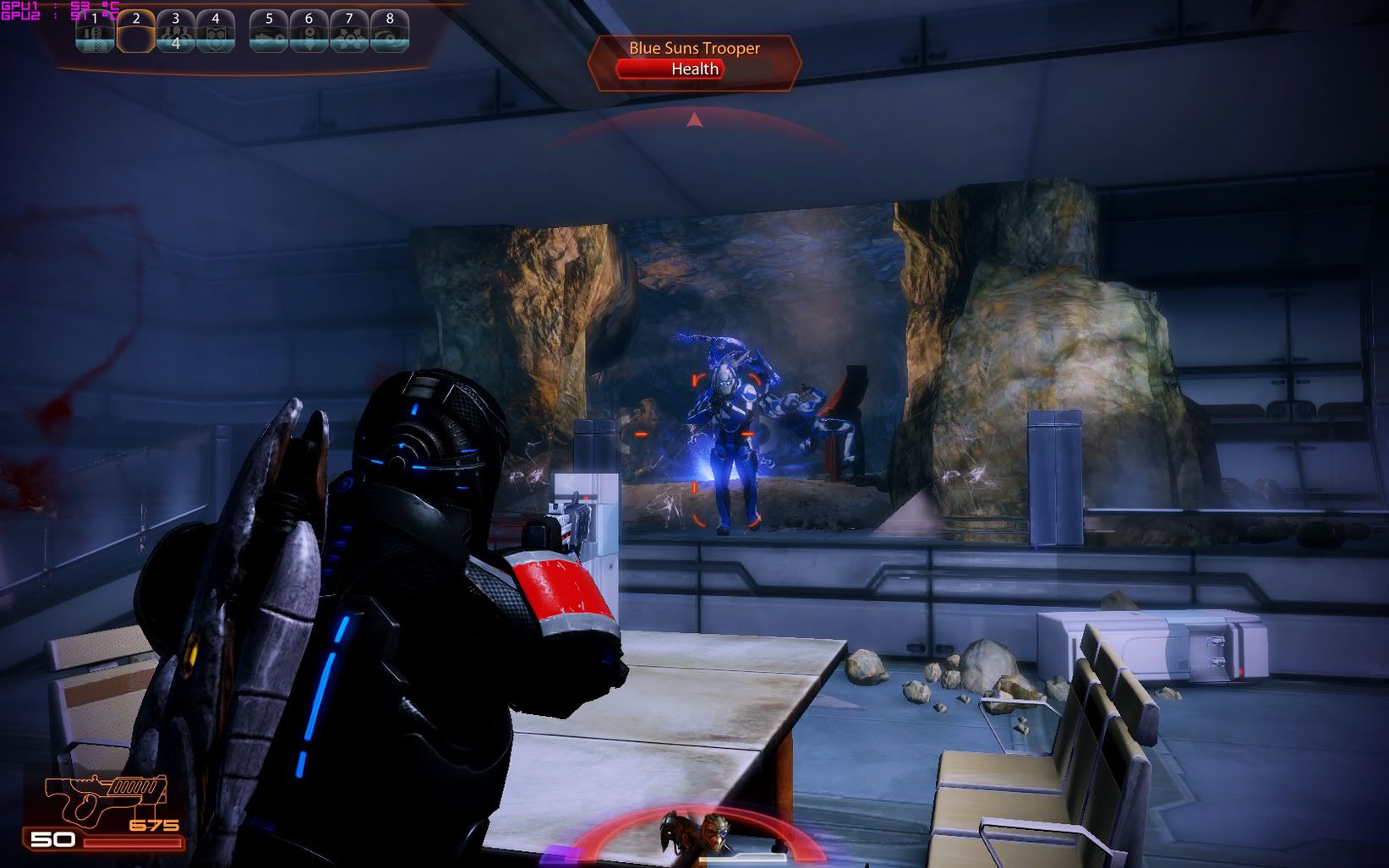 Crazy Geth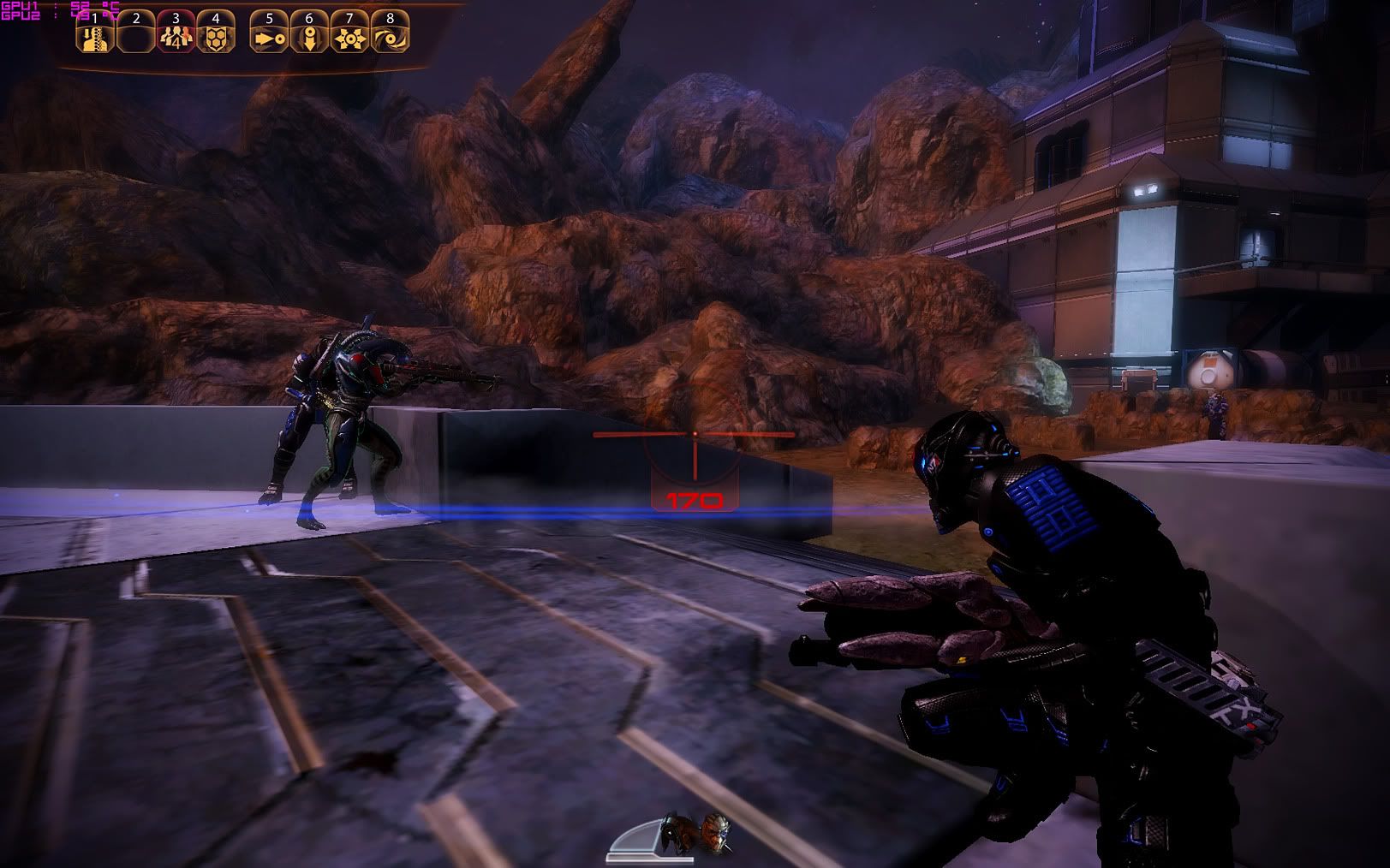 Edited by Wishmaker - 3/4/10 at 1:08pm
CPU
Motherboard
Graphics
RAM
I7 920 REV D0@4.2 HT
Asus Rampage II Extreme
CFX: ASUS R9 270X DCUII
6GB DDR3 XMP CL6 TRIDENT
Hard Drive
Optical Drive
Cooling
OS
Vertex 2 180 GB+RAID 0 2 * 1 TB SAMSUNG
Sony Optiarc Labelflash
Thermalright Venoumous X
W7 X64 Ultimate RETAIL
Monitor
Keyboard
Power
Case
Dell U2410 IPS
Logitech
Corsair CMPSU-850TX
Antec 1200
Mouse
Mouse Pad
Audio
Logitech
HAMA
Xonar STX / Auzen Forte
View all
CPU
Motherboard
Graphics
RAM
XEON 5650X @4.45 GHz
Rampage III Formula PCGH
CFX: ASUS R9 280X DCUII
16GB G-SKILL CL9@ 1643 MHz
Hard Drive
Optical Drive
Cooling
OS
1x 850 Pro 256 GB + 1xWD 500 GB + 2x3TB WD RED
Plextor PX-L89OSA
Thermalright VX
W10 X64 Ultimate RETAIL
Monitor
Keyboard
Power
Case
ACER B203W
Razer Deathstalker
Corsair CMPSU-750TX
Antec 902
Mouse
Mouse Pad
Audio
Logitech G800S
Logitech Gaming
Creative Titanium HD + FiiO E17
View all
CPU
Motherboard
Graphics
RAM
Intel Core 2 Duo : T8300
Asus U6000Sg Series Notebook
NVIDIA 9300 GS
4GB Kingston CL4
Hard Drive
Optical Drive
Cooling
OS
Hitachi Ultrastar
Asus POS
Stock Asus with MX3
W7 x64 Ultimate RETAIL
Monitor
Audio
Asus 12.1 " LED
Creative X-Fi EX54
View all
hide details
CPU
Motherboard
Graphics
RAM
I7 920 REV D0@4.2 HT
Asus Rampage II Extreme
CFX: ASUS R9 270X DCUII
6GB DDR3 XMP CL6 TRIDENT
Hard Drive
Optical Drive
Cooling
OS
Vertex 2 180 GB+RAID 0 2 * 1 TB SAMSUNG
Sony Optiarc Labelflash
Thermalright Venoumous X
W7 X64 Ultimate RETAIL
Monitor
Keyboard
Power
Case
Dell U2410 IPS
Logitech
Corsair CMPSU-850TX
Antec 1200
Mouse
Mouse Pad
Audio
Logitech
HAMA
Xonar STX / Auzen Forte
View all
CPU
Motherboard
Graphics
RAM
XEON 5650X @4.45 GHz
Rampage III Formula PCGH
CFX: ASUS R9 280X DCUII
16GB G-SKILL CL9@ 1643 MHz
Hard Drive
Optical Drive
Cooling
OS
1x 850 Pro 256 GB + 1xWD 500 GB + 2x3TB WD RED
Plextor PX-L89OSA
Thermalright VX
W10 X64 Ultimate RETAIL
Monitor
Keyboard
Power
Case
ACER B203W
Razer Deathstalker
Corsair CMPSU-750TX
Antec 902
Mouse
Mouse Pad
Audio
Logitech G800S
Logitech Gaming
Creative Titanium HD + FiiO E17
View all
CPU
Motherboard
Graphics
RAM
Intel Core 2 Duo : T8300
Asus U6000Sg Series Notebook
NVIDIA 9300 GS
4GB Kingston CL4
Hard Drive
Optical Drive
Cooling
OS
Hitachi Ultrastar
Asus POS
Stock Asus with MX3
W7 x64 Ultimate RETAIL
Monitor
Audio
Asus 12.1 " LED
Creative X-Fi EX54
View all
hide details