[Project]Nemesis i7 Revival
Yeeeaaaaaah!

Thats right! ~Another~ worklog for my beloved sig rig that STILL isn't finished! Alright! Maybe - just maybe - I'll finish the entire case mod this time, side panels and all for those that actually do read my logs.

This case mod is featuring 2 very special components.
First being Core i7.





Second, being Frozen Q's (OCN's newest artisan) custom T-Virus Liquid Fusion Reservoir - inspired by my all time favorite franchise Resident Evil. Nemesis in my avatar approves.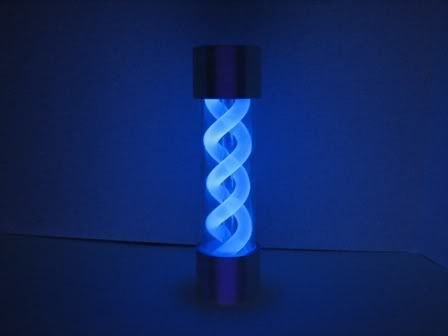 ^Yes that is an actual res, non photoshoped or from the movie. Freakin awesome. All yours starting from $65 for the non-Tvirus part and up to ~$130 or so for the full T-Virus UV experience.

I've done most of it already, but I shall still update the log in parts for :turds: and giggles. Don't want to lay it all out and ruin it for those who like to actively follow work logs. That is - if anyone actually follows mine -.-

In this upgrade of my Nemesis Revived ATi is....
Intel Xeon W3520
EVGA X58 Classified
GSkill Pie (Math) Tri Memory DDR3
and of course, keeping my dearly beloved retarded 4870x2 that doesn't seem to work correctly even after RMA. Hopefully, it was just a hardware conflict in the last build that is now being upgraded.

Final Images (not quite done but pretty much there)

Edited by OmegaNemesis28 - 8/19/13 at 8:18pm
CPU
Motherboard
Graphics
RAM
Intel Xeon W3520 i7 4.0ghz
EVGA X58 Classified
Visiontek 6990
GSkill 6GB DDR3 Pi
Hard Drive
Optical Drive
OS
Monitor
2x OCZ Vertex 60GB SSD ; 2x 1TB ; 2x 2TB
Samsung BluRay Burner
Windows 7 Ultimate 64x
3x Dell U2311H 23" 1080p IPS
Keyboard
Power
Case
Mouse
Logitech G15 Gaming Keyboard
SilverStone Strider 1000w Modular Power Supply
Lian Li V2000 Plus
Logitech G9 Gaming Laser Mouse
Mouse Pad
Cyba Sniper Tracer (Acrylic Glass)
View all
hide details
CPU
Motherboard
Graphics
RAM
Intel Xeon W3520 i7 4.0ghz
EVGA X58 Classified
Visiontek 6990
GSkill 6GB DDR3 Pi
Hard Drive
Optical Drive
OS
Monitor
2x OCZ Vertex 60GB SSD ; 2x 1TB ; 2x 2TB
Samsung BluRay Burner
Windows 7 Ultimate 64x
3x Dell U2311H 23" 1080p IPS
Keyboard
Power
Case
Mouse
Logitech G15 Gaming Keyboard
SilverStone Strider 1000w Modular Power Supply
Lian Li V2000 Plus
Logitech G9 Gaming Laser Mouse
Mouse Pad
Cyba Sniper Tracer (Acrylic Glass)
View all
hide details