Quote:
Originally Posted by
Bennylava
I thought the goal was usually to get your frontside bus (your CPU overclock) as high as you possibly could, then start working on overclocking your RAM? That's how they say to do it in all the tutorials, anyway. Even in the stickies here. Unless I am misunderstanding you in some way?
I would say, get the highest core speed with the highest possible bus speed and with highest possible memory speed.
Sometimes highest bus speed isn´t the way to go.
In my opinion it´s about to find the right combination of bus, core, memory speed and timing with relative low voltage to get the golden sweetspot.
We can take a look at aerthorn as a example, say that he have found that 3,8GHz is max for his CPU and he is trying to find the best combination.
We start to compare bandwith, latency and Super Pi 32M score with the same core speed but with different bus, memory speed and timing.
Here´s
bus 422, memory 844 444 12
bus 475, memory 950 555 15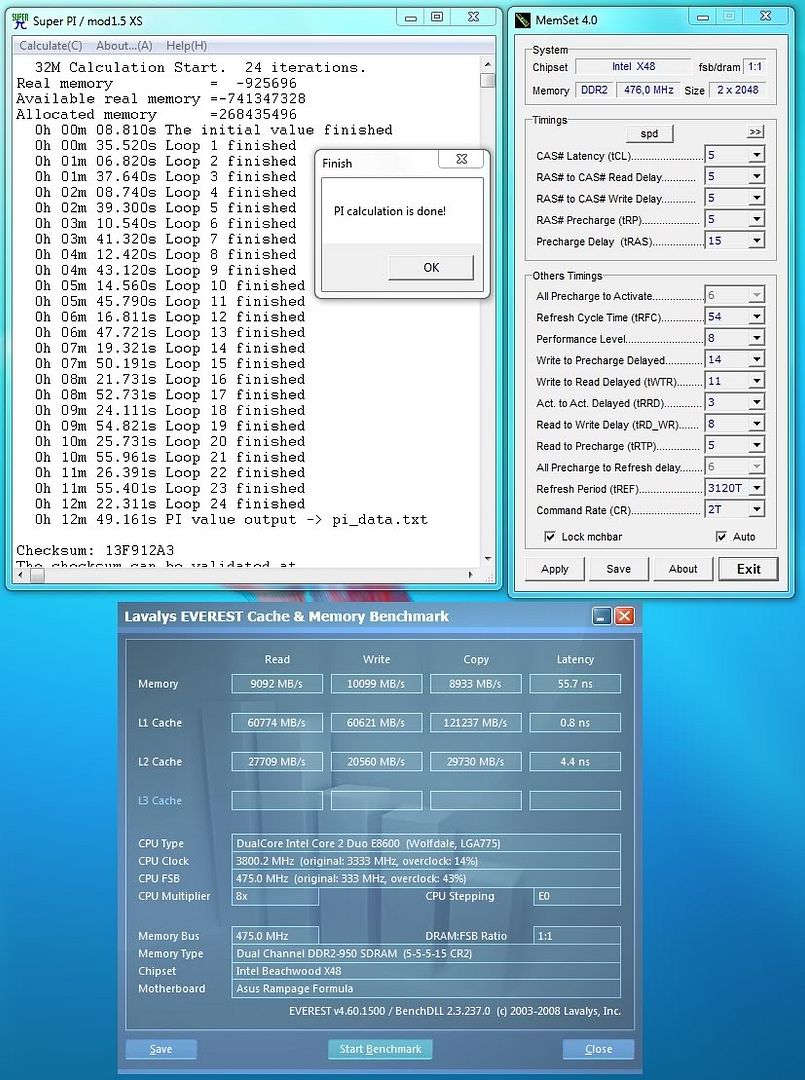 and
bus 506, memory 1012 555 15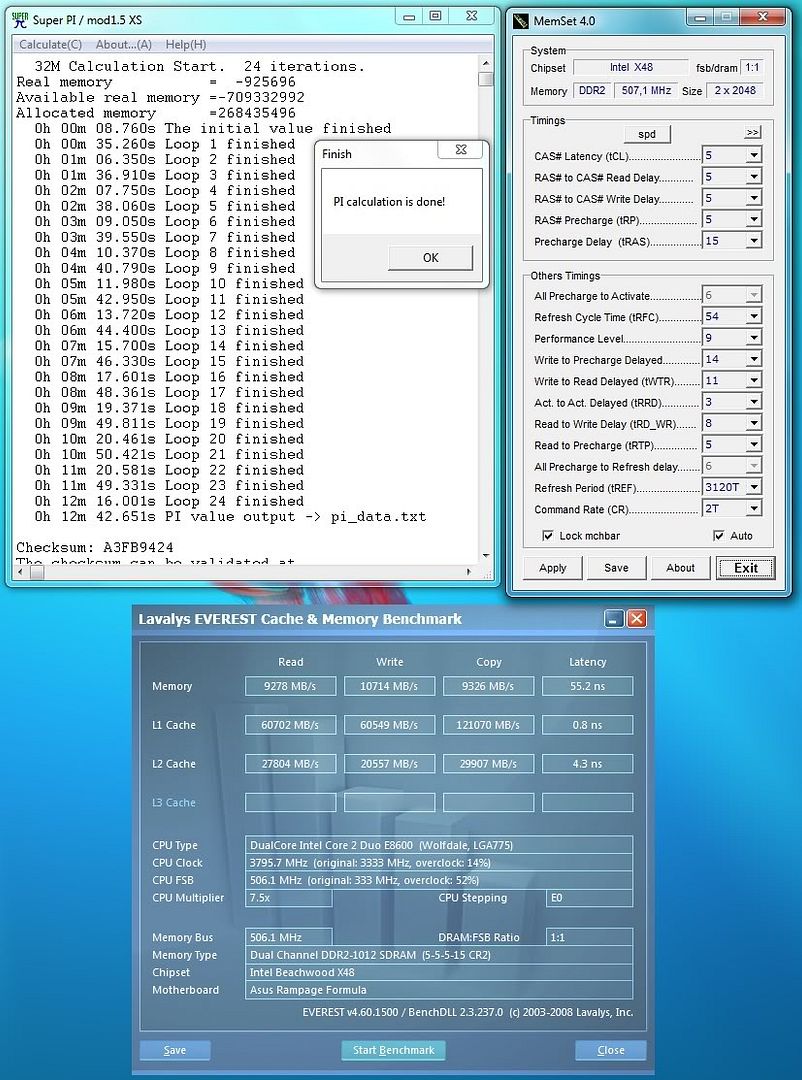 Well, of those, bus 506 seems to be the best.
We lower the bus speed and raise the memory speed.
bus 447, memory 1073 555 15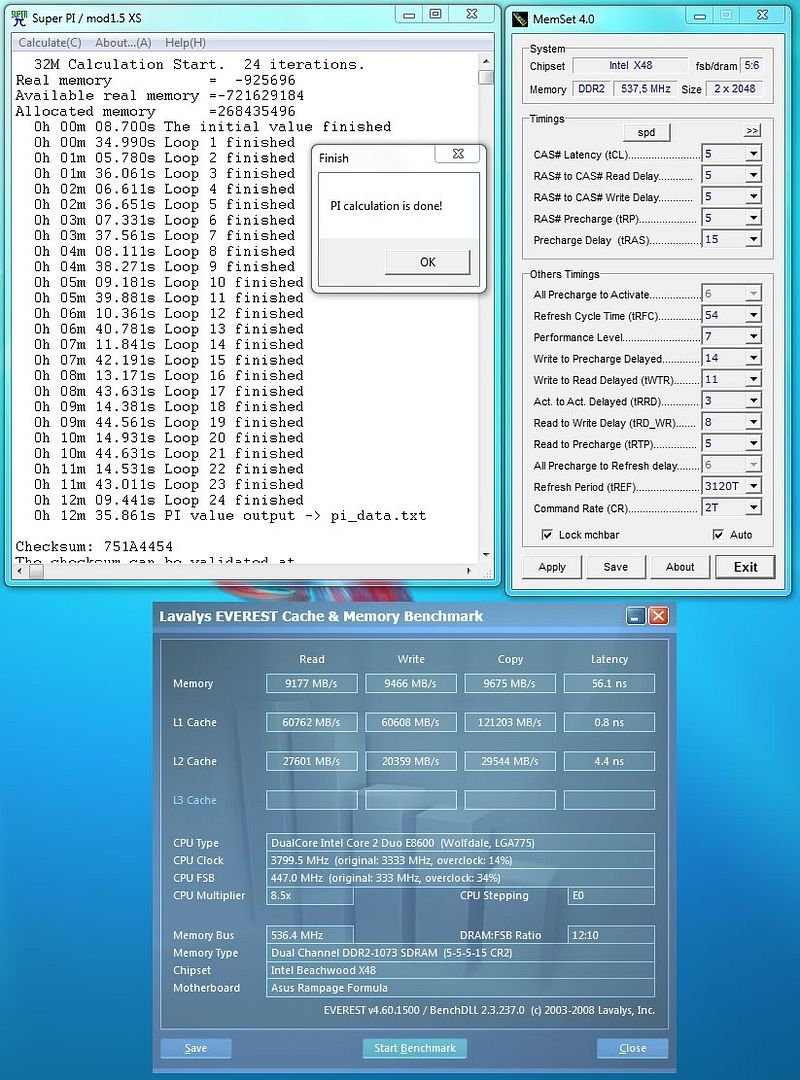 Better then bus 506 and it´s probably due to that we can use a lower tRD with ratio 5 : 6 then with ratio 1 : 1 and a bit higher memory speed.
Lets try to rise the memory speed even futher
bus 447, memory 1117 555 15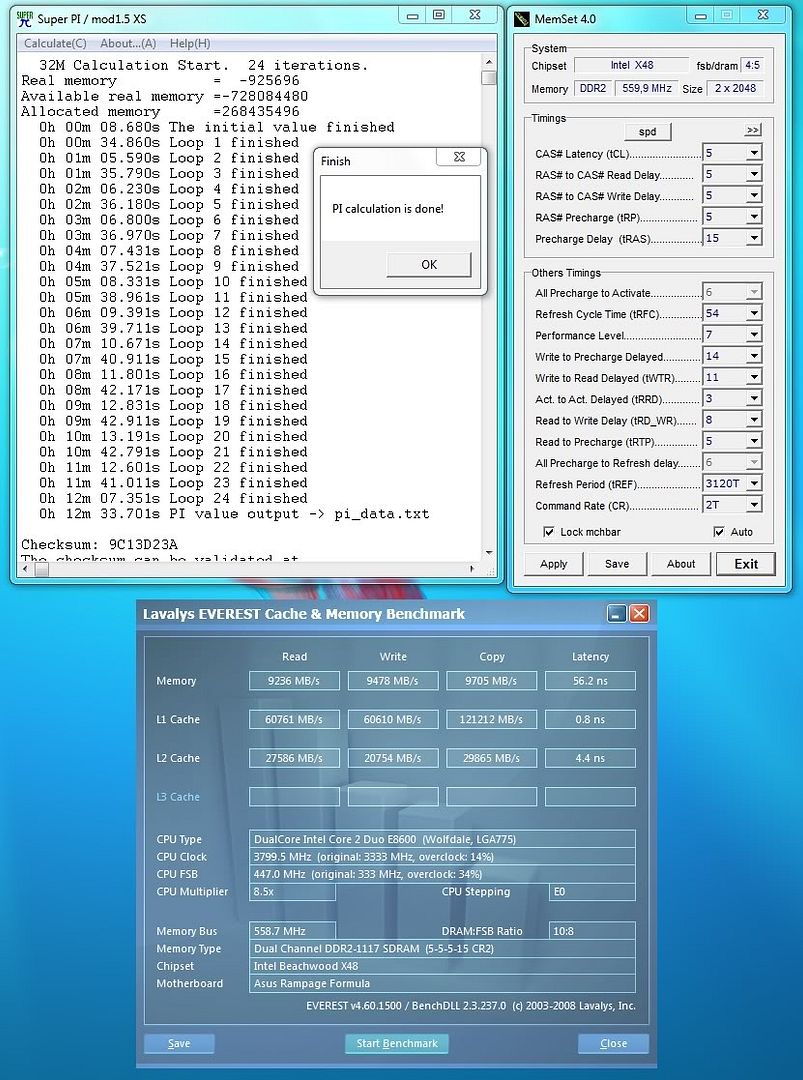 Even better.
Lets go back to
bus 422 and raise memory to 1055 555 15
Well, better then bus 506 but worse then bus 447 with both memory speed 1073 and 1117.
Suppose we got lucky and can reach memory speed of
1040 555 15 and combine that with bus 475
Best yet
Lets take a look if we run a game, we take Crysis for example.
Crysis Benchmark Tool, 4 loop of Harbor Assault @ 1280x960, Low Q, 64-bit, DX10
If we ignore bus 475 1140 555 15, bus 506 is the best with a very small margin, bus 422 with 56,6 fps up to bus 506 with 57,9 fps, they all are within 1,5fps. no big different.
You guys can draw your own conclusion but i think for some it feels
to run bus 500+ then 450- even though the different is very small.
This was done with the following gear
Rampage Formula / E8600 / 2x2 OCZ BladePC-9600 / 4870X2 / Windows 7 RC 64-bit
Edited by Ghostleader - 9/2/09 at 1:18pm
CPU
Motherboard
Graphics
RAM
Core i7-2600K cooled by Heatkiller Rev 3.0 LT
ASUS P8Z68 Deluxe
EVGA GTX 580 SC in SLI cooled by Koolance VID-N...
2x4GB G Skill RipjawsX 1600C8
Hard Drive
Optical Drive
OS
Monitor
Intel SSD 510 120GB / 250GB + WD Black Caviar 1TB
Samsung DVD
Win 7 64-bit
Samsung 2443BW @ 1920x1200
Power
Case
Corsair HX850
Lian Li PC-343B
View all
hide details
CPU
Motherboard
Graphics
RAM
Core i7-2600K cooled by Heatkiller Rev 3.0 LT
ASUS P8Z68 Deluxe
EVGA GTX 580 SC in SLI cooled by Koolance VID-N...
2x4GB G Skill RipjawsX 1600C8
Hard Drive
Optical Drive
OS
Monitor
Intel SSD 510 120GB / 250GB + WD Black Caviar 1TB
Samsung DVD
Win 7 64-bit
Samsung 2443BW @ 1920x1200
Power
Case
Corsair HX850
Lian Li PC-343B
View all
hide details