Well I was going to have a lay down and listen to some music on my quieter pc (am recovering from spine surgery so should really be resting! :shock: ) but couldn't stop till I had it finished as much as I could today...
...Inside Right panel, the bulge near the back is where the case has a recess on the outside to help you grip it to remove:
Small offcut added below front fan:
Small offcut next to front fan:
Finally, rather than take a dremel to the roof of the case, I followed advice to try once more and fit a fan in the 5.25" bays - so I have used the fan from the CNPS10x Quiet CPU cooler which I bought and then wouldn't fit. It is zip strapped in place, and has two blobs of Blu-Tack underneath to add some vibration absorbtion! Will see how it works: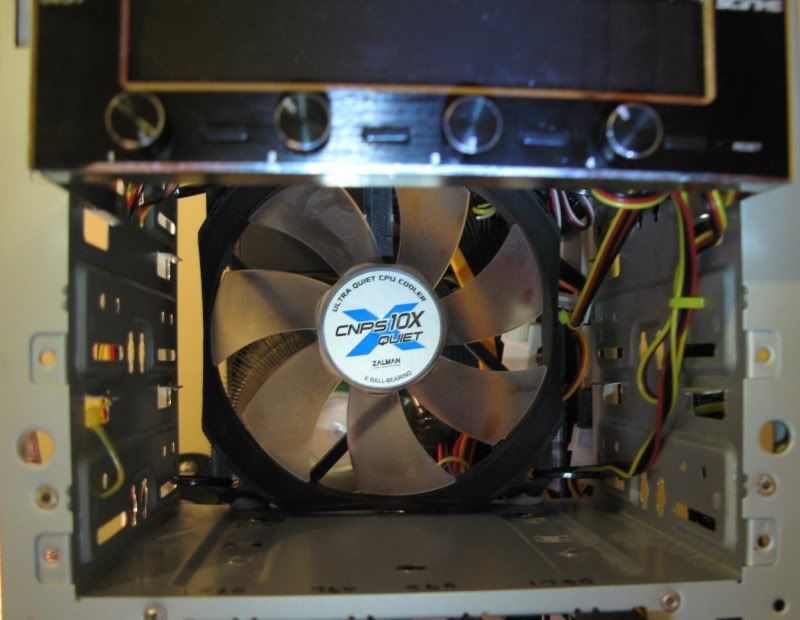 Right that really is it now for a while - off to have a rest before dinner...
Edited by gcwebbyuk - 2/2/10 at 1:06am
CPU
Motherboard
Graphics
RAM
Phenom II 1090TBE @ 3.7/4.1 GHz
Asus Crosshair IV Formula
Asus EAH5770 1GB
8GB Corsair XMS3 Dominator DDR3 PC3-12800
Hard Drive
Optical Drive
OS
Monitor
1 x Intel X25-M 80GB & 1 x Crucial C300 128GB
Samsung Blu-Ray Combo
Windows 7 Ultimate - 64bit
HP LP2475w
Keyboard
Power
Case
Mouse
Saitek Eclipse II
Corsair HX620 650w Modular PSU
Coolermaster 690-II Advanced
Saitek Cyborg V3
Mouse Pad
SteelSeries
View all
hide details
CPU
Motherboard
Graphics
RAM
Phenom II 1090TBE @ 3.7/4.1 GHz
Asus Crosshair IV Formula
Asus EAH5770 1GB
8GB Corsair XMS3 Dominator DDR3 PC3-12800
Hard Drive
Optical Drive
OS
Monitor
1 x Intel X25-M 80GB & 1 x Crucial C300 128GB
Samsung Blu-Ray Combo
Windows 7 Ultimate - 64bit
HP LP2475w
Keyboard
Power
Case
Mouse
Saitek Eclipse II
Corsair HX620 650w Modular PSU
Coolermaster 690-II Advanced
Saitek Cyborg V3
Mouse Pad
SteelSeries
View all
hide details