Quote:
Originally Posted by
thrasherht
Crimson, what dye did you use for that coolant? It looks brighter then most I see.

I love the way that board with water cooling looks, having all the blocks really sets off the loop.
I think it would look better if that board was a bit more colorful.
That is uv reactive automotive radiator leak test dye - it is available at some auto parts stores - they won't have it on the shelf, but ask the clerk for a bottle of radiator leak test dye and they'll know what you're talking about. In the Milwaukee area, I had to go to 5 different auto parts stores before I found one that had it in stock. It's not an extremely common item, but it is still readily available. Expect to shell out a meager $5-8 for a bottle (which will last forever - it's so concentrated that it is a dark red before adding it to water) If I remember correctly, this bottle was purchased at either the Checker-O'Reilly Auto Parts store on 76th & Capitol Dr. or AutoZone on 63rd & Capitol Dr. in Milwaukee, WI
Like any quality watercooling-specific UV dye, it is a non-pigment based, concentrated UV dye. Like you mentioned - I've used MANY, MANY dyes, and this stuff is still the brightest radioactive green I've ever seen (which under UV light looks AMAZING), doesn't stain the tubing, doesn't clog blocks, g and is cheap compared to most UV dyes branded for water cooling. The only downside is that it only comes in UV green.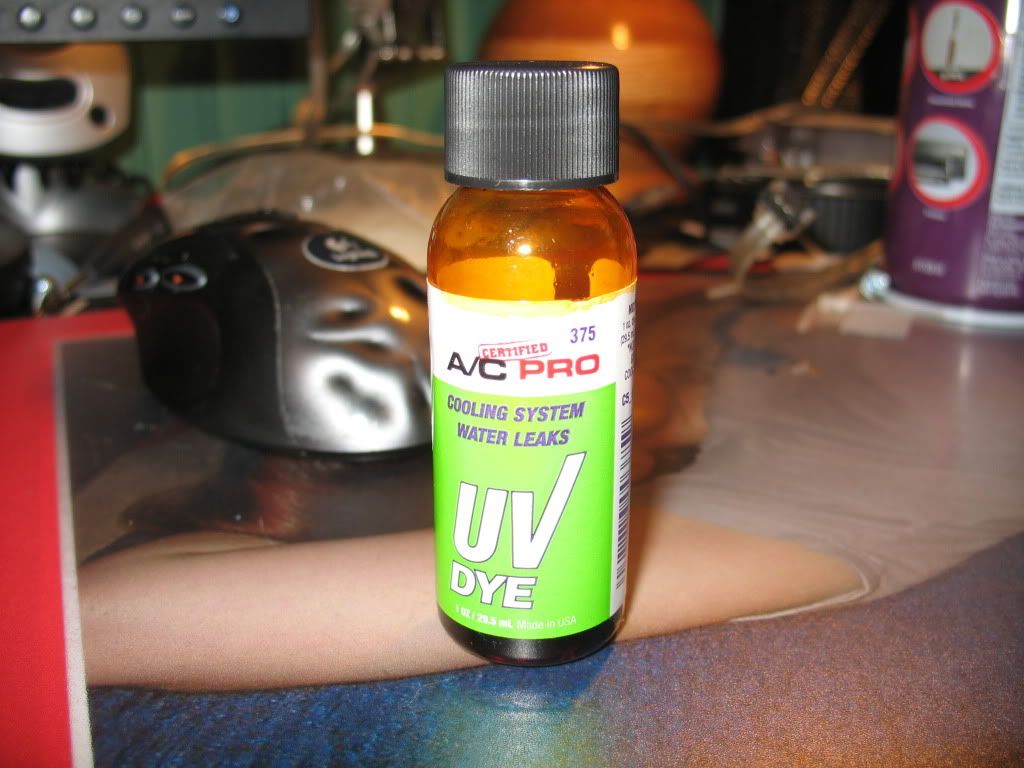 Edited by CrimsonMango - 5/6/11 at 5:18pm
CPU
Motherboard
Graphics
RAM
2x Intel Xeon 5420 2.5 GHz @ 3.00 GHz (400x7.5)
Intel D5400XS Skulltrail
MSI Radeon HD4870 1GB
8GB (4x2GB) A-Data DDR2-800 FB-DIMM ECC
Hard Drive
Optical Drive
OS
Monitor
2x WD VelociRaptor 150GB+2x WD Caviar Black 500GB
2x Black Samsung DVD-RW
Windows 7 Ultimate
3x Samsung SycnMaster 940BF 19" 2ms LCD's
Keyboard
Power
Case
Mouse
Saitek Eclipse II
Corsair Professional Series AX850
Lian Li PC-75B
Logitech MX518
Mouse Pad
19x13" Office Depot Desk Pad
View all
hide details
CPU
Motherboard
Graphics
RAM
2x Intel Xeon 5420 2.5 GHz @ 3.00 GHz (400x7.5)
Intel D5400XS Skulltrail
MSI Radeon HD4870 1GB
8GB (4x2GB) A-Data DDR2-800 FB-DIMM ECC
Hard Drive
Optical Drive
OS
Monitor
2x WD VelociRaptor 150GB+2x WD Caviar Black 500GB
2x Black Samsung DVD-RW
Windows 7 Ultimate
3x Samsung SycnMaster 940BF 19" 2ms LCD's
Keyboard
Power
Case
Mouse
Saitek Eclipse II
Corsair Professional Series AX850
Lian Li PC-75B
Logitech MX518
Mouse Pad
19x13" Office Depot Desk Pad
View all
hide details