Quote:
Originally Posted by
sebar
Tube res are eary to mount and can usually be done witout modding. You can get mounts to attach the tube to a 120 fan mount and EK make a nice uni-holders that can be used to mount the res just about anywhere. Here is my BP res on a Swiftech pump. the pump is mounted to the floor. This is small enough that I did not need to support the res but I did have it set up to have a single res mount attached to the bottom fan.
Warning: Spoiler!
(Click to show)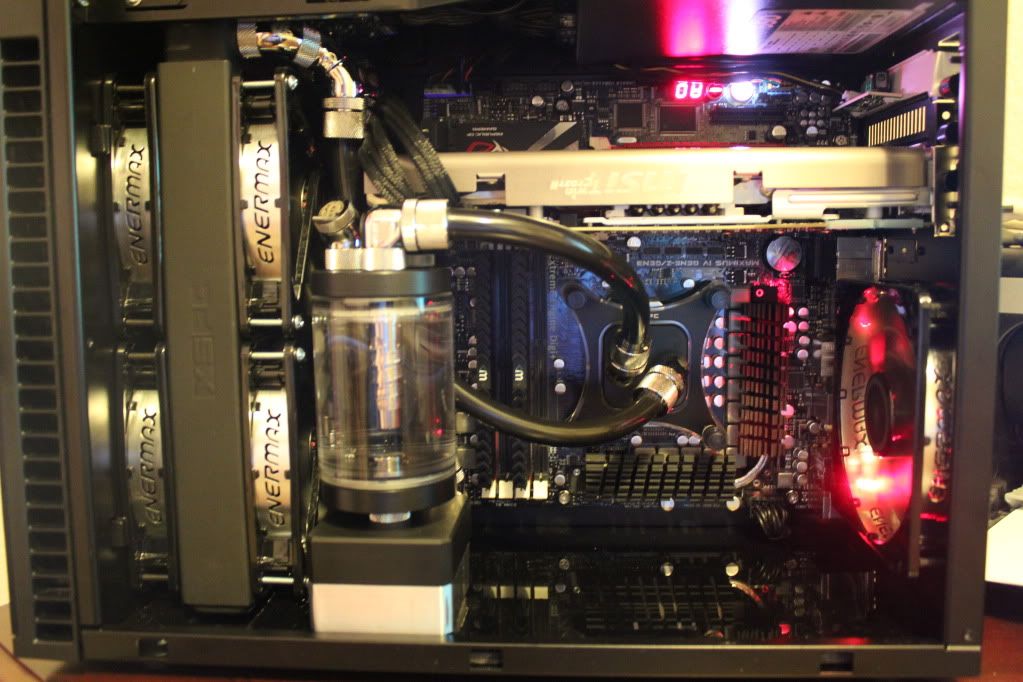 Looks so compact - yet so clean at the same time.. I do like!
CPU
Motherboard
Graphics
Graphics
Intel 3930k
ASUS Rampage IV Extreme
EVGA GTX 670 Superclocked+ (4GB)
EVGA GTX 670 Superclocked+ (4GB)
RAM
Hard Drive
Hard Drive
Hard Drive
16GB Corsair Dominator Platinum 2133mhz
Corsair Force GT 60GB SSD (OS/Drivers)
Crucial M4 128GB SSD (Games)
WD 1TB HDD (Music/Movies)
Cooling
OS
Monitor
Keyboard
Corsair H100
Windows 7 Ultimate 64bit
3x BenQ 22" monitors in NVIDIA Surround
Custom WASD Mechanical Keyboard
Power
Case
Mouse
Audio
Corsair HX850 (80+ Gold/Modular)
Corsair Obsidian 800D
Logitech G9x
Soundblaster Omega Headset
View all
CPU
Motherboard
Graphics
RAM
Intel 2500k
ASUS P8Z77 Deluxe
NVIDIA GTX 280 Superclocked
16GB Corsair Vengeance 1600mhz
Hard Drive
Hard Drive
OS
Monitor
Crucial M4 128GB SSD (OS/Games)
WD 750GB HDD
Windows 7 Ultimate 64bit
Samsung S20B300
Keyboard
Power
Case
Mouse
Steelseries Merc
Corsair HX750
Corsair Obsidian 650D
Razer Naga
Mouse Pad
Audio
Razer Vespula
Razer Carcharias
View all
hide details
CPU
Motherboard
Graphics
Graphics
Intel 3930k
ASUS Rampage IV Extreme
EVGA GTX 670 Superclocked+ (4GB)
EVGA GTX 670 Superclocked+ (4GB)
RAM
Hard Drive
Hard Drive
Hard Drive
16GB Corsair Dominator Platinum 2133mhz
Corsair Force GT 60GB SSD (OS/Drivers)
Crucial M4 128GB SSD (Games)
WD 1TB HDD (Music/Movies)
Cooling
OS
Monitor
Keyboard
Corsair H100
Windows 7 Ultimate 64bit
3x BenQ 22" monitors in NVIDIA Surround
Custom WASD Mechanical Keyboard
Power
Case
Mouse
Audio
Corsair HX850 (80+ Gold/Modular)
Corsair Obsidian 800D
Logitech G9x
Soundblaster Omega Headset
View all
CPU
Motherboard
Graphics
RAM
Intel 2500k
ASUS P8Z77 Deluxe
NVIDIA GTX 280 Superclocked
16GB Corsair Vengeance 1600mhz
Hard Drive
Hard Drive
OS
Monitor
Crucial M4 128GB SSD (OS/Games)
WD 750GB HDD
Windows 7 Ultimate 64bit
Samsung S20B300
Keyboard
Power
Case
Mouse
Steelseries Merc
Corsair HX750
Corsair Obsidian 650D
Razer Naga
Mouse Pad
Audio
Razer Vespula
Razer Carcharias
View all
hide details