After reading ncsa's Opteron 146 overclocking success, I knew it was a time for me to get a new chip. After almost 6 months with my previous Athlon64 3700+ @ 3.22 GHz, it was definitely time for a change, the hard part is getting an Opteron chip in Canada. I tried in vain for three weeks to get an Opteron and came close when my local store ordered me the 940 version
. Anyway I'm happy to report that I just received a Socket 939 Opteron 148 and it's identifying marks say CAYBE 0543FPMW. ncsa and EvilXP 2400, I'm aiming for your numbers!
Now mind you these numbers are initial tests and are
not
tweaked so benchmarks should improve when I have more time to play.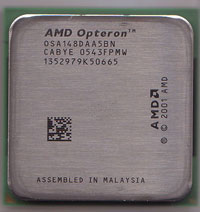 It completed SuperPi 32m test at 3 GHz with stock voltage unfortunately i forgot to take a picture. As you can see, the chip does 3.1 GHz without any problems.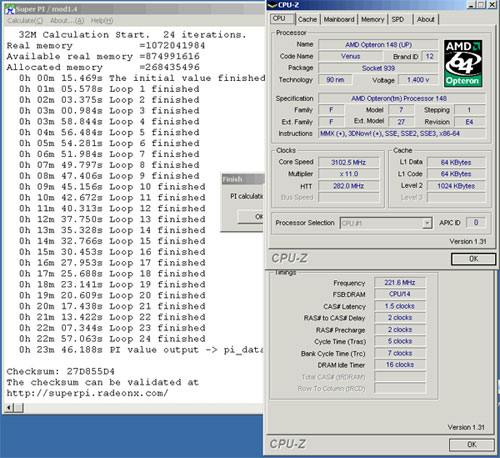 The Opteron 148 can complete SuperPi 32M test at 3.22 GHz (same speed as my old 3700+) with 1.5V, things are looking very sweet right now!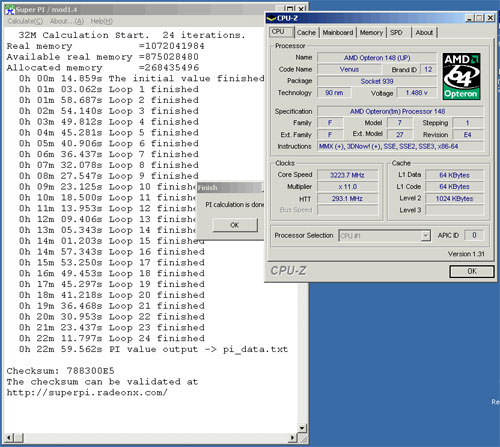 Originally with my 3700+ I was aiming for 3.3 GHz but alas was not able to do it. With 1.6V the Opteron 148 had no problems but it looks liek the chip might be topping out since the voltage is jumping pretty high.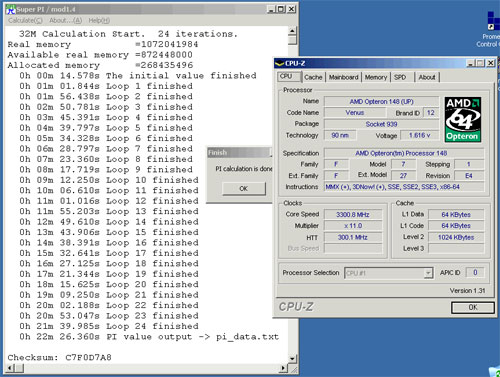 ncsa I'm at 3.4 GHz!
I need more voltage than you do though... Please note the lousy numbers are due to the memory running in 133 MHz mode, I'm just testing the top speed of the chip, not trying to set a new personal best in Super Pi.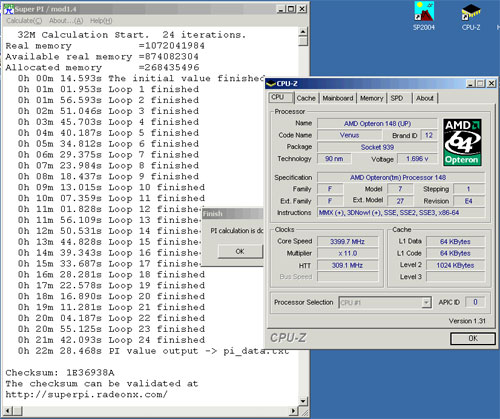 I think I might be reaching the top speed of the processor but there's still a lot of playing left.
I hate to be a tease but I have to cook dinner so I'll have to update this a bit later.
No suicide shots yet, I only do that after I find the max stable speed so look for that on the wknd.
Something interesting, after a bit of initial testing, it looks like clock for clock the Opteron is ever so slightly slower than my 3700+. I guess it's not a surprise, while performance is important in the workstation/server world, stability trumps that so perhaps its memory controller is more conservative (with the settings we can't change).
Anyway I hope at least someone enjoyed that, more to come hopefully!
CPU
Motherboard
OS
Monitor
Opteron 148 @ 3.4 GHz
DFI LP NF4 SLI-DR Expert
WinXP/XP64, Gentoo
Viewsonic P95F+
Power
Case
SilverStone ST65ZF 650W
Lian Li PC60B
View all
hide details
CPU
Motherboard
OS
Monitor
Opteron 148 @ 3.4 GHz
DFI LP NF4 SLI-DR Expert
WinXP/XP64, Gentoo
Viewsonic P95F+
Power
Case
SilverStone ST65ZF 650W
Lian Li PC60B
View all
hide details