When I joined the forum I was one of only a few (I could count the number of phase change users on one hand) but now, our numbers have grown nicely. With that in mind, let's see your phase change setups, we can't let the watercooling guys have all the fun.
I know most here have Vapochill's or Prometeia's but there are also a few with custom units. Perhaps with some pictures, we can encourage others to jump on the best 24/7 cooling solution available!
I guess I'll start but please keep comments and suggestions to
PM only
to the thread clean of chatter.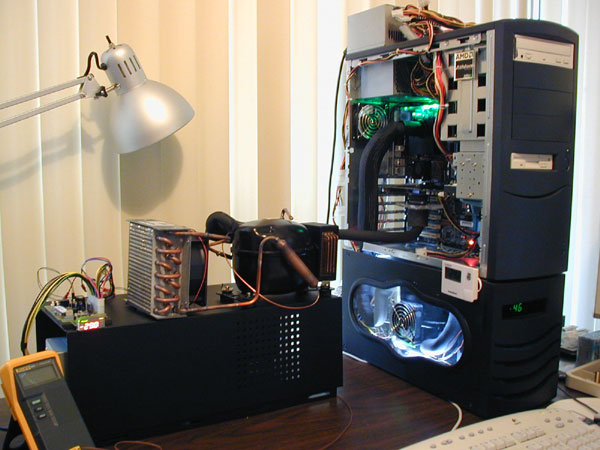 That was my old rig two years ago R507 Prometeia Mach I on a P4 2.4C (@ 4.08 GHz), Vapochill XE on the videocard on a various number of AGP videocards.
That's my current setup, R402A Prometeia Mach II GT with the videocard air cooled. Hopefully in the new year my friend has time to help me finish my SLI phase change cooler.
So let's see what you guys are using!
CPU
Motherboard
OS
Monitor
Opteron 148 @ 3.4 GHz
DFI LP NF4 SLI-DR Expert
WinXP/XP64, Gentoo
Viewsonic P95F+
Power
Case
SilverStone ST65ZF 650W
Lian Li PC60B
View all
hide details
CPU
Motherboard
OS
Monitor
Opteron 148 @ 3.4 GHz
DFI LP NF4 SLI-DR Expert
WinXP/XP64, Gentoo
Viewsonic P95F+
Power
Case
SilverStone ST65ZF 650W
Lian Li PC60B
View all
hide details