Battlefield: Bad Company 2
Developed by EA DICE | Release Date: March 2, 2010
Quote:
Battlefield: Bad Company 2 is arriving for the Xbox 360, PlayStation 3, and PC this winter.

A direct sequel to last year's console-exclusive game, Bad Company 2 picks back up with the derelict B Company, which comprises a fictitious US military's expendable misfits and outcasts. Destructible environments, which were a core component of the original game, will again play front and center in Bad Company 2, thanks to further revisions to its proprietary Frostbite game engine.
Hardware Requirements
Minimum Frostbite PC Specifications for BFBC2 & BF1943
Processor: Core 2 Duo @ 2.0GHz
Main memory: 2GB
Graphics card: GeForce 7800 GT / ATI X1900
Graphics memory: 256MB
OS: Windows XP
Free HDD space: 15GB for Digital Version, 10GB for Disc Version (BFBC2)
10GB for Digital Version, 4GB for Disc Version (BF1943)
Recommended Frostbite PC Specifications for BFBC2 & BF1943
Processor: Quadcore
Main memory: 2GB
Graphics card: GeForce GTX 260
Graphics memory: 512MB
OS: Windows Vista or Windows 7
Free HDD space: 15GB for Digital Version, 10GB for Disc Version (BFBC2)
10GB for Digital Version, 4GB for Disc Version (BF1943)
Quote:
Key Features

# 8 Huge Multiplayer Maps. Each with a different tactical and gameplay focus and set across a variety of environments

# Ultimate Online Vehicle Warfare! 15 land, sea and air vehicles, each with a tactical advantage during play. Race into action with the ATV or rain death from above in the UH-60 transport helicopter with its 2 side-mounted rail guns

# All-new Squad Gameplay. Team up with 3 other players and fight together to unlock special awards and achievements in 2 squad-specific game modes

# Destruction 2.0. Take down entire buildings, create firepoints in cover or blow it up entirely! In Battlefield Bad Company 2 there will be no place to hide!

# 'Play It Your Way' experiment and refine your ideal combat style with 4 character classes (medic, assault, recon and engineer), 15000+ kit variations, 46 weapons (200 different customization opportunities), 15 gadgets and 13 character specializations.

# Awards and Achievements, combat efficiency and performance is rewarded with special awards such pins, stars and insignias which contribute to unlocking 50 ranks
Misc Info
Quote:

Dedicated Servers
Battlefield was born on the PC, it grew up with dedicated servers and even when it left the nest and became multiplatform it remembers it's roots. We're doing the PC version of BC2 right. We won't stomach a console port tossed off to some "lesser" studio like our competitors chose to do. We've got our top PC devs working on the PC version side by side with the console team. We don't do ports. It's not the game we'd want to play, and we know it's not the game you want to play either. - Demize99(DICE Dev)
Quote:
Health System
I'm Alan Kertz, though many of you already know me as Demize99. As Gameplay Designer on Bad Company 2 it's my goal to give you insight into the design process on Bad Company 2 and give you the direct inside scoop on all the gameplay details.

So what are my Battlefield Credentials? I've competed in Battlefield 1942 and Vietnam clan matches alongside being a mapper and a modder. I joined DICE over 3 years ago and since the I've worked as a designer on Battlefield 2142 and the original Bad Company. And now it's my privilege to be developing Battlefield: Bad Company 2. Let's start off this series of gameplay blog post with some in depth detail on Bad Company 2's teamplay based health systems.

When a soldier really needs to be restored to health fast he turns to his Medic teammates. The Medic is a special breed of soldier, able to fight just as hard as their brothers in arms, but also dedicated healers. They keep their teammates in the fight as long as possible and to bring them back into the fight when they're down. In Bad Company 2 the medic has two tools to use to keep his teammates healthy.

The first tool is the Medkit, a portable first aid station that the Medic can deploy to heal the soldiers around him in the middle of combat. The Medkit begins working immediately and keeps working until the medical supplies are depleted. It also works in combat, so a soldier near a Medkit can duck behind cover to quickly heal up and be ready to get back in the fight. Just be careful where you deploy the Medkit, as even enemy soldiers will receive its healing benefits.

The second tool is the Defibrillator, also known as the Shock Paddles or the Defib for short. The Medic can use the Defib on his recently incapacitated teammates to bring them immediately back to full fighting strength. The Defib allows the medic to keep his squad and team together and fighting. In a pinch the Defib's electric shock can even be administered to healthy enemy soldiers, instantly incapacitating them.

Bad Company 2 introduces a system we call Out of Combat Healing. Like many features in Battlefield it's a reflection of a real soldier's world. Every soldier learns some basic first aid so he can patch himself up and get back into the fight. In Bad Company 2 we represent a soldier's first aid ability via the Out of Combat Heal. A soldier who's been wounded in a fight but survived will slowly heal himself. Out of Combat Healing is a not a fast process. Unlike your Medic teammate it's not going to save you in the middle of a firefight, but it will keep you from bleeding out somewhere alone on the Battlefield.

Alan "Demize99" Kertz
Gameplay Designer, Battlefield: Bad Company 2
Quote:
Vehicles
With Battlefield's rich vehicle pedigree we simply weren't satisfied with just providing new rides in Battlefield: Bad Company 2. We took our existing rides back to the mechanics for tuning and expanded Vehicle Combat even further by adding customization and new gameplay features.

For the first time in Battlefield history we're adding customization to the Battlefield Vehicle Combat. In Bad Company 2 players can earn customizable vehicle upgrades that let them tune a vehicle towards their own play style. Vehicle Specializations allow players chose between Enhanced Armor, an Upgraded Weapon package, Smoke Grenades to hide, an Electronic Warfare package to locate nearby enemies, or an Optics Upgrade to zoom in on targets. These upgrades can give a vulnerable tanker the means to escape, defeat, or outlive his opponents. Finding the right Vehicle Specialization to fit each play style is crucial to success in Vehicle Combat.

While standing toe to toe and slugging it out is always a valid tactic in any skirmish, the experienced Battlefield player knows that there's tons more depth to who wins and who loses than just accurate fire. To bring greater depth to Bad Company 2's Vehicle Combat we turned the page back and drew inspiration from the original Battlefield 1942. Tank shells that hit armor at extreme angles will glance off doing less damage, while direct hits deal critical damage. Armor thickness also varies significantly between the front, sides, and rear of armored vehicles. A hit that front armor simply shrugs off can quickly become a problem if the same shot is delivered from behind. You'll need to watch your back and mind your flanks to stay ahead of the competition.

Of course teamwork is the ultimate trump card to any tactic; the best tanker drivers work with their Engineers to achieve total victory in Battlefield: Bad Company 2. We'll talk more about how Vehicles and Infantry work together to build a balanced Battlefield in the near future.
Quote:
1943 weapons in BC2
Fans of Battlefield 1943 will feel right at home in EA DICE's next title, Battlefield: Bad Company 2.

Owners of 1943 will have exclusive access to some of their favorite WWII-era weapons in the multi-player mode of Bad Company 2!
We can't wait to see how these decades old weapons will stack up against the latest and greatest of Bad Company 2.
Quote:
Game Description
Get ready for the most spectacular FPS multiplayer experience ever! Battlefield Bad Company 2 brings the spectacular Battlefield gameplay to the forefront of next-gen consoles and PC - featuring best-in-class vehicular combat set across 8 huge sandbox maps each with a different tactical focus.

New vehicles like the All Terrain Vehicle (ATV) and the UH-60 transport helicopter allow for all-new multiplayer tactics in the warzone, extensive tuning ensures that this will be the most satisfying vehicle combat experience to date.

Tactical destruction is taken to new heights with the updated DICE 'Frostbite' engine. Players can now take down entire buildings or create their own fire points by blasting holes through cover, thereby delivering a unique experience in every match

Players can also compete in 4-player teams in 2 exclusive squad-only game modes, fighting together to unlock exclusive team awards and achievements. Spawn on your squad to get straight into the action, and use gadgets such as the tracer dart in-conjunction with the RPG to devastating effect.

Excellence in the battlefield is rewarded with an extensive range of pins, insignias and stars to unlock along with 50 dedicated ranks to achieve

Variety also extends into the range of customizable kits weapons and vehiceles available. With 4 distinct character classes, 46 weapons, 15 gadgets, 13 character specializations and over 15000 kit variations to discover and master players will be able to fine-tune their preferred fighting style to give them the edge in combat.

All of these features combine to deliver spectacular and unpredictable action moments found nowhere else in the genre

Battlefield Bad Company 2 is all-out multiplayer warfare at its absolute finest!
Quote:
Setting
Gameplay in Bad Company 2 resembles that of Battlefield: Bad Company and takes place in the mountainous regions along the border of Russia among other places. Bad Company 2 will include locations in snowy mountains, dense jungles and also sandy deserts within both story mode and multiplayer mode.[4] The game allows players to play through missions using any tactic they choose. Like its predecessor, Bad Company 2 features destructible environments, however, more destruction is now possible; players can now completely destroy a building rather than just its walls.
Hands-On Previews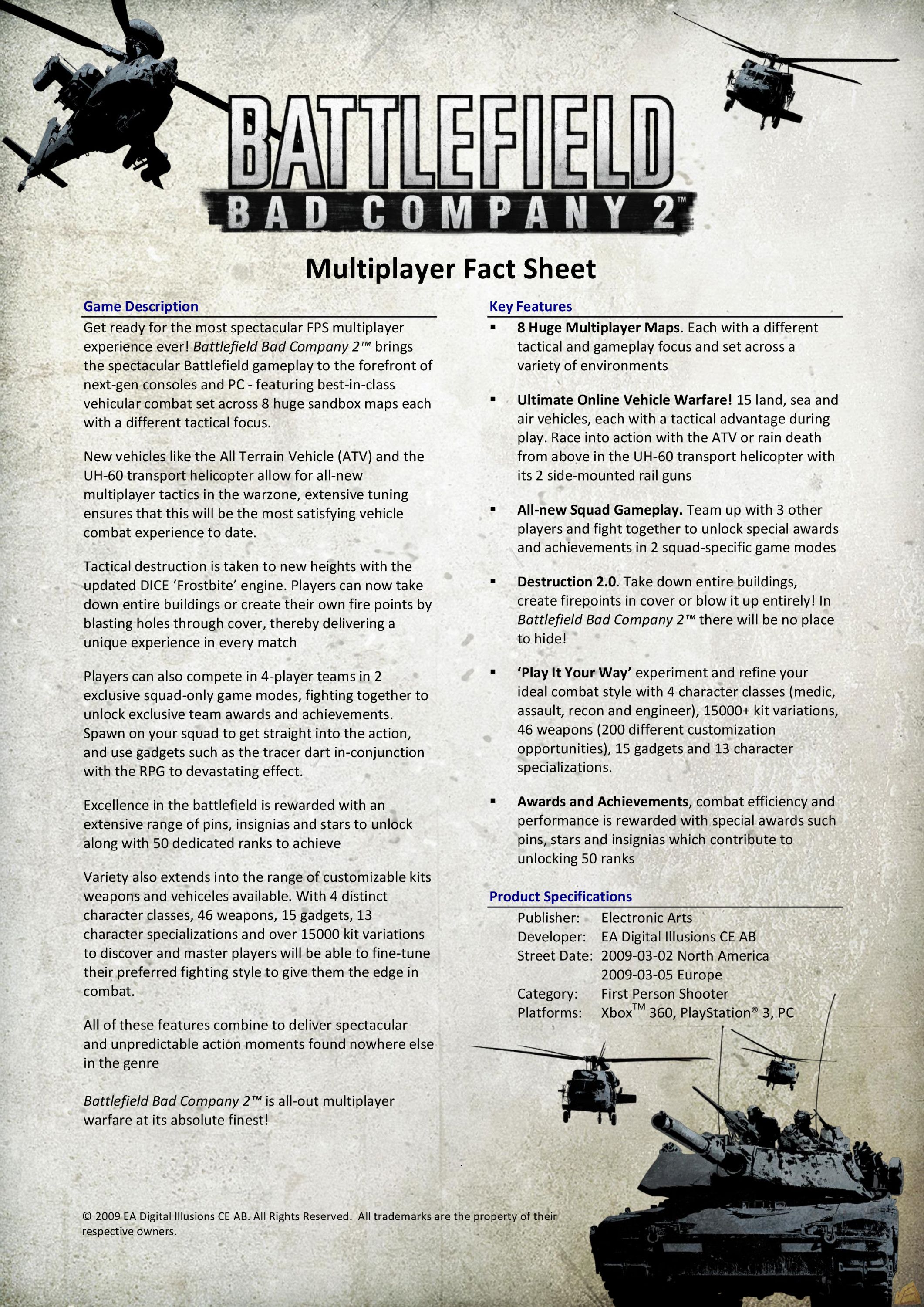 Edited by Radiix - 2/28/10 at 10:41am