An In-Depth Headset Round-up Review(Turtle Beach HPX | Astro A40 | Sennhieser PC 350 | Tritton AX720)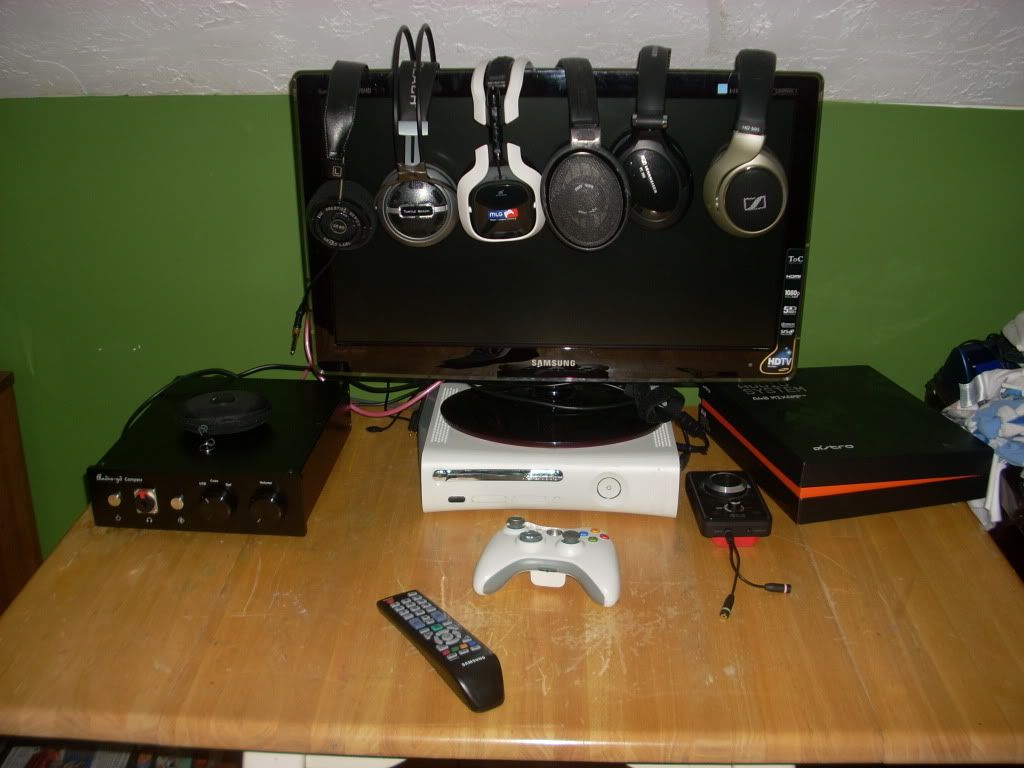 The following is my review of 7 headphones and headsets based on my experience with them. For the review, we used the Astro Mixamp with an optical connection to provide Dolby Headphone virtual 5.1 surround sound for the game Call of Duty 4: Modern Warfare. We also did a smaller comparison for music as well, though the main purpose of this review is targeted towards gaming.
*Note: This review is
100% independent
by myself and will be published through public sites' forums, eg: MLGPro, Halo3Forum, Head-fi.org, avsforums, and Overclock.net. These sites are not involved with this review in any way besides us posting the reviews in their forums, and these reviews do not reflect the opinion of the sites hosting them. This is just a review from an audiophile who wants to help people make a well informed purchase. Also note that because of the review's independence, there will be absolutely
no
bias toward any brand or product.*
Grado Sr80
($95)
Intro-
The sr80's have a native 3.5mm jack (comes with 1/8" to 1/4th" adapter that branches off into 2 cords, each going into the ear cups. The cups themselves are able to spin independently, so you can rest them flat on your desk. With the 2 cabled V design and these free spinning ear cups, I find a lot of times this twists the cables up a lot making them bunch weird, requiring me to unfurl them before I can listen to them.
The comfort is also pretty minimal. These headphones are super aural, which means they rest on your ears instead of over them like circumaural. The pads on these headphones are pretty stiff, and can become pretty uncomfortable after a long listening session. The headband is made out of leather, it is pretty minimalistic, I don't really find any discomfort there, it's really just the ear pads that can cause problems, but there are many DIY modifications s that people have come up with that can remedy this.
These headphones are also open, so this allows sound to leak in and out, so if you are thinking of not disturbing someone else in the room by using headphones, these wouldn't be the wisest choice. But overall the design is effective but minimalistic, the build quality is good overall, and the comfort is well…eh.
Sound-
Well, these headphones were more or less just brought into the review to listen to some music on them. These were brought in with no intentions of being a real competitor for the gaming roundup. These headphones have no real open sound to them, the soundstage is very small. It does not bode well for a gaming headphone, and throwing in the DD on with these headphones made for a weird listening experience, I wasn't a fan.
We didn't test these headphones as much as the others for gaming, though we did have some fun bringing out their sound with the Audio-GD compass. To sum up my thoughts on the Grados, I think for music they are a fantastic set of headphones, though the comfort factor can be a turn off to some people, but they really shine when it comes to rock music, which was the reason I bought them in the first place. They have a punchy sound with clarity to boot. Good in the mid to lower registries in my eyes (or ears, you know what I mean), so you'll have fun rocking to guitar and bass. Most people describe the highs of these headphones as bright, which can go one of 2 ways for a listener.
When the highs are bright, some people find it to the point of shrillness, and it is a turnoff for them. I kind of love that kind of sound. I love it when highs are bright with headphones, and these Grados don't disappoint. So you can chalk that one up as a pro or a con, I personally consider it a pro, but everyone's got their own unique sound signature affection.
For gaming, I mean, they would be able to outdo the clarity of stock speakers of your television, but they won't really provide a competitive edge as far as directional positioning would go. And knowing the gamers of this site and the long gaming sessions they love, you'll become acquainted to ear massaging.
Turtle Beach HPX
($80)
Intro-
After hearing the praise over the past few months on the HPX from Pat, I was eager to give them a go right away. When I picked it up, I noticed a few things about the design/build. One is the head adjustment. It is sort of like a spring loaded band that basically conforms when you put them on. No clicking or setting the headphones required. It just conforms to your head. The only problem here is. I have a big head. I didn't really find this method too comfortable, it just felt like there was constant pressure. I guess it's something that's able to get used to, it's just something I noticed right off the bat.
I also wanted to pay attention to the mic to get a gauge of its build quality. It was surprising to me that it was detachable, because it seemed like it was pretty well secured to the headphone. And the flexibility was very good, yet very durable. If you've ever had one of the metal flexible desk lamps, you can basically picture this as a mini version of that, it is very nice.
This headset is an open backed headset, and is circumaural, though I found my ears touching the sides of the pad, something I don't experience with my 595's or the pc 350's. All in all the build is quality, though it'd be nice to have a more comfortable fit on the head/ears.
Sound-
So popping on some team death match with Call of Duty 4, I could finally experience the benefits of the Astro Mixamp, and what I've been hearing about the HPX. When I popped on the HPX's, I at first thought the TV we were using became un-muted and I was hearing sounds from the TV's speakers. Everything seemed so open with the HPX and the Astro Mixamp. When in the game, I was presented with a pretty full sound. I didn't find anything really too overpowering or too light. The lows, the mids, the highs, they were all present and accounted for. If you were to compare the HPX's to the 595's or 650's, the HPX's do have slightly more bass, though i don't think it's to the point of drowning the other sounds out.
I had no problem with directional positioning. Usually I'm still stuck in Halo 2 mode where I can run around do what I want and still kick butt and take names. So when I'm in a game where you can easily be picked off, there are no shields and what not, it appears that I run around like a chicken with its head cut off. But when I took the time and paid attention to my ears, I could hear the grenades and gunfire and position them to where I could pick up some good combo kills.
For gaming, I was happy with the package you get for 80 some odd dollars. The clarity and the range of sound make for a great headset for less than 100 dollars. This was pretty surprising given the normal nature of Turtle Beach products(This is the only headset I would recommend from Turtle Beach to date) and multi driver headsets in general. This headset has 4 drivers in each ear cup, but it depends on the type of dongle you use that determines which speakers actually function. With the Astro Mixamp, the HPX uses 2 40mm drivers in each ear cup, these 4 drivers in total employing the Dolby Headphone virtual surround from the Astro Mixamp. So it seems like a weird internal setup, but it seems to work, so I'm not complaining.
For music, I'm a bit torn. While it does have the full sound compared to the PC 350 and Astro A40, and it does have the detachable mic, the problem with this headset is that it is stubbornly driven. The devices that it will work with seem completely random. Some TV's can work fine with it, some you'll need to really crank up the volume. The Astro Mixamp can drive them properly, but Pat's Audio –GD compass can't. It's hard to tell what hardware this headset would work with and what it wouldn't work with, so I am personally torn when deciding the victor in the headset music department. If you can get the proper drive, like hooking an mp3 player to the Astro Mixamp (which is funny because the Astro Mixamp doesn't really do much to drive headphones more than other straight up devices, so it's just very, very odd.) then the HPX will outperform the other headsets.
Astro A40
($200)

Intro-
You've all seen the advertisements on MLG and have seen players and kiosks displaying them at MLG events; the Astro A40 audio system. I have wanted to give this headset a go for a while. My inbox (as well as Pat's) is full of questions regarding this headset. These are truly a premium priced headset when compared to the more affordable headsets players have been used to like the Turtle Beach X1's and headsets of that nature.
Picking up the Astros, I noticed a few things about them. The design was pretty cool looking, though I wasn't a fan of the white and black, the all black one seems like a more serious headset(kind of like when you see a high end camera in color ways like this like the pentax K-x, which strays away from the all black professional looking high end cameras).
Edited by Steggy - 1/25/10 at 4:41pm
CPU
Motherboard
Graphics
RAM
Core i7 920 @ 2.66ghz
Asus P6t SE
XFX ATI 1gb 4850
6gb Mushkin DDR3 Triple Channel
Hard Drive
Optical Drive
OS
Monitor
1tb Western Digital
Pioneer Bluray
Windows XP | Windows Vista | Windows 7
22" Viewsonic Vx2260wm
Power
Case
Mouse
Mouse Pad
Corsair tx650w
Antec 900
Logitech G5
Icemat
View all
hide details
CPU
Motherboard
Graphics
RAM
Core i7 920 @ 2.66ghz
Asus P6t SE
XFX ATI 1gb 4850
6gb Mushkin DDR3 Triple Channel
Hard Drive
Optical Drive
OS
Monitor
1tb Western Digital
Pioneer Bluray
Windows XP | Windows Vista | Windows 7
22" Viewsonic Vx2260wm
Power
Case
Mouse
Mouse Pad
Corsair tx650w
Antec 900
Logitech G5
Icemat
View all
hide details