Quote:
Originally Posted by
Starman27
I am folding my gpu as well. Should I stop the gpu and use the extra core for cpu folding?
Since I am home now and can get a screen shot of HFN, here is another way to see how many you have completed. Should be able to get it form the pic.
You can fold on the gpu and use all 8 cores. I have 2-275's going and smp 8. You take a slight hit in ppd but will have to figure out what is best for your system. Try it, experiment and see how the diffrent combination works for you. I get the most ppd by 2-gpu's and smp 8. I also have 2 rigs folding smp 8 with 1 gpu each.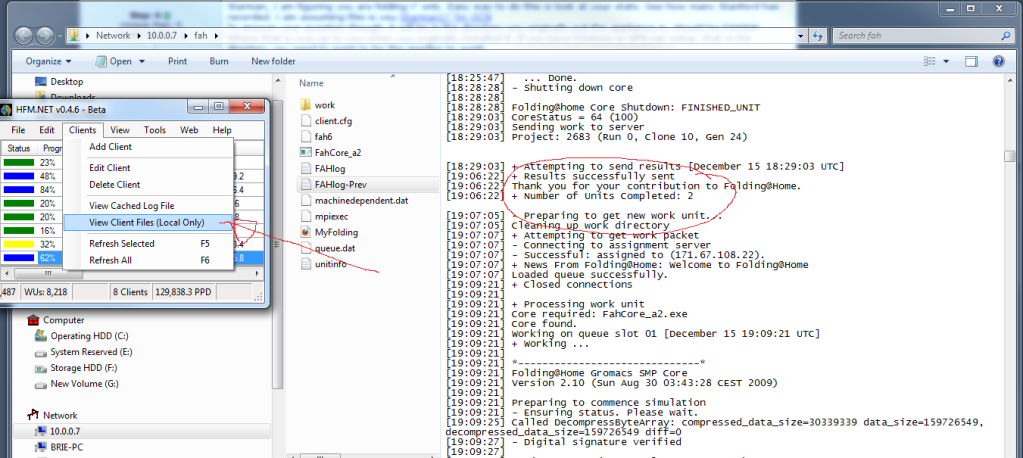 Hope this helps.
CPU
Motherboard
Graphics
RAM
i7-920-DO
EVGA Class LE 759
2x EVGA 275 FTW's
12 GB OCZ Platinum
Hard Drive
Optical Drive
OS
Monitor
WD 300GB Velraptor & 3x 1TB Caviar Blacks
LG Lightscribe
Win 7 Ultimate x64
2x 23" LG's
Power
Case
Mouse
Corsair HX1000
TT Armour +
OCZ Eclipse
View all
hide details
CPU
Motherboard
Graphics
RAM
i7-920-DO
EVGA Class LE 759
2x EVGA 275 FTW's
12 GB OCZ Platinum
Hard Drive
Optical Drive
OS
Monitor
WD 300GB Velraptor & 3x 1TB Caviar Blacks
LG Lightscribe
Win 7 Ultimate x64
2x 23" LG's
Power
Case
Mouse
Corsair HX1000
TT Armour +
OCZ Eclipse
View all
hide details