Quote:
Originally Posted by
fluxc0d3r
Do these temps look right for a i5 750 at 4.1ghz on 1.36V using a H50 with a single 1850rpm Scythe GT fan?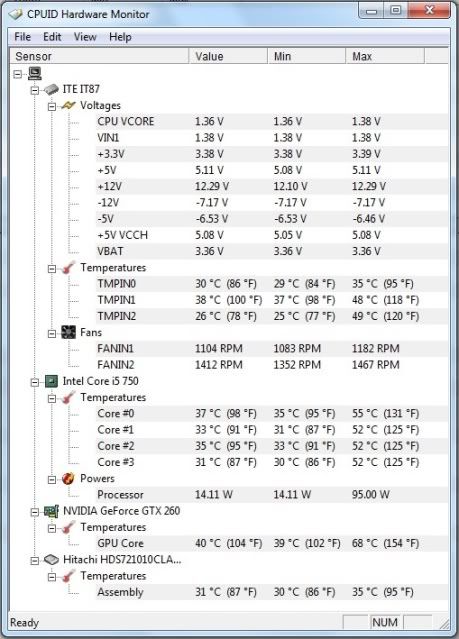 Those are pretty good temps especially with that kind of overclock.
If you put that in push pull with some shrouds your idle temps should slip below ~29c and your max should get to roughly ~49-50c.
CPU
Motherboard
Graphics
Graphics
2x Xeon e5620 @ 3.4 Ghz
Evga SR-2
ATI 5870
ATI 5870
Graphics
RAM
Hard Drive
Hard Drive
Nvidia GTS 240
12 GB DDR3 Corsair Dominator
OCZ Vertex III ...
2x Samsung Spinpoint F3 1 TB
Hard Drive
Hard Drive
Hard Drive
Optical Drive
300 GB WD Velociraptor
WD Caviar Blue 640 GB
WD Caviar Green 500 GB
LG Blu Ray Combo Drive
Cooling
OS
Monitor
Keyboard
Corsair H50 x2
Windows 7 Professional / Snow Leopard/ubuntu/Win 7
LG 55 inch tv, I-Inc 28 inch, Acer 20 Inch, 11....
Corsair K90, Logitech g13
Power
Case
Mouse
Mouse Pad
Antec CP-1000
Coolermaster Cosmos II
Razer DeathAdder
Drumpad
Audio
Sennheiser HD 650
View all
hide details
CPU
Motherboard
Graphics
Graphics
2x Xeon e5620 @ 3.4 Ghz
Evga SR-2
ATI 5870
ATI 5870
Graphics
RAM
Hard Drive
Hard Drive
Nvidia GTS 240
12 GB DDR3 Corsair Dominator
OCZ Vertex III ...
2x Samsung Spinpoint F3 1 TB
Hard Drive
Hard Drive
Hard Drive
Optical Drive
300 GB WD Velociraptor
WD Caviar Blue 640 GB
WD Caviar Green 500 GB
LG Blu Ray Combo Drive
Cooling
OS
Monitor
Keyboard
Corsair H50 x2
Windows 7 Professional / Snow Leopard/ubuntu/Win 7
LG 55 inch tv, I-Inc 28 inch, Acer 20 Inch, 11....
Corsair K90, Logitech g13
Power
Case
Mouse
Mouse Pad
Antec CP-1000
Coolermaster Cosmos II
Razer DeathAdder
Drumpad
Audio
Sennheiser HD 650
View all
hide details