Quote:
Originally Posted by
Willhemmens
I had the S1283 it performed 11'c worse than a H50. I had both.
Ask the people saying the H50's rubbish if they have a H50, if they dont, the dont know what they are talking about.
Heres a comparison of the H50 Vs a CM V8: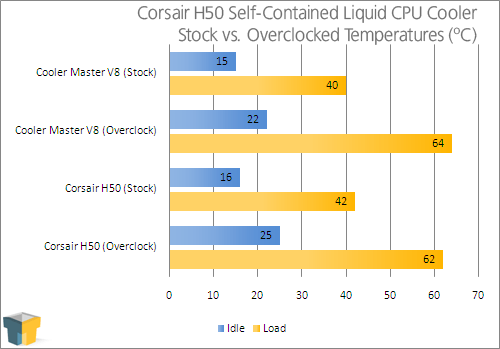 The V8 is quite alot better than a S1283.
Wow, maybe I should stick to my V8. H50 is only 2C better under load and V8 actually beats it in idle temps.
CPU
Motherboard
Graphics
RAM
Intel Core i7-920 Bloomfield @ 3.8GHz/4.55Ghz
EVGA X58 E758-A1 [Tweaked right!]
constantly upgrading/downgrading [prefer nVidia]
6GB [Mushkin Silverline]
Hard Drive
Optical Drive
Monitor
Keyboard
constantly upgrading/downgrading
unremarkable generic DVD/CD burner
Dual LCD [28 inch + 19 inch]
constantly upgrading/downgrading
Power
Case
Mouse
Mouse Pad
Corsair TX950W
Cooler Master Cosmos 1000 [Mesh Mod, CFM Overload]
Logitech G5
Offspring illuminated + USB Hub
View all
hide details
CPU
Motherboard
Graphics
RAM
Intel Core i7-920 Bloomfield @ 3.8GHz/4.55Ghz
EVGA X58 E758-A1 [Tweaked right!]
constantly upgrading/downgrading [prefer nVidia]
6GB [Mushkin Silverline]
Hard Drive
Optical Drive
Monitor
Keyboard
constantly upgrading/downgrading
unremarkable generic DVD/CD burner
Dual LCD [28 inch + 19 inch]
constantly upgrading/downgrading
Power
Case
Mouse
Mouse Pad
Corsair TX950W
Cooler Master Cosmos 1000 [Mesh Mod, CFM Overload]
Logitech G5
Offspring illuminated + USB Hub
View all
hide details