Quote:
Originally Posted by
Ruckol1
Here's a screenshot of my HWMonitor, you guys think it's the TEMP1 one? Lemme know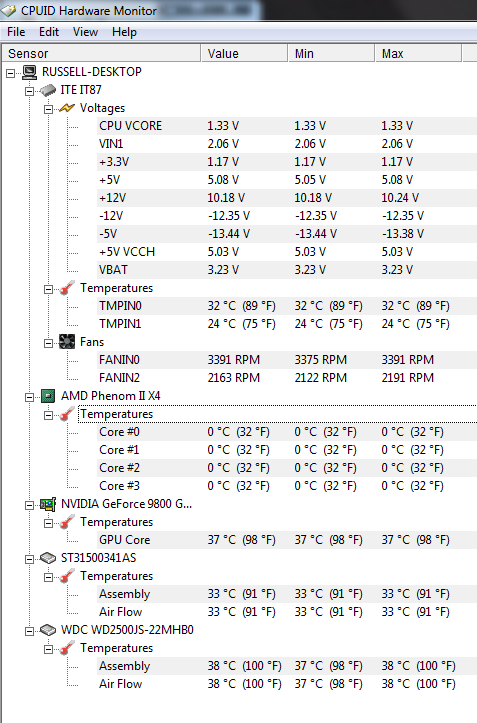 Hmm. That's weird. For me, I got 3 TEMPIN's.
I got TEMPIN0, TEMPIN1, and TEMPIN2.
For me, TEMPIN2 was 80c and it stayed there the whole time so I think it's just a mistake in the program.. But I think TEMPIN0 is the motherboard. TEMPIN1 is probably the CPU, but the temperatures are probably not accurate. The temperature is probably around it though.
CPU
Motherboard
Graphics
RAM
AMD Phenom II X2 550 BE [Unlocked @3.6Ghz]
Gigabyte GA-MA770T-UD3P
Zotac 9600GT
G.SKILL 4GB DDR3 1333
Hard Drive
OS
Power
Case
Western Digital Caviar Blue
Windows 7 64Bit
Corsair 650W
Cooler Master Storm Scout
View all
hide details
CPU
Motherboard
Graphics
RAM
AMD Phenom II X2 550 BE [Unlocked @3.6Ghz]
Gigabyte GA-MA770T-UD3P
Zotac 9600GT
G.SKILL 4GB DDR3 1333
Hard Drive
OS
Power
Case
Western Digital Caviar Blue
Windows 7 64Bit
Corsair 650W
Cooler Master Storm Scout
View all
hide details