So yesterday i bought a rrod xbox from a friend from school for $40. I got it home and tore off the stock heatsinks to find some pretty messed up chips. They had burn marks on the top and all the thermal compound was melted off.
I forgot to take a pic but this is what it looked like
I spent about 3 hours with rubbing alcahol getting it all off and applying new as5. i threw the sinks back on and fired her up no rrod! woot woot
UPDATE 12/6/09
Today I broke down the plain case and fired up my dremel. The window turned out a lot better than i expected
then i strung em up, these are all after the first coat
here is the finished product after 3 coats of black and 2 coats of clear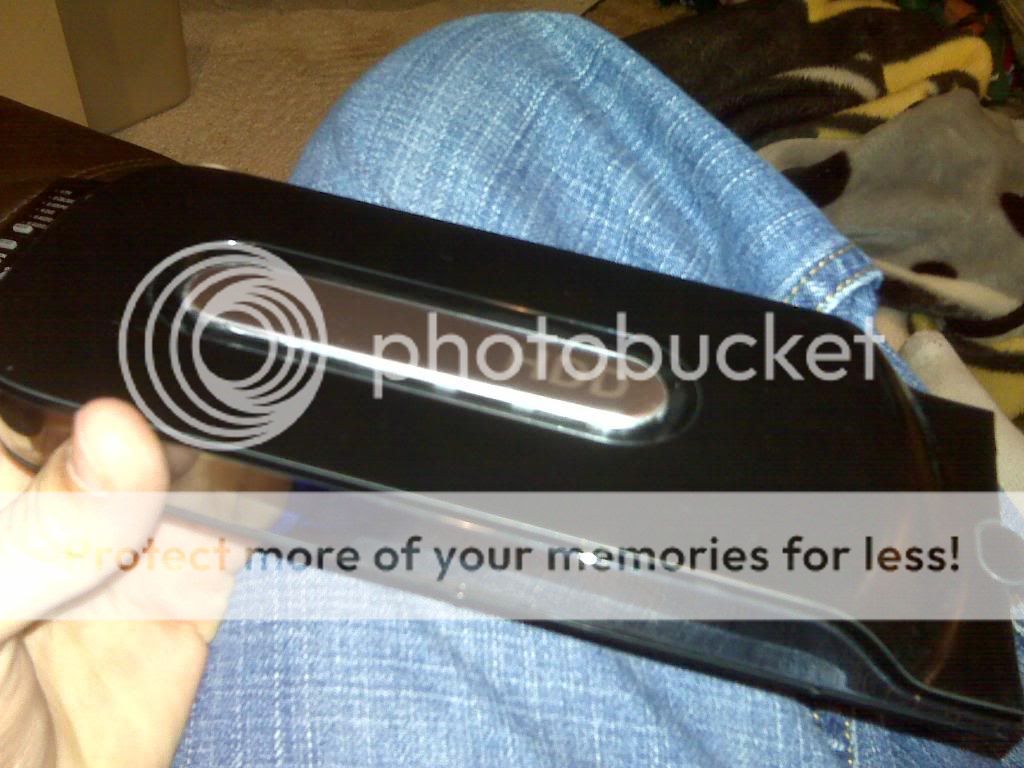 and here are some random glamor shots.
By the next update i should have the watercooling parts all together, and the plexi in.
UPDATE 12/10/09 AKA THE SAD UPDATE
Ok so i was very excited to find all the water cooling stuff on my porch today. I put it all together outside of the xbox as you can see because i sanded the case with 2000 grit sand paper to prepare it for another round of paint. Anyway i put all the watercooling stuff together no problem, fired up the box and it red ringed on me... This made me very sad of course. It did the 3 sided rrod first and then the 2 sided one, and then it just started freezing with no rrod.
Any ideas?
Anyway here are the pics from last night, an i know it is very very ghetto (which is not my style), that is just some random rad and it was a fan taped to it because i have no screws.
UPDATE 12/26/09 THE MERRY UPDATE
So a couple of days ago i was trying to solve the rrod/freezing problem, with the ghetto watercooling attached. I started to smell some electrical fire and found out my pump had exploded....:swearing:THERMALTAKE!!! Anyway last night my bud came over and we decided to try some other things but needed a way to cool it. We found this bilge pump in his garage for a boat. Let the ghetto-ness begin.
we used some more pink duct tape and caulk to attach it to the barb.
and for some reason i lost the plug to the t-line. Sharpie to the rescue
Then we needed some way to power the thing because the pump fried the power supply i was using. Original Xbox?
Then we needed a reservoir since the bilge pumps doesnt have an intake barb, it is meant for the bottom of a boat.
Then tada... watercooling done.
Its not very efficient though, it takes up 5 x the space a normal xbox would and twice the power, but im just using it to trouble shoot its rrod problems.
Also, right after everything started running my mom came down stairs and had a seizure (not literally) should have taken a picture of that.
Still on the to do list...
-cut full size window (regular plain case) DONE!!!!!!!!!
-watercool it 1/2 DONE!!!!!!!!!
-mod the dvd drive so you can see the disk
-paint the case blue or black DONE!!!!!!!!!
-blue cathodes and coolant
-mod the ring of light (the rrod thing) to all blue leds
-maybe dual 80mm rad for all internal watercooling
SUBSCRIBE MORE TO COME!
Edited by Lieutenant_Dan - 12/26/09 at 8:30am
CPU
Motherboard
Graphics
RAM
i7 920 do 3912B353 @4.0GHz 1.20 Vcore HT on (24/7)
Foxconn Flaming Blade
Saphire 4890 @ 1.0ghz
6gb OCZ obsidian 1600 (7-7-8-20)
Hard Drive
OS
Monitor
Power
WD Caviar blue 500gb WD Raptor 74gb (JBOD)
7 Ultimate x64
32" HDTV 1080p
OCZ Mod xstream 700W
Case
Mouse
Rocketfish
Razer Deathadder
View all
hide details
CPU
Motherboard
Graphics
RAM
i7 920 do 3912B353 @4.0GHz 1.20 Vcore HT on (24/7)
Foxconn Flaming Blade
Saphire 4890 @ 1.0ghz
6gb OCZ obsidian 1600 (7-7-8-20)
Hard Drive
OS
Monitor
Power
WD Caviar blue 500gb WD Raptor 74gb (JBOD)
7 Ultimate x64
32" HDTV 1080p
OCZ Mod xstream 700W
Case
Mouse
Rocketfish
Razer Deathadder
View all
hide details