Hey everyone,
I decided I was really bored with my Ultra Dragon case with its all white glossy finish. Since I am getting my WC setup soon and I want an all in one contained type deal, I am going to have to do a little modding to fit it all in. I decided since I dont have my parts yet, to get all the mods out of the way and clean it all up nice for the setup when it arives.
I started out with an Utlra Dragon (White)
http://images.tigerdirect.ca/itemdet...hite-gloss.jpg
- First I started off by removing the bottom drive bay to open things up and make room for a pump if i decide to put it there, I also stripped everything down for painting:
-Next I taped off what I didn't want to paint:
-Then I got to the painting. I decided to change the look entirely so I used Flat Black Enemal spary paint, and will follow that up with a Clear Coat Sealent.
The flash made this picture very bright, so the case looks almost grey, and this is not how the end product will be. There will be another coat of black and then Clear Coat over that
Now for the true modding part. I will be cutting 2 120mm fan holes in the plexi glass window, one next to the other near where the video card is for intake. It will look something like this: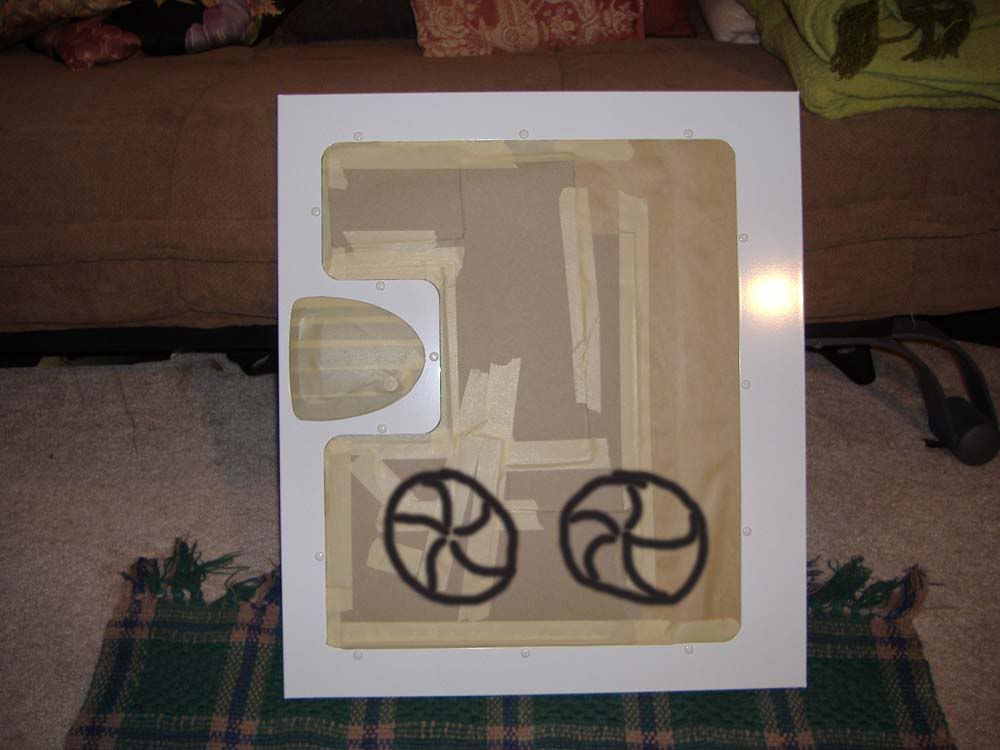 Then I will be mounting the radiator to the top of the case and cutting 2 more 120mm fan holes to for the air to move through. Lastly, I will mount the res. in front of the radiator, but still on the top of the case. It should look something like this when complete, although I am still deciding if I should just get a 5 1/4 CD bay res instead. Let me know what you think. Oh and between steps 1-2 the tubing will be going through a 1/2in OD hole in the plexi glass to the res and then from steps 5-6 it will be going back through another 1/2in OD hole. That is only if I mount the res on the top though, not if i use a CD bay res.
CPU
Motherboard
Graphics
RAM
Allendale E6400
Gigabyte GA-965P-DS3
EVGA 7900GT
Team Xtreme 512x2 667
Hard Drive
OS
Monitor
Keyboard
WD 200GB SATA
XP Pro Service Pack 3
Samsung 793 CRT
Logitech Wired
Power
Case
Mouse
OCZ GameXsteem 600W
Lian Li PC65 - Silver
Logitech MX700
View all
hide details
CPU
Motherboard
Graphics
RAM
Allendale E6400
Gigabyte GA-965P-DS3
EVGA 7900GT
Team Xtreme 512x2 667
Hard Drive
OS
Monitor
Keyboard
WD 200GB SATA
XP Pro Service Pack 3
Samsung 793 CRT
Logitech Wired
Power
Case
Mouse
OCZ GameXsteem 600W
Lian Li PC65 - Silver
Logitech MX700
View all
hide details