~>
I have set my memory timings to 7-8-7-21 (rest auto)
(24 is advertised, but I decided to go three numbers lower).

~>
Changed my DRAM Voltage from Auto -> 1.6035v -> 1.6165
~>
Changed my CPU Voltage from Auto -> 1.40v
~>
Changed my multplier from Auto -> 17x (3.411Ghz)
~>
Changed my HT freq from Auto to 2000Mhz
~>
Bout to go to changed my NB Freq from auto -> 2000Mhz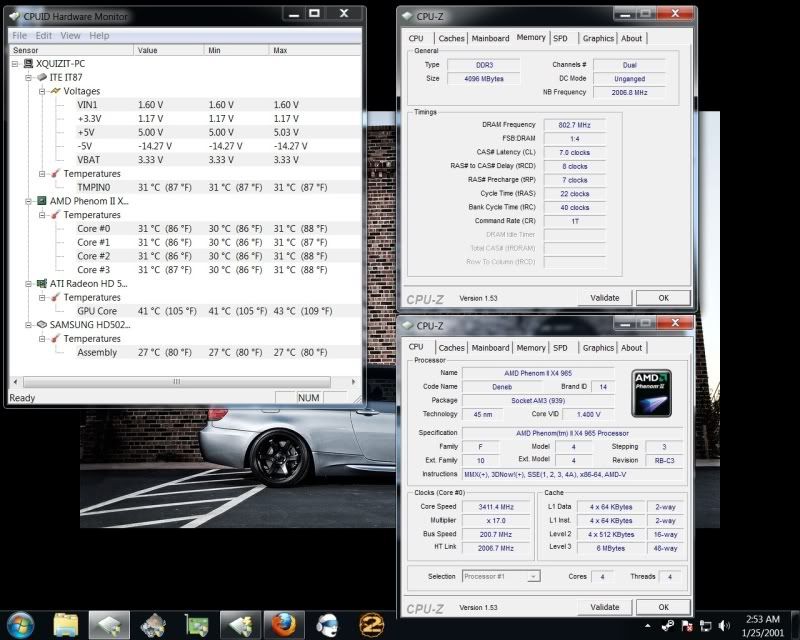 ~>
since it shows the tRC at 40 should I change the timing from auto-> 40 and start working with that number as well?
Can you teach me how to OC properly, and how I should overclock/underclock my ram?

How many of the timings to leave auto in the BIOS?

Are lower timings more important to have, or a higher frequency?


I should turn down my multiplier, right? Or is the stock bus/mult fine to OC with? What about NB freq/HT freq?

I don't know when to touch the VDDA Volt/NB volt/ NB-CPU volt... please, help!

Thanks in advance
Edited by xquisit - 12/23/09 at 3:29am