I cant remember where i found this but ive noticed a marginal increase in my performance. Basically, your stopping XP from using the page file until the ram fills up. Thus giving you better performance. Anyone with more than 512mb ram should notice a difference more than I have (stupid 256mb). Here I go:
Firstly open the run dialog and enter 'msconfig' (without quotation marks) and hit enter. In the top tabs goto system.ini. You will see this screen: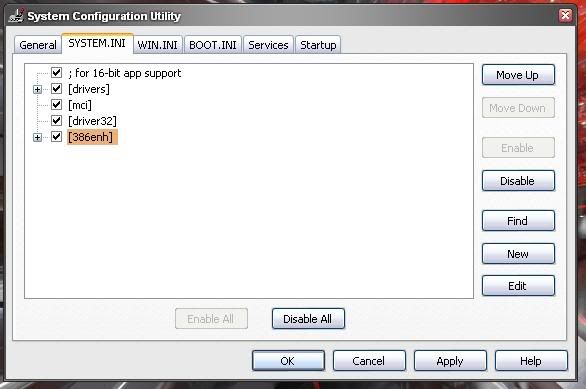 Click on [386enh] and expand it. Then click new and enter this:
ConservativeSwapfileUsage=1
Hit enter and make sure it's enabled. Click apply and then OK. Restart and that should do the trick.
Could anyone with loads of ram 1gb+ tell me what the performance boost is, if any. Thanks
CPU
Motherboard
Graphics
RAM
Intel Q6600 @ 2.6 Ghz
I forget.
nVidia 8400
2GB DDR2
Hard Drive
Optical Drive
OS
Monitor
1x320GB, 1x750GB
CD/DVD+-RW
Windows Vista Ultimate SP1 & Arch Linux 64bit
19inch Acer X193W
Keyboard
Power
Case
Mouse
Logitech UltraSlim
Pathetic 350w
Cube
2 Quid Bargain Bin Thing
View all
hide details
CPU
Motherboard
Graphics
RAM
Intel Q6600 @ 2.6 Ghz
I forget.
nVidia 8400
2GB DDR2
Hard Drive
Optical Drive
OS
Monitor
1x320GB, 1x750GB
CD/DVD+-RW
Windows Vista Ultimate SP1 & Arch Linux 64bit
19inch Acer X193W
Keyboard
Power
Case
Mouse
Logitech UltraSlim
Pathetic 350w
Cube
2 Quid Bargain Bin Thing
View all
hide details