Hi
I was reading a post and someone said "are there any sites comparing SSD benches"?
And so if one of us was to start a thread for SSD benches "What bench do ya think we should use"?
I'm thinking
"ATTO"
because it does
"Write test"
And maybe
"HD Tune Pro"
as it does
Random Access tests
But would like to here what you guys think
These are from my Crucial 64GB SSDs in Raid0!
ATTO
HD Tune Pro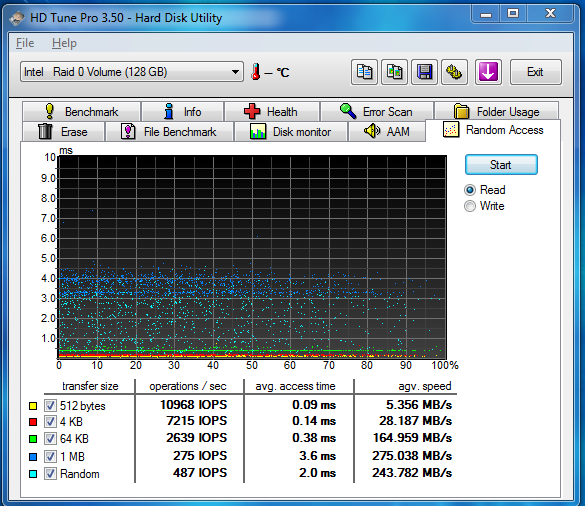 CPU
Motherboard
Graphics
RAM
Intel® Core™ i5-3210M
Laptop
HD 4000
Corsair Vengeance 8GB
Hard Drive
Optical Drive
OS
Monitor
Samsung 840 250GB
DVD Multi
Windows 8
15.5 inch display (1366 x 768)
Keyboard
LED Back lit
View all
hide details
CPU
Motherboard
Graphics
RAM
Intel® Core™ i5-3210M
Laptop
HD 4000
Corsair Vengeance 8GB
Hard Drive
Optical Drive
OS
Monitor
Samsung 840 250GB
DVD Multi
Windows 8
15.5 inch display (1366 x 768)
Keyboard
LED Back lit
View all
hide details