Didn't realize there'd be quite so much interest in this
At any rate hopefully we should have plenty of cooling. The cooling loop consists of 4 x Black Ice GTX 240 radiators plumbed in series w/16 high speed Yate Loon fans (2000rpm) push pull on a separate 180w psu. I am using the 24v Iwaki RD-30 for the pump. Here's a sloppy pic I have since made minor changes to compensate for the fact that the RD-30 has obnoxious suction side pressure.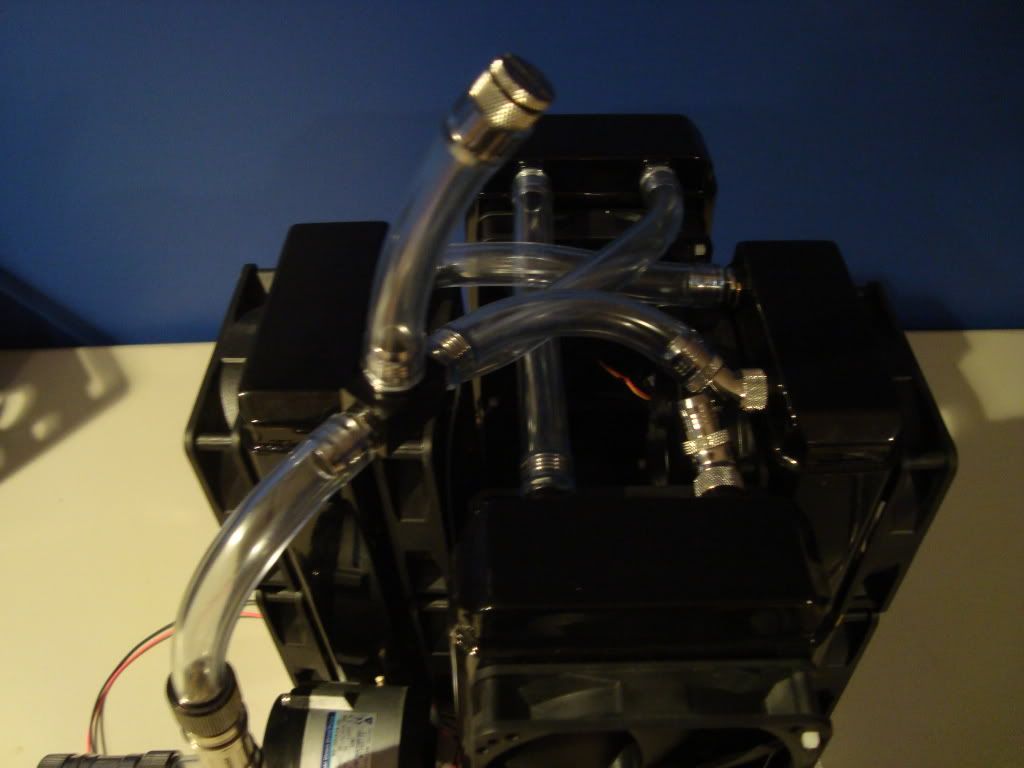 It's enough to collapse 1/2" x 3/4" clearflex tubing. I'll try and drag the rig upstairs after work tonight and grab some pics. Tomorrow or tonight if I have time I will pull the mobo out of the danger den torture rack so I can get pics of the insulation on the back side of the mobo. The board is already half prepped from benching under LN2. The mount held the board condensation free for 12 hours of sub zero benching more than once. I guess that's the only thing I should note here that is going to be different than any others that may use this block in the future. I will be using the mounting hardware and the back plate/insulation from my LN2 pot. Here's an older pic of the rig again things have changed a little since...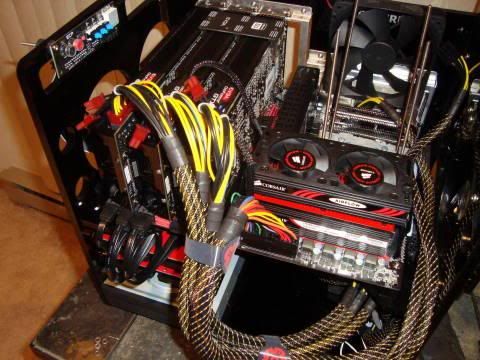 Hmmmm...more good news package should be there when I get home...
Detailed Results:
Bullet Arrival at Post Office, March 26, 2010, 8:47 am , NY 12775
Bullet Processed through Sort Facility, March 25, 2010, 8:58 pm, KEARNY, NJ 07032
Bullet Processed through Sort Facility, March 24, 2010, 11:13 pm, ORLANDO, FL 32824
Bullet Shipment Accepted; March 24, 2010, 4:15 pm, PALM BAY, FL 32905
Bullet Electronic Shipping Info Received, March 24, 2010
With that I should at the very least be able to get the block hooked up and there should be very little bleeding to do on the loop due to the quick disconnects. I only have one concern at this time and that is the ability of the 600w 24v meanwell to handle the load of both tecs and the Iwaki. It handled a 28v 400w tec and the pump no problem and it is rated for three devices so we shall see.
Maybe I can throw up a few frosty pics later. For now this is a pic of the 28v 400w 62mm tec at 24v with some aluminum plates I lapped with 800 and 1000 grit sandpaper the hot side plate was reading~25c via digital laser thermometer. I know its ghetto lol but it was really for testing purposes to make sure all the parts worked (meanwell tec etc) and I also wanted to make sure I didn't trip any breakers
If it is too much for the meanwell I will take the pump off of it and use the optional 12v to 24v converter performance pc's sells for the pump. Shoulda just grabbed one anyway but why bother until I know I need it.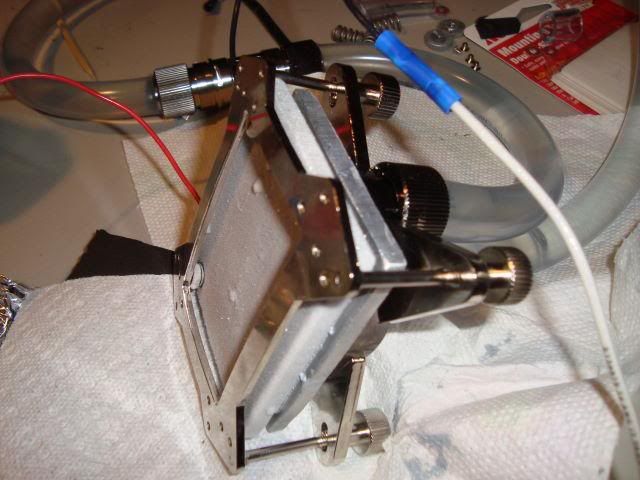 Edited by Elloquin - 3/26/10 at 7:08am