Now that the contest is over, here are the "Before" and "After" photos:
The Concept and the Materials: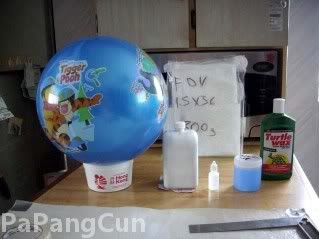 The Result:
Project Mission:
The intent is to make a capable, compact gaming/HTPC desktop PC in the form of a lamp. If I can find a compact enough water cooling system, it will also be incorporated. This would make it silent and yet a highly overclockable system. I am not that advanced in modding but I do know how to work fiberglass from previous work experience in popsicle vending cart, water buoy manufacturing/repair and anti-corrosive equipment coverings and housings. Sooo, the only thing I have to do is stick a system into a lamp...how hard can that be? Want to find out? Follow me then on another "Pappy" adventure!
I got the idea from searching for art-deco articles for ideas and in one site I noticed this "lamp". The shell apparently is translucent and would be more of a night light lamp. Here is the pic that gave me the idea:
I plan to use a similar American flag motif, in honor of this great site and its well deserved reputation.
Since I do not count on a super shop filled with high-tech expensive tools, this project will be highly hand-made, depending more on creativity, imagination and resourcefulness-just what any ambitious modder should have--please correct me if I am wrong. The most advanced tool I have is a Dremel equivalent, followed by a vivid imagination, heheh. And yeah, I live in Cancun, Mexico where EVERYTHING is hard to get. Here in Mexico there is no cushy internet ordering from the comfort of one's desk at home.
I state that modding is just a hobby, Papang BizRigs Cancun is just a tongue-in-cheek concept where there is only one customer (Me!) and true, I studied in the States (Texas A&M University) and I am pretty sure I'm the only modder in Cancún (talk about modding in a vacuum, jeje). I will mod on "the cheap", very appropriate for the times and besides the fact that I am presently unemployed. "Down but not Out!" is my motto right now. No fancy and expensive laser cuts, third party sub-contracting and other "fudging".
So in sum, this is what I am aiming for and what are personal "firsts":
1) First compact case with a mini-itx motherboard.
2) First case without feet or rollers (suspended).
3) If I can find an adequate system, my first water cooled system.
4) First totally round mod.
5) First combination of fiberglass and wood working project.
6) First participation in an Overclock.net mod contest-Thanks for that!
I will also keep a time card and record of expenses, what any conscientious modder should do so there will be no: "Damn I can't pay the mortgage, I COULD'NT have spent that much on that i7 975 Extreme proc and triple loop water cooling system, uhhh, HOLY CRAP!" or "Hon, what do you mean I am neglecting you, check my mod time card. It only shows 32 hours this weekend... oh crud, I am so sunk!"
The components to use are:
Mobo: mini-itx Zotac 9300 e-g
4 gb ram DDR2 Crucial Ballistix
2.5" Fujitsu 5,400 rpm, 8mb cache hard drive
Cpu: Celeron e3300 dual core or better
Compact water cooling system from Ice Core Tech (cpu & gpu)
Power Supply: mAtx Silent X 400w.
Video Card: ATI HD 4850 1gb or better.
Next is the Sketup base plan or if not, I will do it "old school"
Man Hours Used: 2 hours
$ Spent: -0-
Cheers and Saludos
Edited by Papang - 7/28/10 at 10:34am
CPU
Motherboard
Graphics
RAM
Phenom X4 640
Asus M3A78-EM
HD 4850
GSkill DDR2 - 4gb
Hard Drive
Optical Drive
OS
Monitor
2 x WD SataII 500gb
LG DVD
Win7 Ult. x64
Dual 17" Acer/Lg
Keyboard
Power
Case
Mouse
Logitech MX 700
Cooler Master 600W.
Modded X-Qpack I
Logitech MX 700
Mouse Pad
Choix
View all
hide details
CPU
Motherboard
Graphics
RAM
Phenom X4 640
Asus M3A78-EM
HD 4850
GSkill DDR2 - 4gb
Hard Drive
Optical Drive
OS
Monitor
2 x WD SataII 500gb
LG DVD
Win7 Ult. x64
Dual 17" Acer/Lg
Keyboard
Power
Case
Mouse
Logitech MX 700
Cooler Master 600W.
Modded X-Qpack I
Logitech MX 700
Mouse Pad
Choix
View all
hide details