I needed a good 2.1v to get stable at stock 1600 speeds. I wrestled with it for a while then i realized the ram was the issue. Bump up that ddr voltage and then the cpu/nb slightly.
[IMG]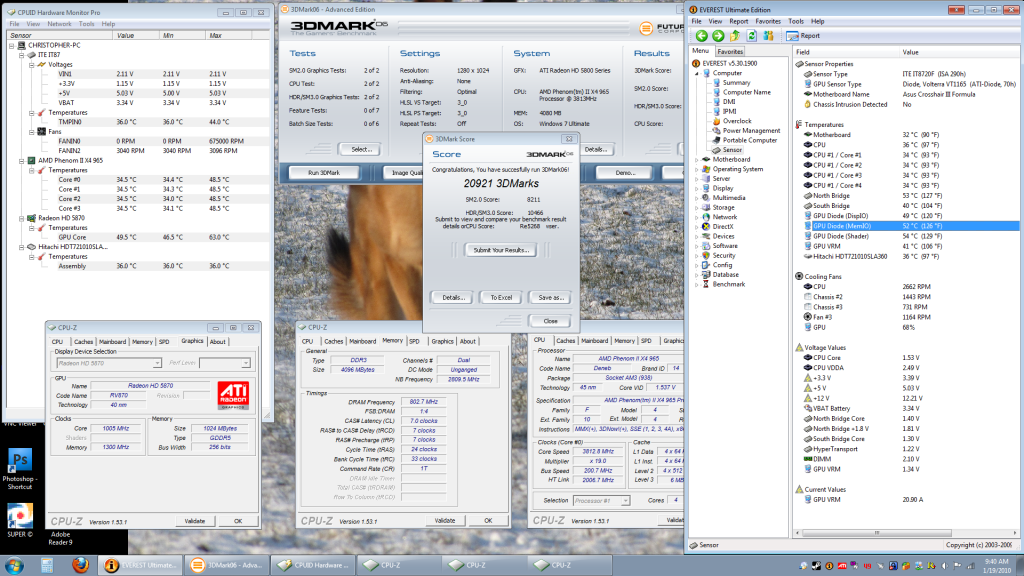 [/IMG]
Here is an image of some gpu benching that i was doing but you can see the DIMM voltage for the ram and all other corresponding voltages and settings. Hope this helps you iron out your mushkins I have been very happy with them after I pushed the voltage. They will post with 6-6-6-18 but you have to be aggressive with cpu/nb and dimm voltage and you get memtest and intelburn errors.
[IMG]
[/IMG]
Here is a bench of this ram at 1750ddr I did not play around a lot but got decent results from the OC.
Good luck keep tinkering
CPU
Motherboard
Graphics
RAM
AMD Phenom II X4 965 BE c3
Asus Crosshair III
Asus 5870
Mushkin Blackline 2x2G DDR3 7-7-7-21
Hard Drive
OS
Monitor
Power
2x WD 640G 7200rpm raid 0
Windoze 7 64bit
Vizio 37inch 120Mhz 1080p
Corsair CMPSU 850w
Case
Mouse
HAF 932
Mx 518
View all
hide details
CPU
Motherboard
Graphics
RAM
AMD Phenom II X4 965 BE c3
Asus Crosshair III
Asus 5870
Mushkin Blackline 2x2G DDR3 7-7-7-21
Hard Drive
OS
Monitor
Power
2x WD 640G 7200rpm raid 0
Windoze 7 64bit
Vizio 37inch 120Mhz 1080p
Corsair CMPSU 850w
Case
Mouse
HAF 932
Mx 518
View all
hide details