Hey guys,
My dad wanted a "media"-computer which can receive tv-programs, play hdtv and does all kinda video/movie/whatever stuff that you "need" in the living room.
Since it needed to be silent, I chose the
Zalman TNN500-AF
Computer Case which has no fans at all.
The whole case is made out of aluminium and the CPU, GPU and Northbridge are connected to the case through heatpipes.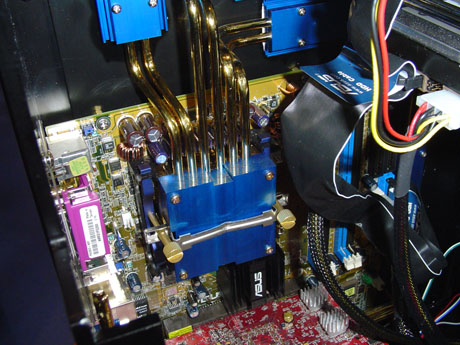 the hardware setup is:
- cpu:
AMD Athlon 64 X2 4800+
- mainboard:
msi k8n Diamond 54G
-
video card:
Sapphire Radeon X1800XL
- RAM:
2 x 1GB Kingston HyperX PC3200


The Case is awesome, it really is worth every cent (~$900-1000, I paid 939€). I didnt think that the whole passive cooling would work but when I turned the computer on for the first time, I had it running for 3 hours at 44°C (111,2 F).
We'll see how well the cooling will work as soon as I get the harddrives (they weren't available in the store yet) and I'll run all kinds of CPU stresstests ;-)
love,
killahbee
CPU
Motherboard
Graphics
RAM
amd athlon xp 3200+
asus a7n8x-e deluxe
sapphire radeon 9600 xt UE
1gig infineon pc3200
Hard Drive
Optical Drive
OS
Monitor
4x maxtor (120, 40,40, 60)
dvd burner, dvd rom
winsuck XP
belinea 19" flat crt
Keyboard
Power
Case
Mouse
sharkoon luminous
levicom visible pwr 500w
PINK FURR w/ lotsa lights
sharkoon, logitech
View all
hide details
CPU
Motherboard
Graphics
RAM
amd athlon xp 3200+
asus a7n8x-e deluxe
sapphire radeon 9600 xt UE
1gig infineon pc3200
Hard Drive
Optical Drive
OS
Monitor
4x maxtor (120, 40,40, 60)
dvd burner, dvd rom
winsuck XP
belinea 19" flat crt
Keyboard
Power
Case
Mouse
sharkoon luminous
levicom visible pwr 500w
PINK FURR w/ lotsa lights
sharkoon, logitech
View all
hide details