I was very fortunate to have been commissioned to build a large wooden tower case, to be used to hold a very large water cooled rig. Here's the design drawwings: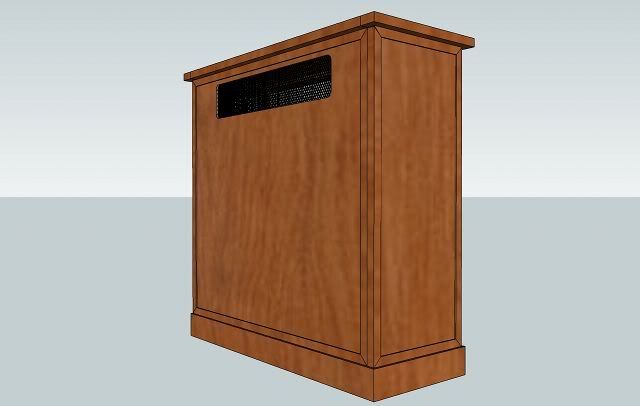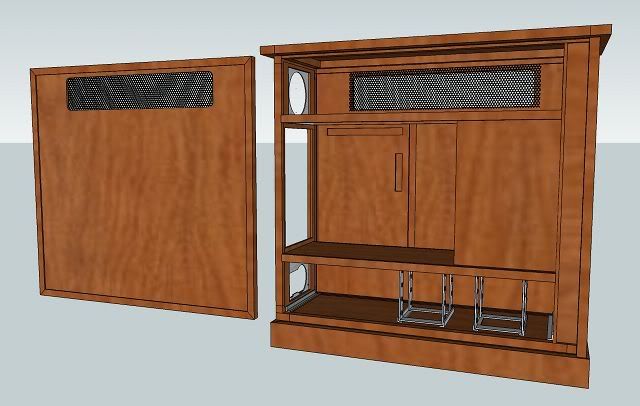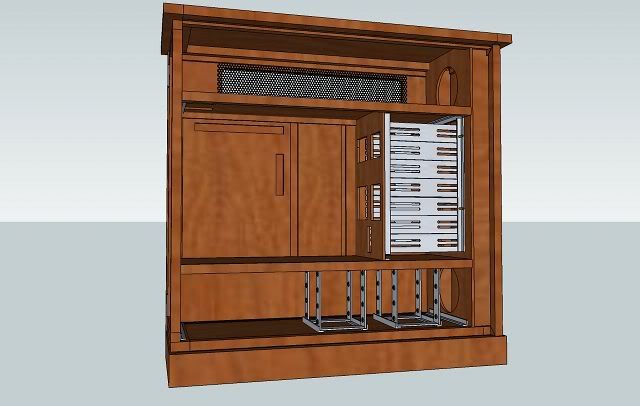 The case is designed to contain an EATX motherboard, seven 5.25-inch drives and eight 3.5-inch hard drives. Two 120.4 radiators will eventually be mounted in the top chamber: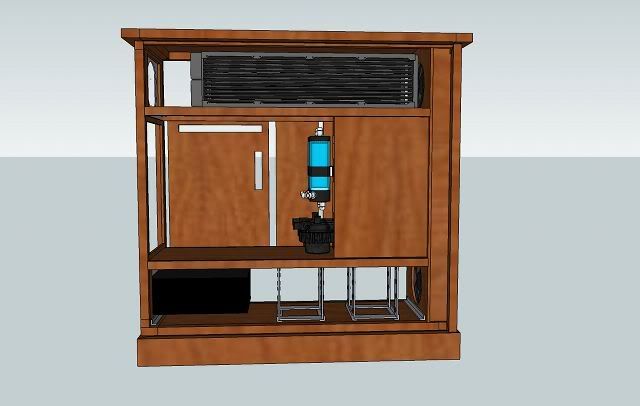 For wire routing/hiding, there's a "false back" between the mother board tray and the side panel:
The front fascia/panel is removable (although not on a hinge). Each horizontal "chamber" in the case is fed and exhausted by a 120mm fan.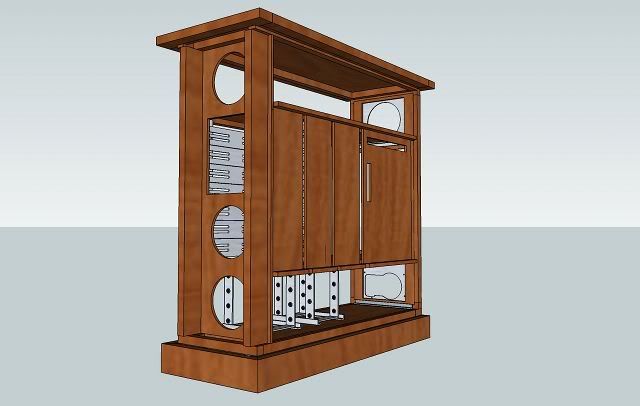 Fresh air is supplied to the front fans via a bottom-fed, built-in air duct.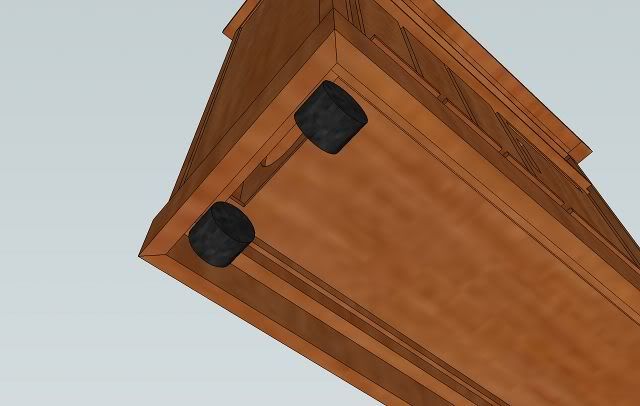 The first order of business was to fabricate the hard drive cages from 1/8-inch aluminum flat bar: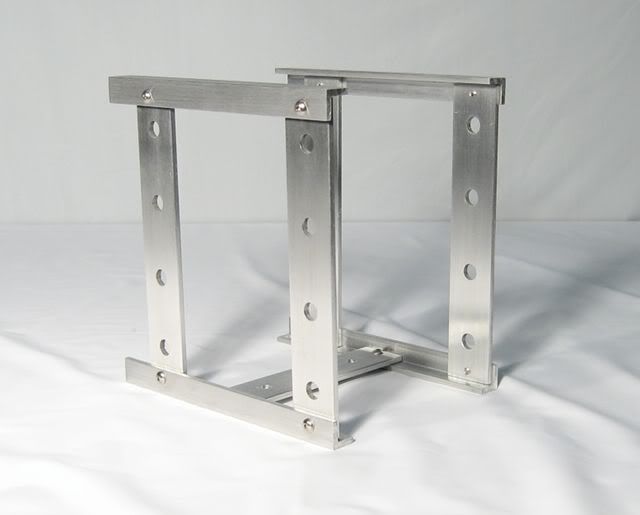 The drives are suspended in soft rubber grommets: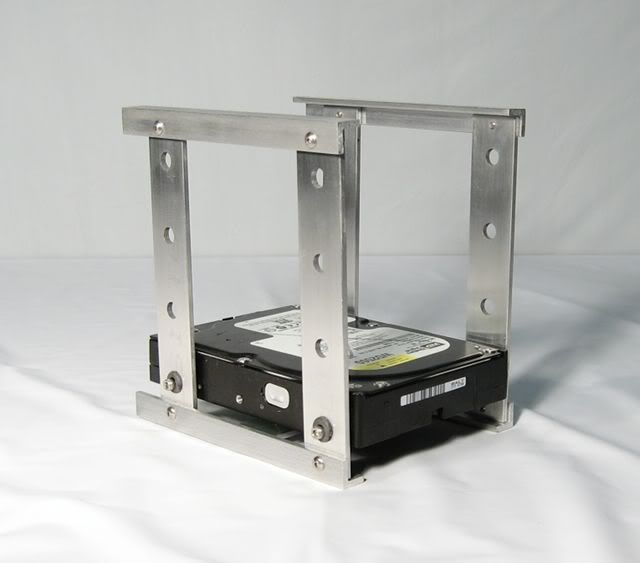 The cage/rails for the 5.25-inch optical drives were made from 1/8-inch aluminum sheet and 1/2-inch aluminum angle. The aluminum sheet was easily cut on the table saw (fitted with a carbide tipped saw blade). The strips were then stacked and a full-size template of a rail (drawn in Sketchup) was taped on.
The strips were then clamped to a home made jig in order to cut the slots in the rails safely and accurately.
In the center edge of each rail, a 6-32 thread was tapped (using my awesome hand tapper):
The holes in the angle were quickly drilled with the help of a self-centering vice (note the addition of a 1/8-inch plate in order to center the "leg" of the angle in the vice):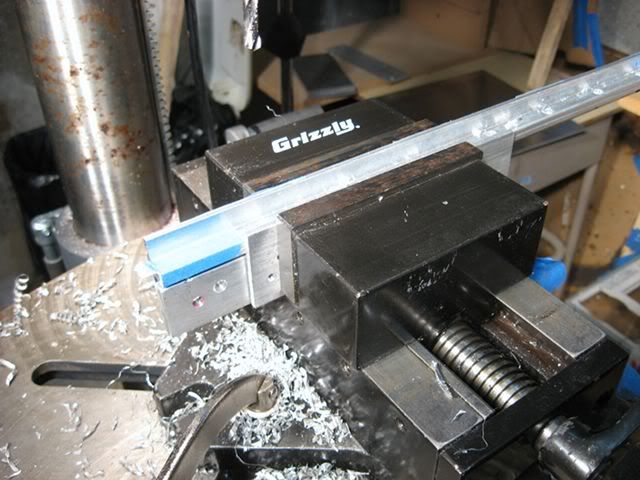 All of the aluminum pieces were scratched with 80-grit sandpaper. One-half of an assembled drive cage:
Having the ability to remove individual drive rails provides added flexibility when it comes to laying out the rig and for easy customizations.
A couple of templates were fabricated from some MDF. These were used to route out the motherboard tray and power supply openings out of the back panel.
Power supply template:
Motherboard tray template: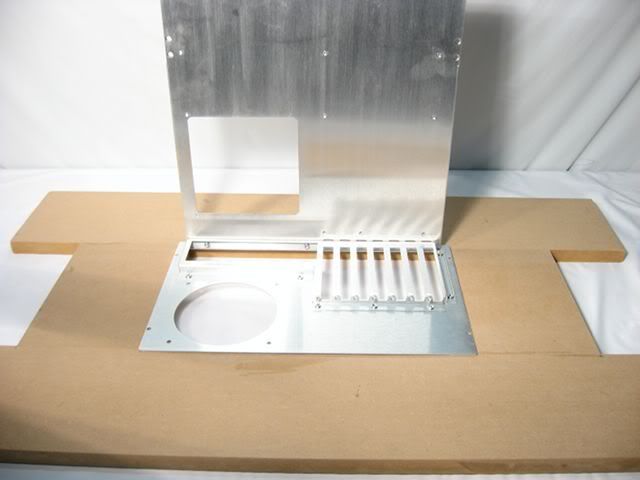 The frame for the back panel: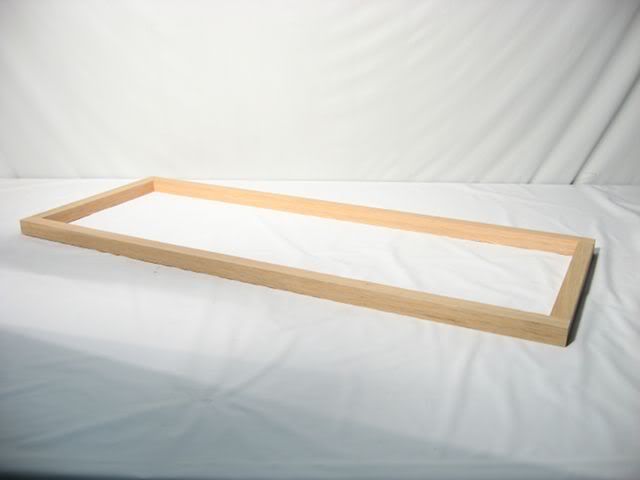 A jig was built to safely rabbet the inside edges of the glued-up front panel frame.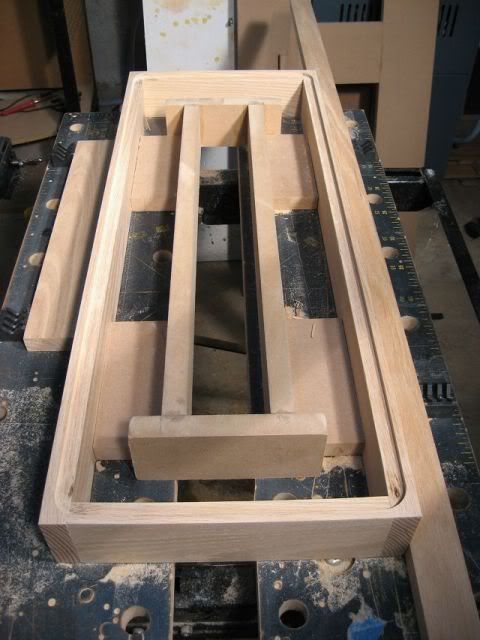 The front and back panel frames were rabbeted to accept the 5.2mm oak veneer plywood.
The plywood was cut on the table saw. The corners were rounded "free hand" on the table saw then finished with sandpaper and a sanding block: