Hi
As most know. SSDs have a limited life when it comes to writes!
And 10,000 cycles seems to be the norm or expected life
So this thread is to see how they are doing
So Post your results, and
say how long you have had the drive.
So we can see how well these things are bearing up!
These two drives were bought on the 26th October 2009, so are
103 days old!
And most of the time, they've been together in Raid0.
But the one on the Right has also been in my Laptop!
These drives are
Used and Abused
! I have even used them for capturing Fraps
But looking at these results, it looks like they will still out live the 5 year warranty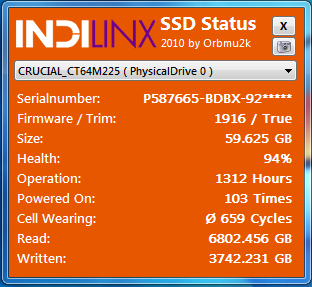 Indilinx SSD Status Tool doesn't work with Raid!
And "Doesn't work with Intel drives!"
Edited by ACHILEE5 - 2/16/10 at 2:37pm
CPU
Motherboard
Graphics
RAM
Intel® Core™ i5-3210M
Laptop
HD 4000
Corsair Vengeance 8GB
Hard Drive
Optical Drive
OS
Monitor
Samsung 840 250GB
DVD Multi
Windows 8
15.5 inch display (1366 x 768)
Keyboard
LED Back lit
View all
hide details
CPU
Motherboard
Graphics
RAM
Intel® Core™ i5-3210M
Laptop
HD 4000
Corsair Vengeance 8GB
Hard Drive
Optical Drive
OS
Monitor
Samsung 840 250GB
DVD Multi
Windows 8
15.5 inch display (1366 x 768)
Keyboard
LED Back lit
View all
hide details