Quote:
Originally Posted by
infected rat
So here's an update after a couple of months of standard daily use, I've got Windows on it and a few of my most played games. I haven't thrashed at all compared to some of you but may well start doing so when I get a Vertex 2 or C300 at some point.
I recently noticed that if you double click on the cell wearing result it changes to give you what I assume is more detail, thus:
I don't entirely understand what those numbers mean, I assume the total is the number of cells that have been disabled due to being written too many times (124), but what are the numbers next to the up and down arrows? Write for up, read for down or something along those lines?
Hmm
Have you tried checking the drive with
SSDLife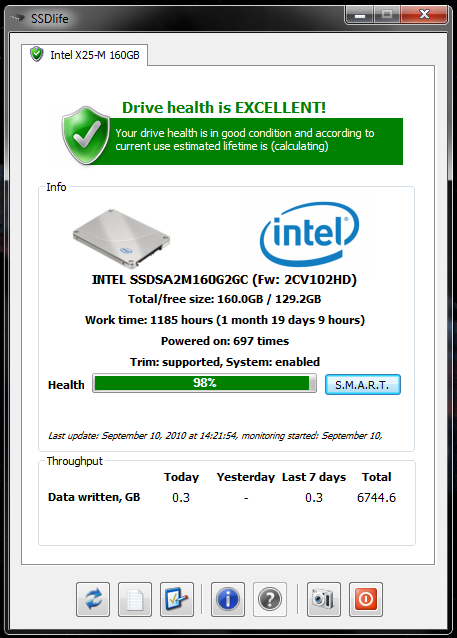 Quote:
Originally Posted by
TheDreadedGMan
Well that's interesting! I love finding hidden features in software.

I guess perhaps you could check after a day or so and see if the 2 numbers have changed?
I'm clad you got my back bud
CPU
Motherboard
Graphics
RAM
Intel® Core™ i5-3210M
Laptop
HD 4000
Corsair Vengeance 8GB
Hard Drive
Optical Drive
OS
Monitor
Samsung 840 250GB
DVD Multi
Windows 8
15.5 inch display (1366 x 768)
Keyboard
LED Back lit
View all
hide details
CPU
Motherboard
Graphics
RAM
Intel® Core™ i5-3210M
Laptop
HD 4000
Corsair Vengeance 8GB
Hard Drive
Optical Drive
OS
Monitor
Samsung 840 250GB
DVD Multi
Windows 8
15.5 inch display (1366 x 768)
Keyboard
LED Back lit
View all
hide details