Overview:
Hi all. In an effort to better understand how overclocking the Core i7 affects gaming performance at high resolutions/high quality settings, I decided to conduct an experiment - I ran a few tests holding everything constant except for my CPU's base clock (and voltages). I suspected the results would be highly GPU limited, but that overclocking the CPU would provide at least a small performance boost. Here's a quick overview of the test system and apps/settings used.

Test system:

Processor:
Intel Core i7 920 D0 @ 2.66GHz, 3.36GHz, 4.01GHz, and 4.33GHz, HT on
Motherboard:
EVGA X58 SLI Classified 760
RAM:
Corsair Dominator GT 1866MHz, 7-8-7-20-1T timings
Graphics Card:
BGF GeForce GTX280 @ 740/1480/1240 core/shaders/memory
Hard Drive:
Western Digital Velociraptor, 300GB, 10,000RPM
Audio:
Onboard
Test applications:
H.A.W.X.:
1920x1200, all in game settings maxed, 16x Anisotropic Filtering, AA Gamma correction on, 8xQ AA, AA transparency "supersampling," DX10 mode
Warhammer 40K Dawn of War II:
1920x1200, all in game settings maxed, 16x Anisotropic Filtering, AA Gamma correction on, 4x AA, AA transparency "supersampling"
CS:S / HL2 (built in benchmark):
1920x1200, all in game settings maxed, 16xqmsaa
Crysis Warhead:
1920x1200, Enthusiast, 4x AA, DX10 mode
3DMark Vantage CPU Test 1:
simple run through on the "extreme†setting
Testing methodology:
For each overclock setting I ran each of the benchmarks and noted the average FPS. Warhammer, HAWX, and CS:S/HL2 all have built-in FPS/performance measurement tools. For Crysis, I used a third party Crysis Warhead benchmarking tool. Vantage is a benchmark itself – I used CPU test 1 to compare real world gaming performance to pure number-crunching CPU performance.
To ensure optimal system performance, I rebooted the system between each benchmarking run. Each overclock setting is 24 hours Prime 95 stable.
Results:

H.A.W.X.:
(Just noticed that I forgot the last period in H.A.W.X. in my chart title... anyway ) With all the eye candy maxed out, HAWX looks pretty sweet and runs very smoothly on a single GTX280. A faster processor however doesn't seem to make any difference. At all. At 4.33GHz FPS are only marginally higher than stock.
Warhammer 40k, Dawn of War II:
Not much of an improvement here in terms of average frame rates (what you should expect while playing the game). They are pretty much flat across the board with only a fractional FPS difference.
Although I didn't record them (now I'm thinking I should have) the minimum FPS showed a VERY slight increase going from 2.66GHz to 4.33GHz. I think this is because DoWII uses Havok physics technology… when there are lots of units on the screen at the same time (and framerates are the lowest), it helps to have a slightly faster processor. This type of data analysis is purely academic, however, as the game felt just as smooth to me using all 4 CPU clock rates.
CS:S / HL2: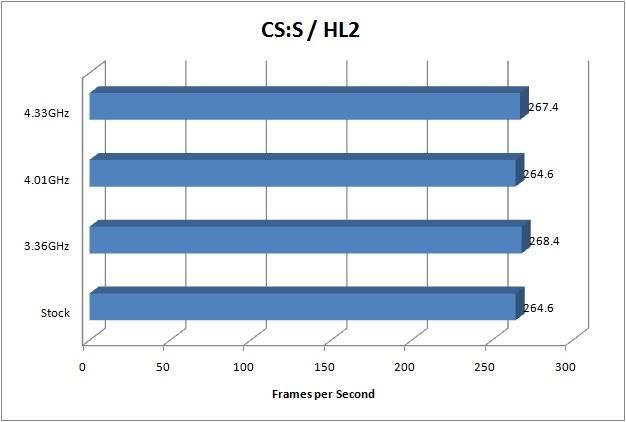 This one seems to depend more on the direction of the wind than my overclock…

Crysis Warhead: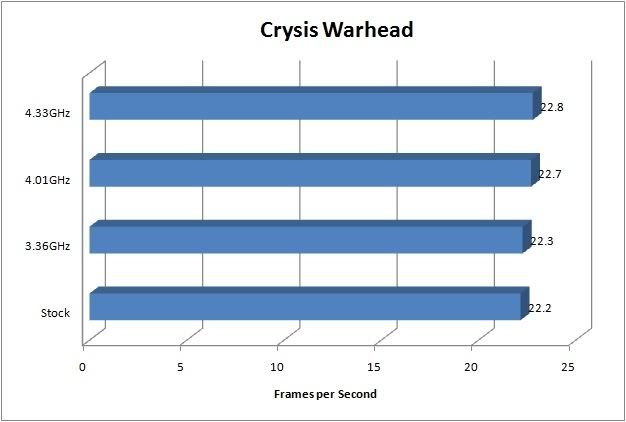 I was really hoping to see a slight performance gain in Crysis given how hardware demanding it is. However, it's pretty clear that we're GPU limited here.
Only a very modest increase in rates.. at the fractional level.

3DMark Vantage CPU Test 1:
As expected, this synthetic benchmark scales very well with overclocking. Higher clock speeds = higher benchmark scores, almost at a 1:1 ratio. In terms of gaming this doesn't really matter, but if you fold at home or do any other CPU intensive application, overclocking should increase performance.


Conclusion:
The results pretty much speak for themselves. The Core i7 seems to be way more powerful than any of these applications need, even at stock clocks. Even with a 55% overclock, the only test that showed a material improvement in results was the CPU benchmark application (naturally).
From these tests, it's fair to conclude that most gamers running the i7 920 will be fine at stock settings. There is absolutely no CPU bottleneck on any of the games tested, regardless of clock speed. When not benchmarking, I run my own processor at 3.88GHz (the highest my CPU will go on stock voltage) and with SpeedStep on. The performance gains (or lack thereof) from higher overclocks are simply not worth the additional voltage/power required by the system.
That's it for today! I hope that this has been at least somewhat helpful.
Update:
Some users with SLI graphics setups and higher end cards (5970s etc) are claiming that they do see big improvements with overclocking. This may be true... while an i7 920 at stock speeds was not enough to bottleneck my single GTX280, it could be a problem once you double the GPU power. Unfortunately I'm unable to test this as my second GTX280 recently died
. However for most gamers running 1920x1200, I think these results show that even at very high settings and stock clocks, the games are pretty playable (Crysis should be run at 2x AA on a single GTX280 for smoother play).
Edited by NoodleGTS - 2/9/10 at 2:56pm