:: My second acrylic case ::[/B]
Definition: Eyas - A nestling hawk or falcon.


This build is based on the m-ITX motherboards using the relatively new nVidia ION graphics technology. The idea was to squash as much performance as possible into the smallest box possible, hence the name. The case will measure 20cm x 20cm x 9.5cm; a slot-load slimline DVD-drive on the lowest tier, two 2.5" hard drives mounted side-by-side above that, and the motherboard on top. A single slimline 120mm fan on the top panel will cool the rig.
:: 03.24.10 ::
Sketchup Model Complete
:: 03.24.10 ::
Hardware Chosen
:: 27.06.10 ::
My Workspace and Materials
:: 27.06.10 ::
Experimenting!
:: 27.06.10 ::
Initial Cutting
:: 28.06.10 ::
More cutting, some glueing, and some headaches.
:: 29.06.10 ::
Finishing the top panel w/ fan grill
:: 29.06.10 ::
Just a bit of drilling
:: 29.06.10 ::
Hardware Arrives
:: 06.07.10 ::
Final Photos
06.07.10 :: Final Pictures
So here we are, the money-shots!
A scale photo!
Look how close it is! About 1mm between the heatsink and the fan, and even less between the fan and the RAM though you cant see that. Perfect!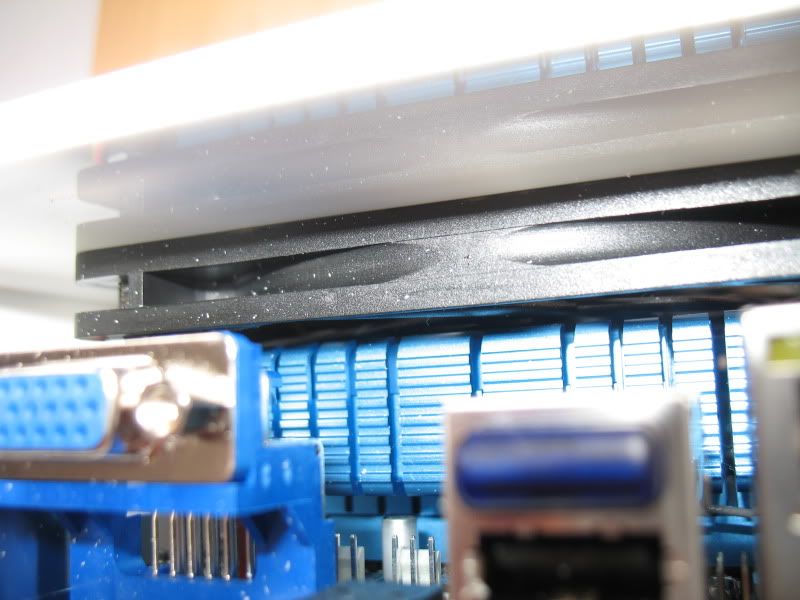 About 2mm between the HD and the motherboard solders.
Up and running Windows 7 with XBMC, overclocked to 1.8Ghz. It's so small!
Total dimensions are 9.5cm x 20cm x 20cm.
Thanks for watching!
~Killhouse
Edited by Killhouse - 9/2/10 at 5:58am