Hey everyone. This is my second custom build, but first build log. This new rig is almost identical to my sig rig, but 2 is better than 1.
Onto the parts:
EVGA X58 SLI LE Motherboard
Intel i7 920 CPU
OCZ Gold 6GB DDR-3 1600Mhz Memory
Intel X25-M G2 80GB SSD
XFX 5770 GPU
Antec TruePower New TP-750
Thermalright Venomous-X Heatsink
(2) GentleTyphoon AP-14 [For Ven-x]
(3) Noiseblocker MF12-S2 [Case Fans]
OCZ Freeze
Antec 300 Case
ASUS VW266H 25.5" Monitor
PLEASE excuse the horrible picture quality. I lost the charger to my Nikon D40x and was stuck with some 5 year old digi cam that I broke half way though the pictures, and eventually switched to using my BlackBerry's camera. Again, really sorry for the bad pictures, but I guess some pics are better than none at all.
All the parts laid out except for the SSD which arrives Monday, and case not pictured: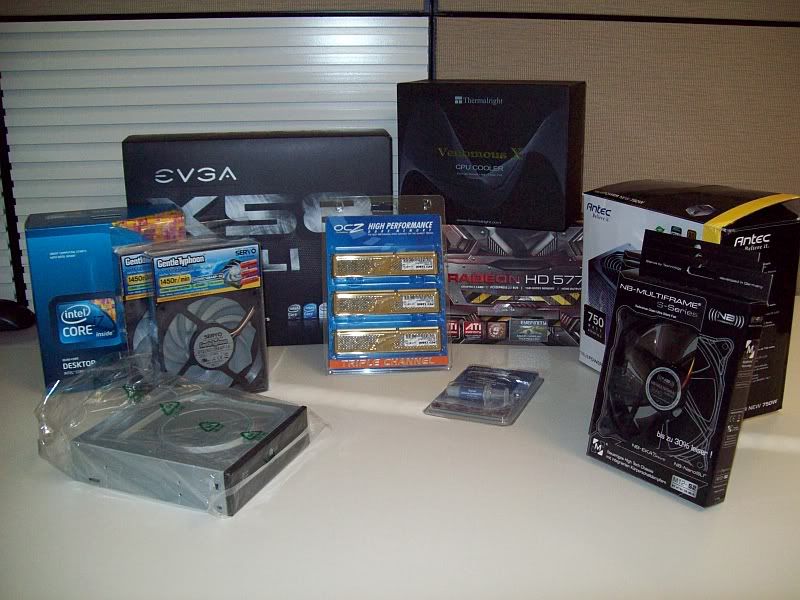 Getting to work, time to prep the motherboard:
Unboxing the X58 board: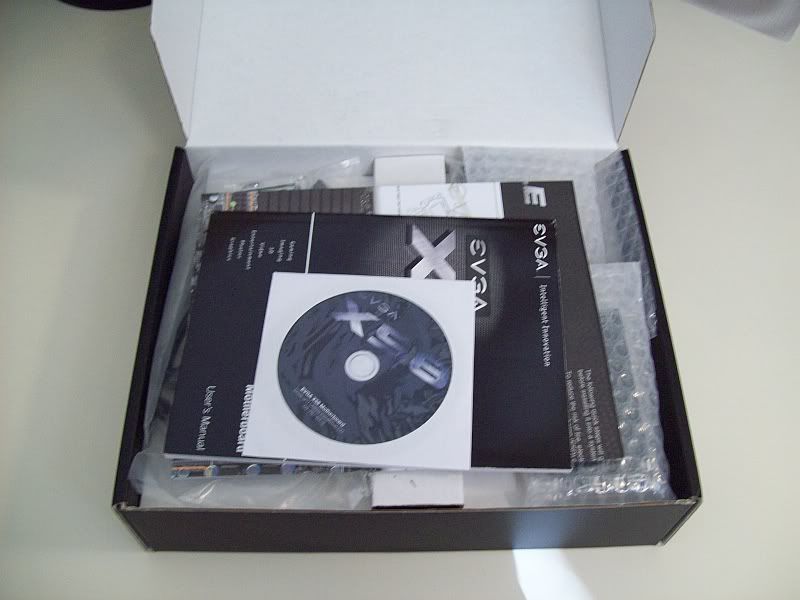 Comes with a few SATA cables, USB and SATA port expansion "card", power adapter for SATA, and the mobo backplate.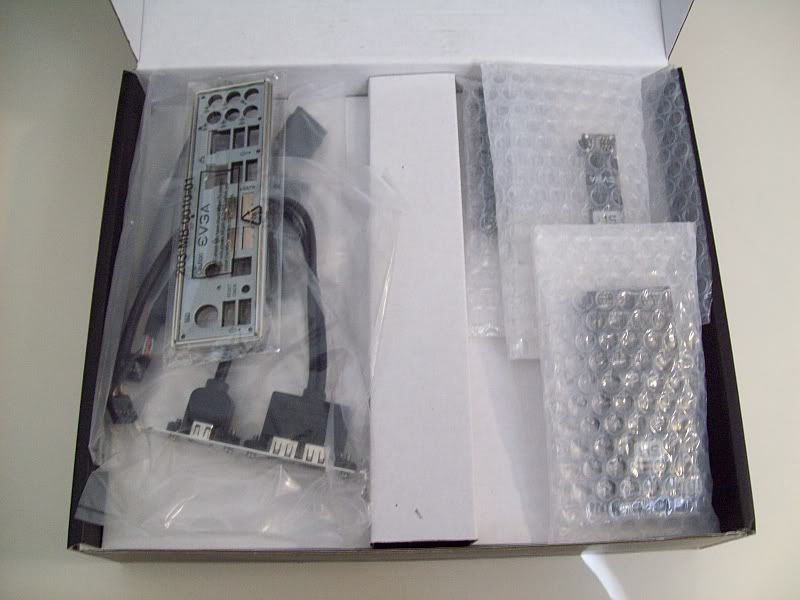 Once that's all out of the way, we get below to the motherboard inside an ESD bag.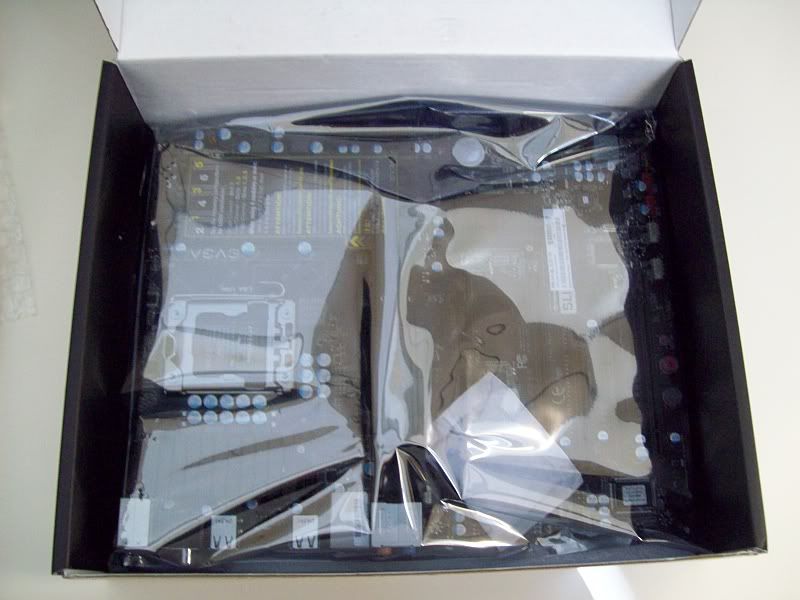 Unwrapped: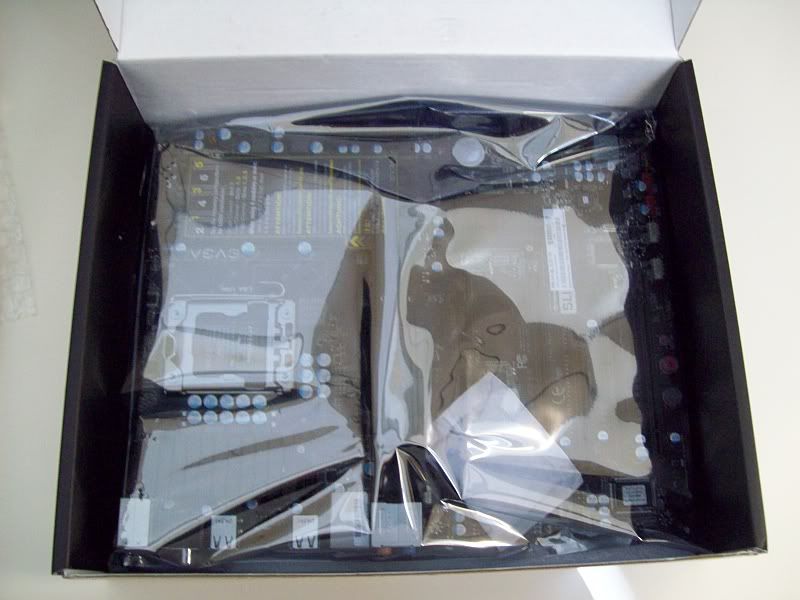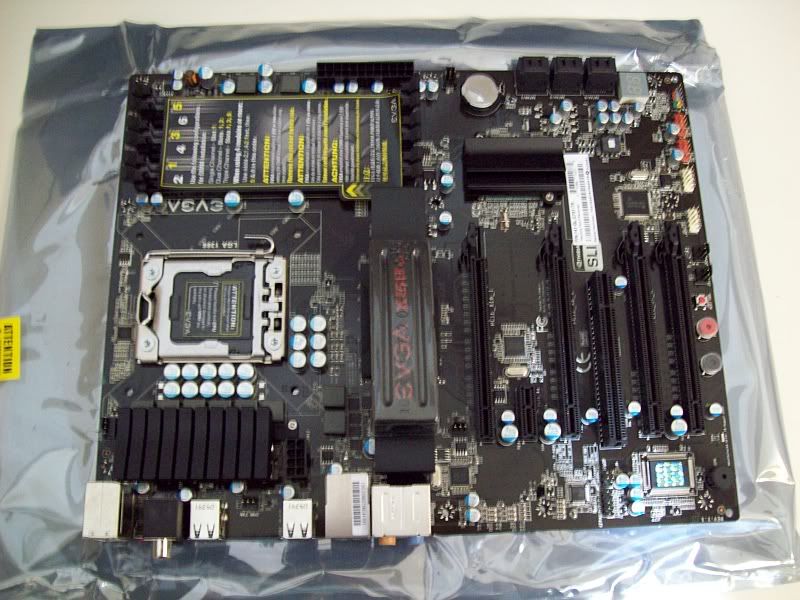 The first order of business is replacing the TIM on the Northbridge and Southbridge. This board has a warm Northbridge. If changing out the TIM will help a few degrees, I'm all up for it, especially now...before parts get installed. I'm using 90% isopropyl alcohol to clean, and replacing the TIM with OCZ Freeze.
First step is to unscrew the screws holding the heatsinks onto their respective chips. To those doing this, it will be self evident on which screws to undo, but they are circled in red in my picture.
Start unscrewing: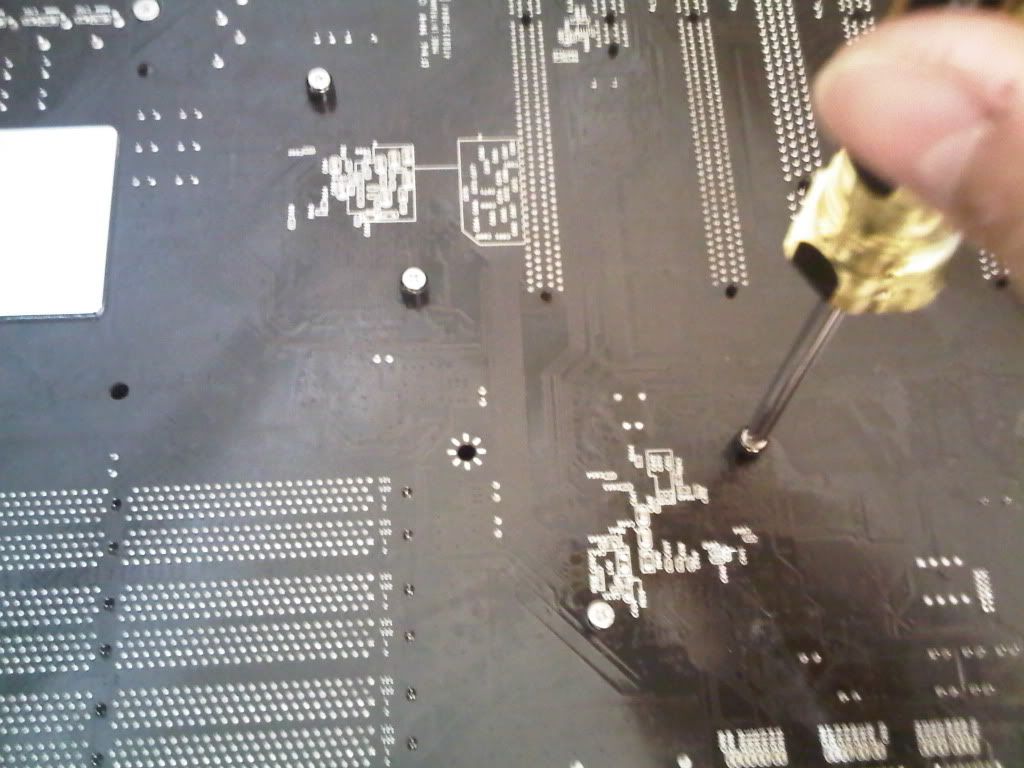 4 screws later and you should have these off the board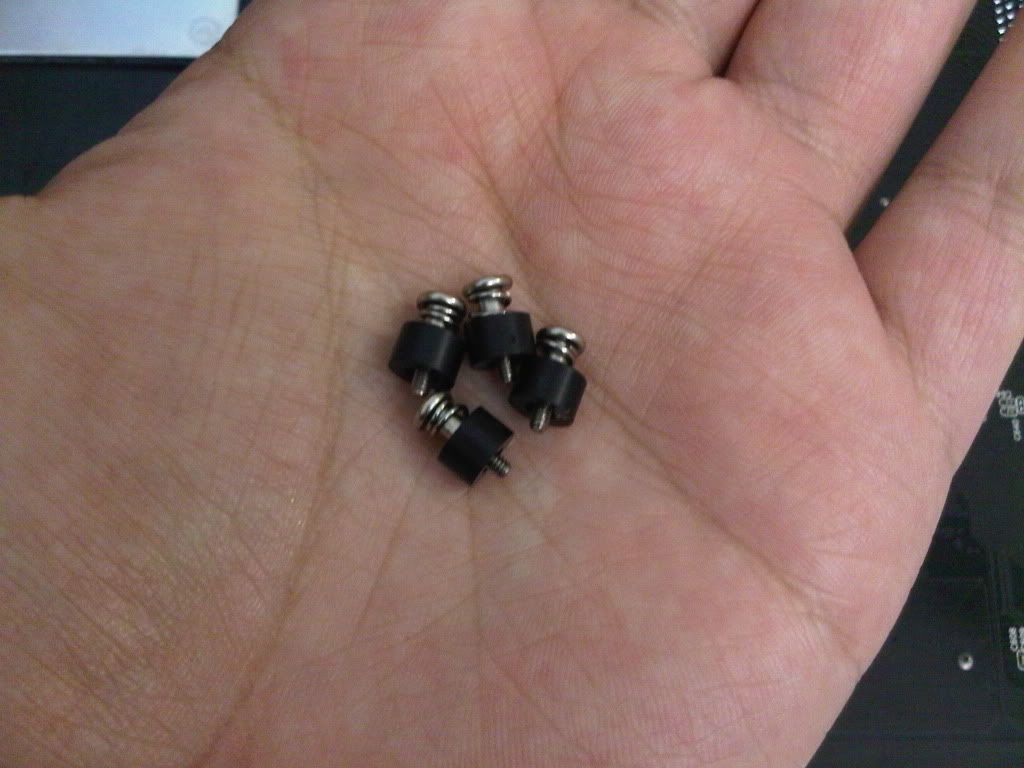 Now we see what we get....here is the Northbridge. They were pretty liberal with the TIM from factory, and ALMOST got TIM between the pins for some components around the NB chip. I spent some time cleaning this up 3x over making sure no pins had TIM on them.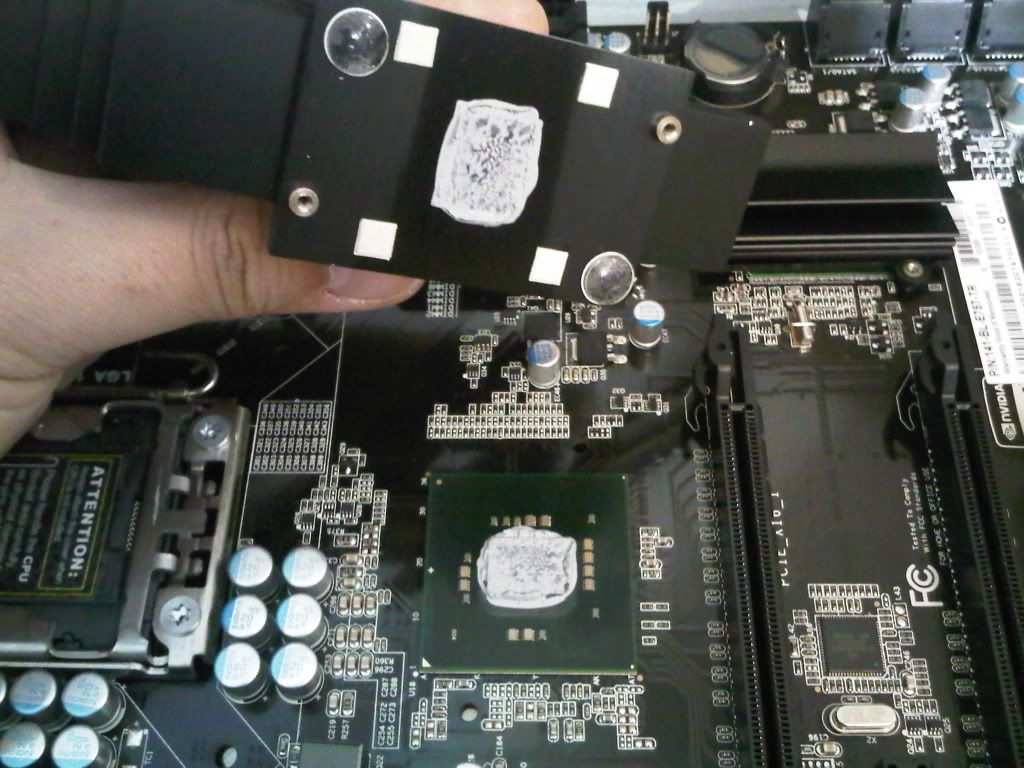 Southbridge time: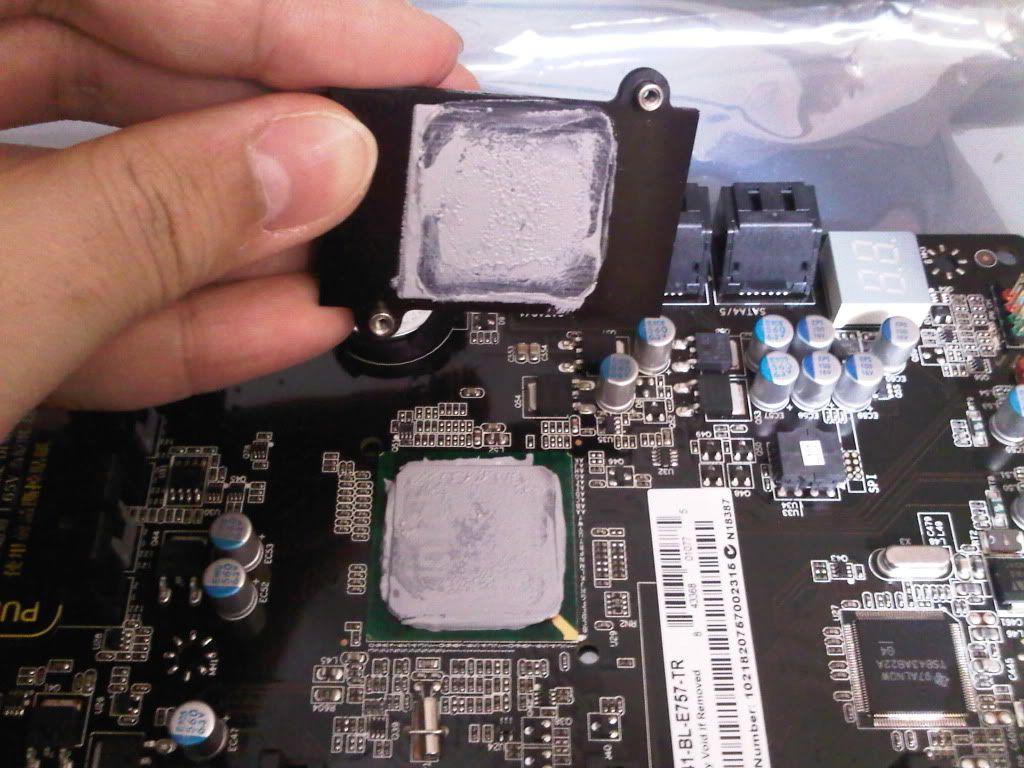 All cleaned up! Mirror finish on the Northbridge:
Heatsinks cleaned up: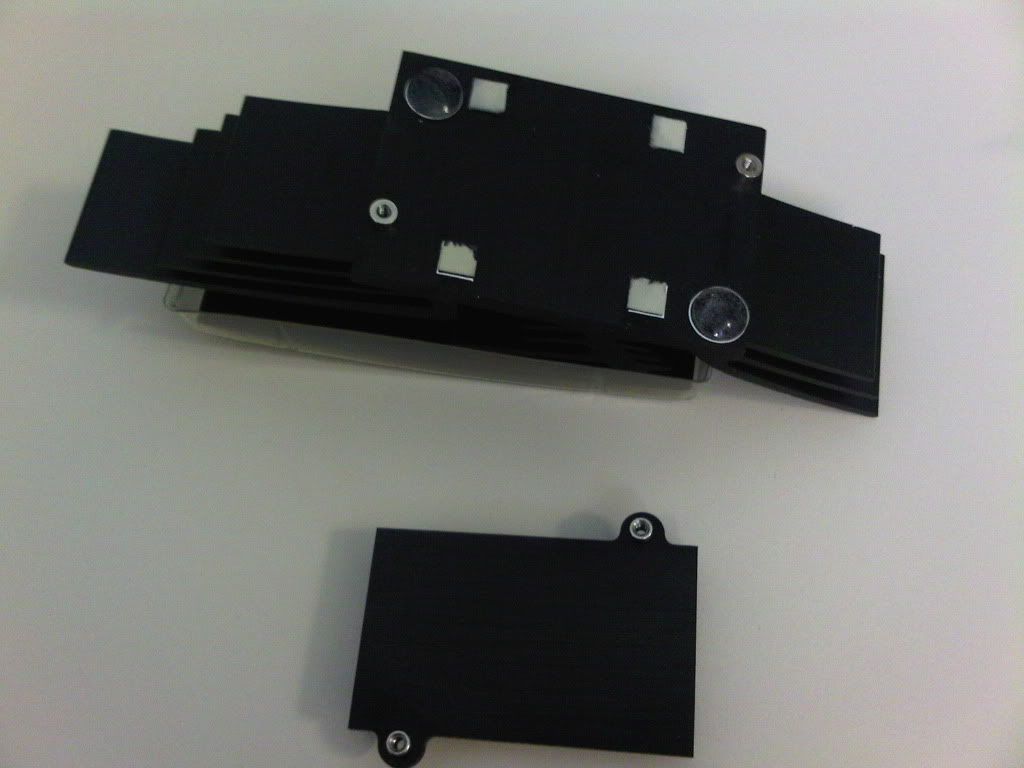 With everything cleaned up 3 or 4 times over, it was time to apply OCZ Freeze and put things back together. Southbridge first! I didn't know how much TIM to put on, so I decided rather than do it once and guess if it was enough or not...I would just apply over and over until I had a good idea of how much TIM to put on. This was about the 4th try on the Southbridge: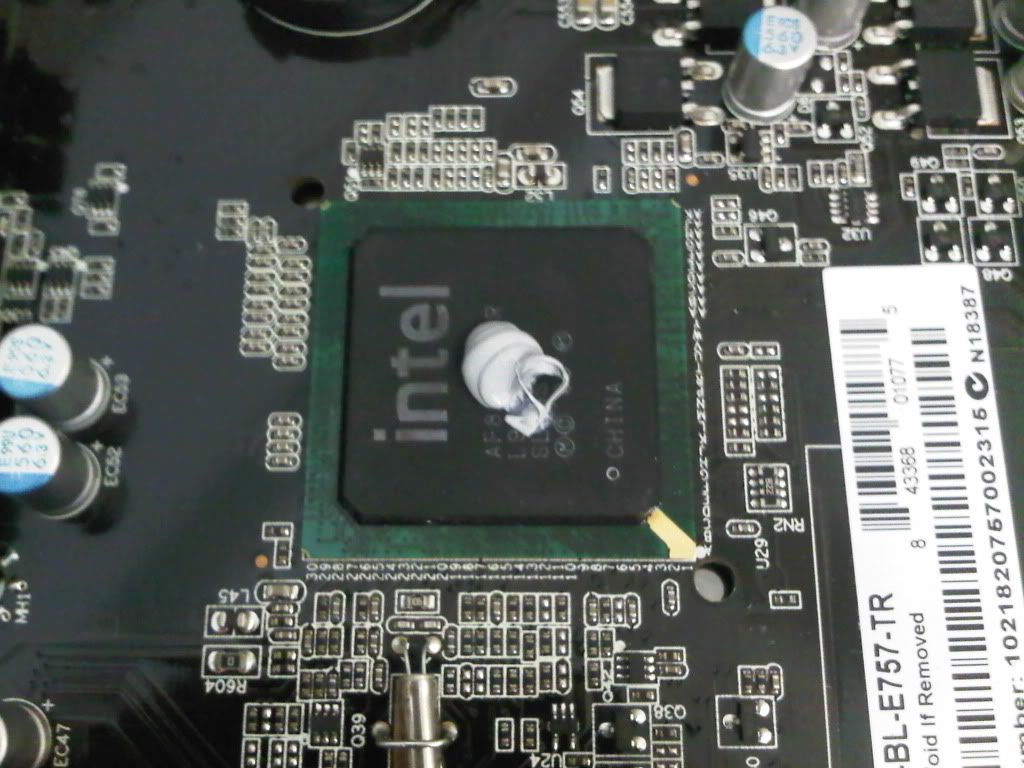 This was the spread I got:
I cleaned it up, and this time I put a little more compared to the time pictured above. That should get me good coverage across the chip.
Same deal with the Northbridge. Took me quite a few times to get the amount down.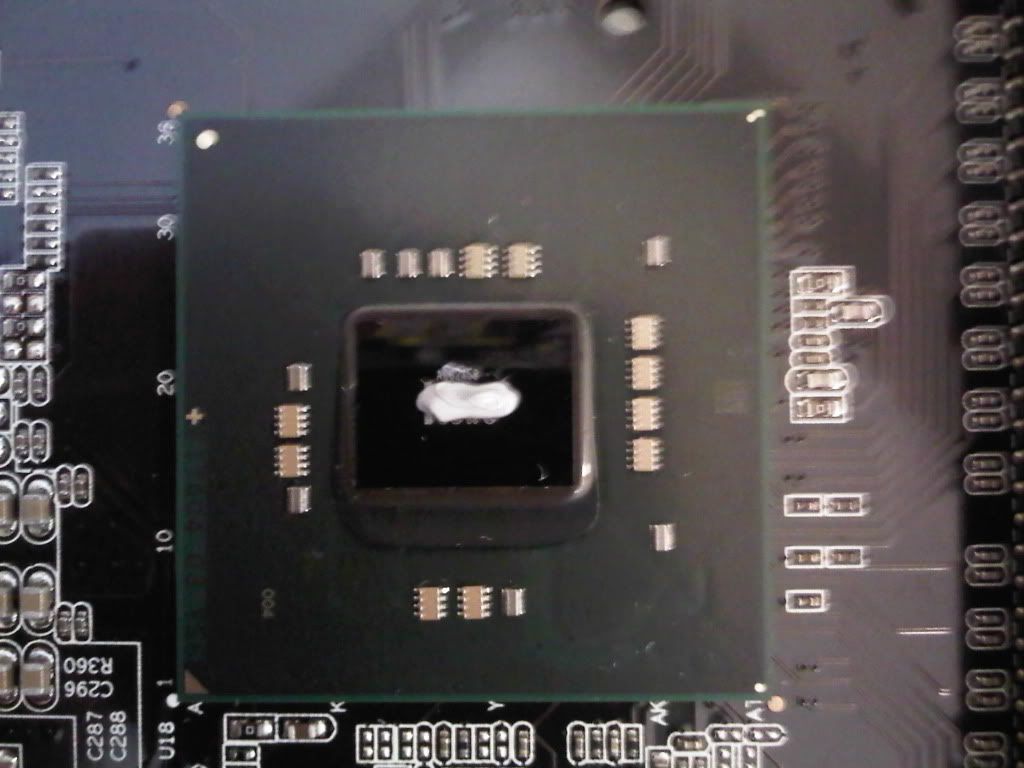 I didn't take a picture of the spread on the NB simply because I forgot, but from this, I had a good spread.
Putting the heatsinks back on can be a little tricky. The Southbridge is easy because the heatsink is light and will stick nicely to the board as you turn it over to screw the heatsink in, but the Northbridge is a different story. Took me a few tries to get it right because you have to hold the heatsink to the assembly with your left hand, and use your right hand to put the board on its edge, line up the holes, start the screws, and tighten them down. The spring loaded screws make it hard to over tighten. You go hand tight, and that's it!
CPU
Motherboard
Graphics
RAM
i7 920 D0 4.0GHz @ 1.20v
EVGA x58 757 LE
XFX Radeon HD 5770
Mushkin Blackline-1600 12GB
Hard Drive
OS
Monitor
Power
Intel X25-M G2 80GB SSD & Samsung F3 1TB
Windows 7 Ultimate 64bit
ASUS VW266H 25.5"
Antec TruePower New TP-750
Case
Antec 300
View all
hide details
CPU
Motherboard
Graphics
RAM
i7 920 D0 4.0GHz @ 1.20v
EVGA x58 757 LE
XFX Radeon HD 5770
Mushkin Blackline-1600 12GB
Hard Drive
OS
Monitor
Power
Intel X25-M G2 80GB SSD & Samsung F3 1TB
Windows 7 Ultimate 64bit
ASUS VW266H 25.5"
Antec TruePower New TP-750
Case
Antec 300
View all
hide details