Mal's Eyefinity Project
A little background:
So long before the 5000 series ATI cards were released, we had that preview of things to come with
Eyefinity.
It didn't matter to me what else there was going to be as far as I was concerned because gaming on several screens for a huge visual field was something I wanted to do even easier than ever. We've had this for a while in the form of the TripleHead2Go and software like SoftTH, but they don't work perfectly, resolutions were limited, hardware was extremely limiting and it was still just as costly as any other novelty form of gaming (exception SoftTH is free, but granted, requires very powerful components to play anything at high resolution and settings). ATI came along and nixed all of that in one stroke with
Eyefinity.
No more external hardware or fancy software stuff to edit and toy with. Nope. Just buy a new videocard, one that is very powerful, that just so happens to also allow for the creation of a single display group out of up to three different displays thanks to Eyefinity technology. The concept was nothing short of amazing. Then it finally came out, and everyone quickly realized it was going to be a problem.
Display port
was the only way to do it. Well, who has display port capable monitors? This was a huge set back and let down for a lot of us. Plus, the drivers were funky. It wasn't working with Crossfire. At release it was just not good. It took time. Eyefinity promised so much, didn't deliver at first, and that's where all the
misinformation
began and has pretty much stayed. Until now of course!
Eyefinity
has finally matured. There are options now that were not there before (adapters, which I'll touch on). It's a novelty that is obtainable even though it's still expensive even for entry level Eyefinity setups. But the key here is that ATI finally matured the driver set, made sure it works properly and it works with Crossfire. The point is...
it finally works.
Thus my Eyefinity Project is born and realized after waiting for the right point in time after Eyefinity's birth to be able to harness it without pain and without set back. The goal was to create an Eyefinity setup that could play today's games just fine at the maximum resolution of my displays, to do so without a super expensive adapter, to do so without Crossfire or dual GPU support
yet
and to do everything on I would call a moderate budget, instead of going `all out.'
The HD5850:
I could have gotten an HD5870 when they first came out. They were cheaper than they are now (weird price hikes!). And then the HD5970 came out and I was very tempted. But waiting and watching it seemed there were a lot of problems going on with Eyefinity and Crossfire in general. So I waited. Eventually the HD5850 came out. It was reasonably priced and performed oh-so-close to the HD5870. Enough for me to warrant saving over $100 right there. I waited for the first reference designs to come and go just to see things change before I made my choice. Eventually NewEgg threw me a deal and I picked up my Eyefinity card:
The Saphire HD5850
, which I nabbed for $280 shipped. Quite the upgrade from my 8800GT.
(Click the image for a much larger resolution version.)
I had prepared for the size of these cards, but low and behold, this HD5850 was actually nearly the same size as my old 8800GT (a Palit super sonic). My HAF922 however has plenty of space (I made sure my case could fit an HD5970 just in case!). The HD5850 overclocks nicely and reaches speeds comparable to the HD5870. So, $100+ saved right there on the card itself. I do plan on getting another in the future and this makes it even cheaper to do that.
Here are some images of the HD5850 installed in my rig. That's an AMD 955BE overclocked to 3.8ghz and cooled in a HAF922 via a Mugen2. Lots of air movement, and not loud.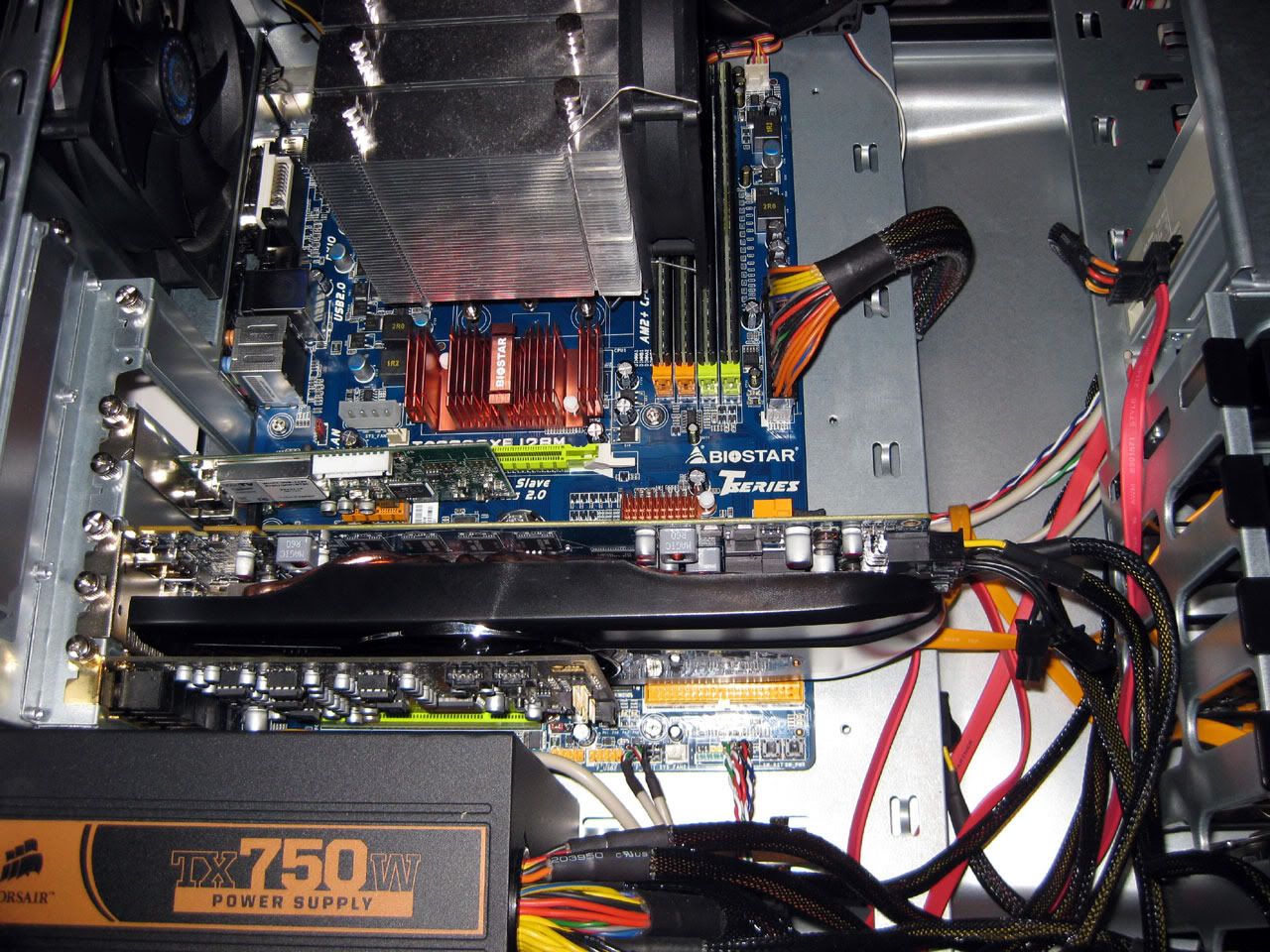 (There is plenty of room for a larger card, like the HD5970.)
Display Port Adapter:
Unfortunately at first, there were only the active adapters for display port and they were ungodly expensive--still expensive actually. There were no alternatives. So people who quickly jumped on Eyefinity were sorely discovering they had to spend another $100 to $120 just for an adapter to convert a display port to DVI, etc, signal. Very irritating and it made the whole endeavor even more expensive.
But if you were a little patient, a lot of display port adapters came out. So to clear up something:
You do NOT need an active display port adapter!
No. You do not. If you're using 1920x1080 or less resolution
per display
, you do NOT need an active adapter. That's correct. A
passive adapter
works perfectly fine! If you've followed the information, there's a lot out there regarding a passive adapter not being able to time the signal properly. Stop worrying about it. I picked up a cheap passive adapter, it works perfectly fine, and it's not active at all. It's VGA even, not even DVI. And you know what? You can't even tell the difference. Again, if you're using 1080p resolution displays, you're fine with a passive adapter!
This does NOT mean that all passive adapters work. There are reports of many adapters NOT working, which is why a lot of people still believe that active adapters are required. There are some passive adapters that work flawless. But again, I must stress, not all passive adapters work properly. You must understand this. I'm being redundant because if you read this and got a cheap adapter and it doesn't work, then you missed this and why I bothered to give you serial numbers on a passive one that is known to work flawless. My point? Get one that clearly is proven to work, not just any old passive adapter.
I picked up the HP Display Port to VGA passive adapter for
$30
.
(Click the image for a higher resolution version.)
This adapter is just a Bizlink
passive
display port to VGA adapter that is released by HP. It's about $30. You can get them as cheap as $20, but I wanted one that I knew worked, and it's well documented that this HP adapter works
perfectly.
I got mine from CostCentral, it was $28 there. The part number is
AS615AA
. You can find it in a lot of different places. Just search that number and find a place with free shipping or a low shipping rate and you're golden. You do not have to spend a pretty penny to get yourself an adapter that works flawless (no discoloration, no vsync/timing issues, no brightness differences, etc). Save your money.
Here are some images of the numbers and serials so you can help yourself to identifying one and getting something that will work for CHEAP rather than wasting your money on an active adapter. I saved $70 doing this, which is more money towards my second 5000 series card in the future when I crossfire.
I plugged it into the HD5850's display port, and then plugged my VGA cable into it and connected my three displays. I powered on the system. It found all three, treated them the same, and there's no issue what so ever. No flicker. No loss of color or brightness. It doesn't lose power. It doesn't lose signal. It doesn't have any problem what so ever.
Setting it up:
So the hardware works. Time to get the software working. After booting up and installing the ATI drivers for my new card, I go to my CC to see how easy it is to make an Eyefinity group even when I have 4 displays, so I'll have a 4 display setup, but three of them are going to be treated as one. I did this because I have a 37" 1080p LCD as well as the three 23" 1080p LCD's on this machine for movies and gaming (movies on the 37" obviously). Here's how easy it was:
I clicked "Create Group:"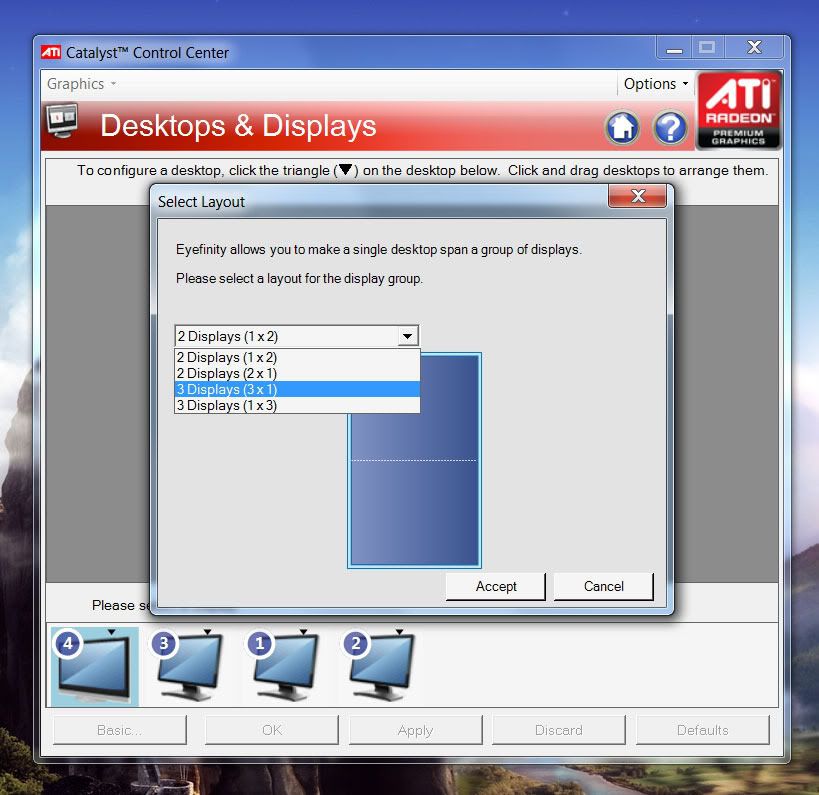 I selected how I wanted to group the displays: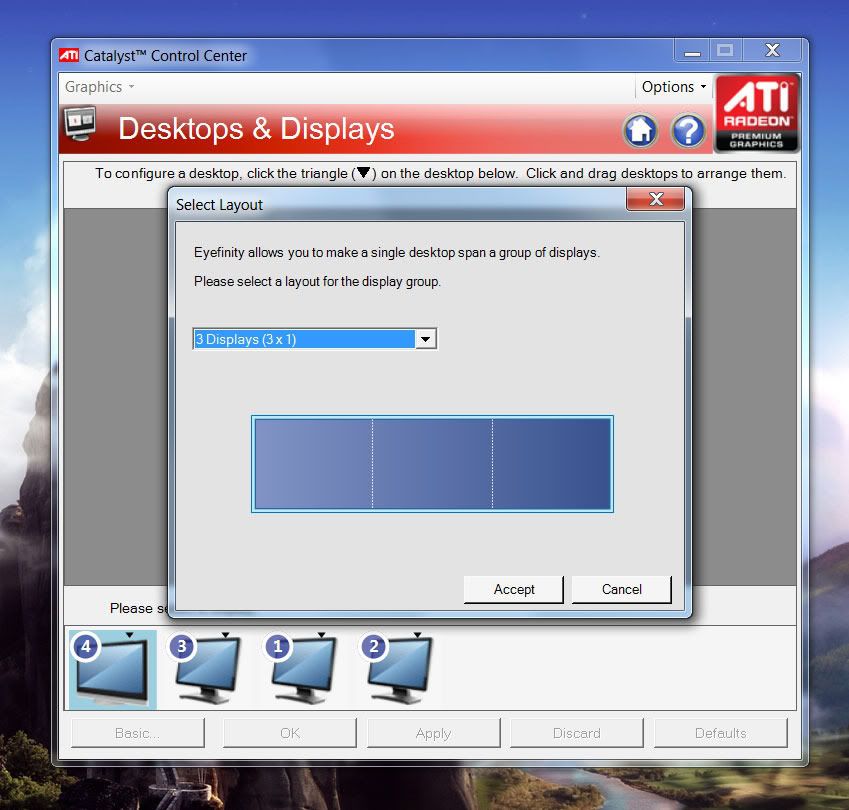 They're now one display group: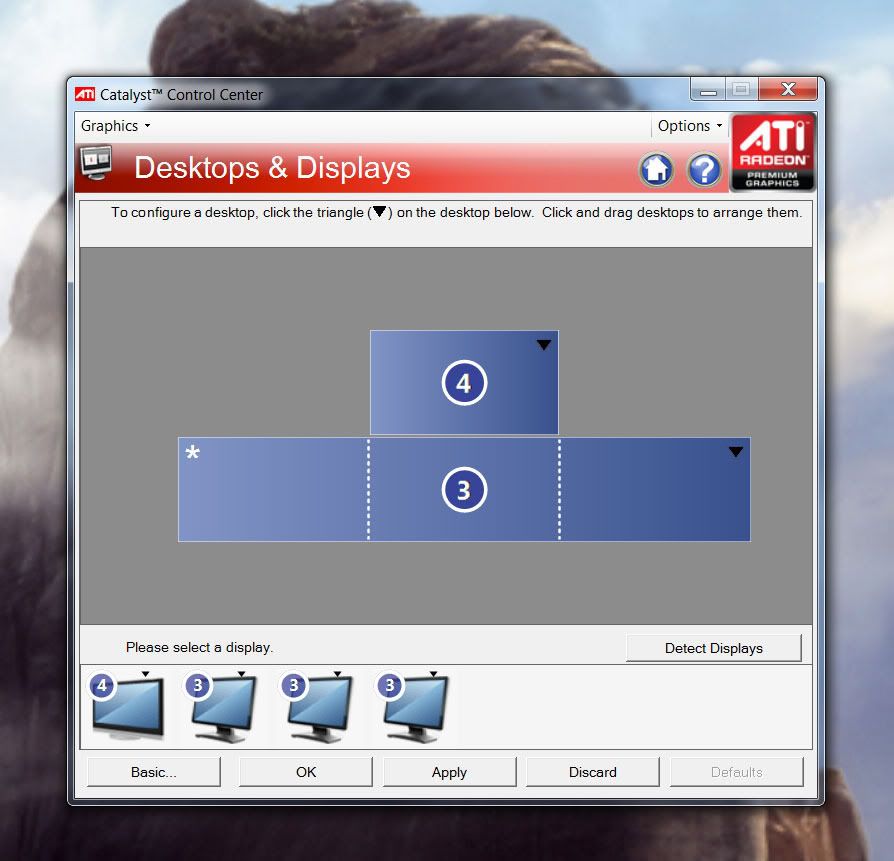 And here's the information as displayed with my LCD's and the resolution in this Eyefinity Group: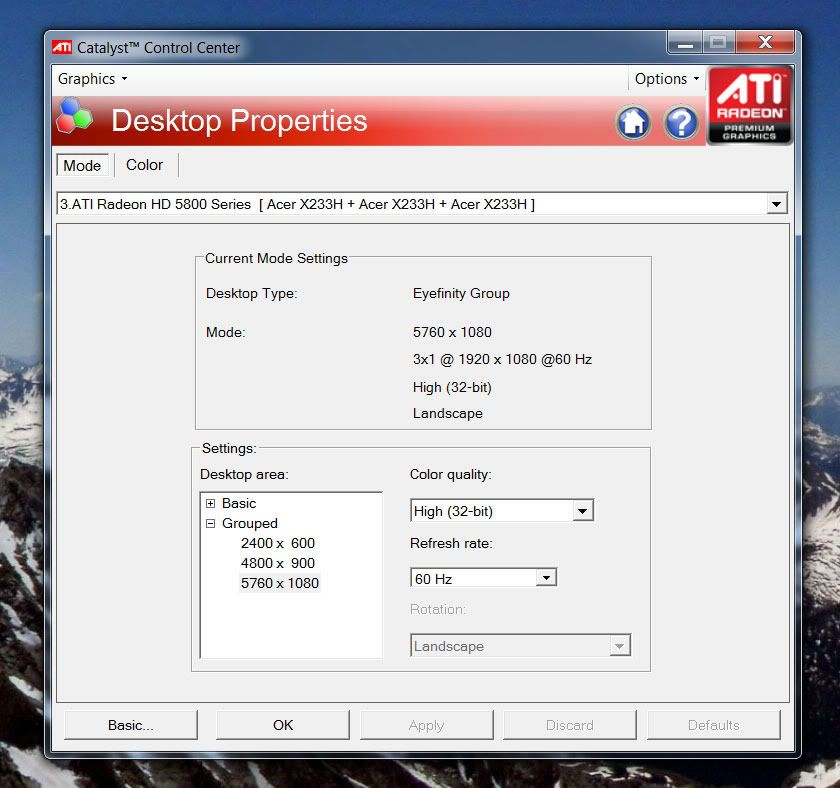 I accept this and test it real quick to ensure grouping is working: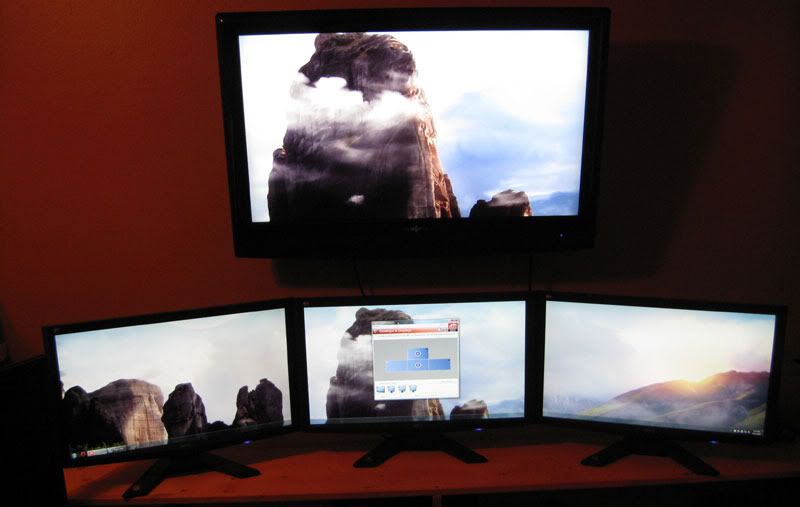 So what's this costing?
I picked up three X233H Acer LCD's for $150 each, so $450.
(Though I had them already, as I do a lot of productivity work.)
I picked up a Saphire HD5850 for $280.
I picked up an HP DP to VGA adapter for $30.
Initial Eyefinity Investment Cost:
$760
There's no hiding that Eyefinity is still a novelty setup. It's very costly. But I want to make a comparison for you. If you look at the cost of a single HD5970, I spent a little bit more, and got a complete Eyefinity setup for a bit over the cost of a single high end videocard. So those of you thinking about what to get... buy the HD5970? Or spend a bit more and get a complete Eyefinity kit with displays and adapter included for similar cost. Not a hard decision for me! Though I happen to use a lot of displays already (I have 6 total), as I like to have a lot of websites open, software running, and I do a lot of work on my machine; Eyefinity is nothing new for multi-monitor use. Eyefinity simply gives me an opportunity to use a lot of my screen space to make my gaming immersion take flight to a whole new level. Eyefinity really only cost me $310 to get into, as I was already going to have these displays anyways. Not a big investment to take advantage of what I already had essentially if you think about it; this may be the situation for you too.
Naturally, one must ask... how does it perform? Can you actually game on this? Is it strong enough to play games at 5760x1080 or is this a big waste of money? Well, the numbers and videos will speak for themselves.
Next up, we move on to games of course! I have a host of images and videos to show off how it works as well as some basic benchmarking.
Edited by MalVeauX - 4/14/10 at 7:19pm
CPU
Motherboard
Graphics
RAM
955BE @ 4.0Ghz (awaiting bulldozer)
GA-990XA-UD3
HD5850 + 2x GT520
16GB GSkill Sniper DDR3
Hard Drive
OS
Monitor
Keyboard
OCZ Agility 60g SSD, + Multi-Terabyte Server
Win 7 Pro x64
I have SIX displays.
Razor Arctosa
Power
Case
Mouse
KINGWIN Lazer LZ-1000 Modular
NZXT Whisper
Logitech G5 max weighted
View all
hide details
CPU
Motherboard
Graphics
RAM
955BE @ 4.0Ghz (awaiting bulldozer)
GA-990XA-UD3
HD5850 + 2x GT520
16GB GSkill Sniper DDR3
Hard Drive
OS
Monitor
Keyboard
OCZ Agility 60g SSD, + Multi-Terabyte Server
Win 7 Pro x64
I have SIX displays.
Razor Arctosa
Power
Case
Mouse
KINGWIN Lazer LZ-1000 Modular
NZXT Whisper
Logitech G5 max weighted
View all
hide details