Hi guys,
This is my first worklog and my second mod. My plan is that this thing is gonna turn out as a zombie panic themed case mod.
The Victim:
This is my generic 10 year old case that I'm gonna be using for the mod.
By the end of the mod/ revival, this case should be transformed from an ugly beige case to something that shows my sense of respect for the zombie panic team.


The plan:
Front Bezel: The Front Bezel is going to be drilled out with a hole installed to allow air to actually be pulled through the case. An uber-scary skull fan grill with be installed over the hole and the metal which forms part of the frame behind the case will be removed to allow air to flow through nicely. One of the drive panels will be converted into an I - O panel with 2 usb ports and Power/ HDD indicators.
Side Panel: A fan hole and chrome style grill will be installed on the side panel. A window may or may not be installed. (Later decided on a biohazzard window, other side panel will have a red blood hand)
Back: The back cheese-grater style fan port will be removed and a hole for a 92 or 120mm fan will be made.
Colour/ Styling: The case will be painted black in colour and I'm yet to decide on what themes I will use.
I should hopefully have some sketch up designs ready soon.
Part 1: The Fan Hole
I've drilled out the fan hole on the front bezel and placed the fan grill on the
bezel to show you what it will look like with the fan.
Part 2: The Bay Panel
For the bay panel I have drilled out holes and used them for usb ports and holes for HD and Power Activity lights.


Part 3: The Right Side Panel
After painting the panel black I felt it was a bit empty. I know most of the time no-one looks at the right side, but still, no need for it to go neglected. After some thought I decided to add a bloodstained handprint (this fits well with the zombie panic theme). After finding a hand print I was happy with, I cut out the stencil into the tape and started painting.
I'm quite happy with the stencil so far.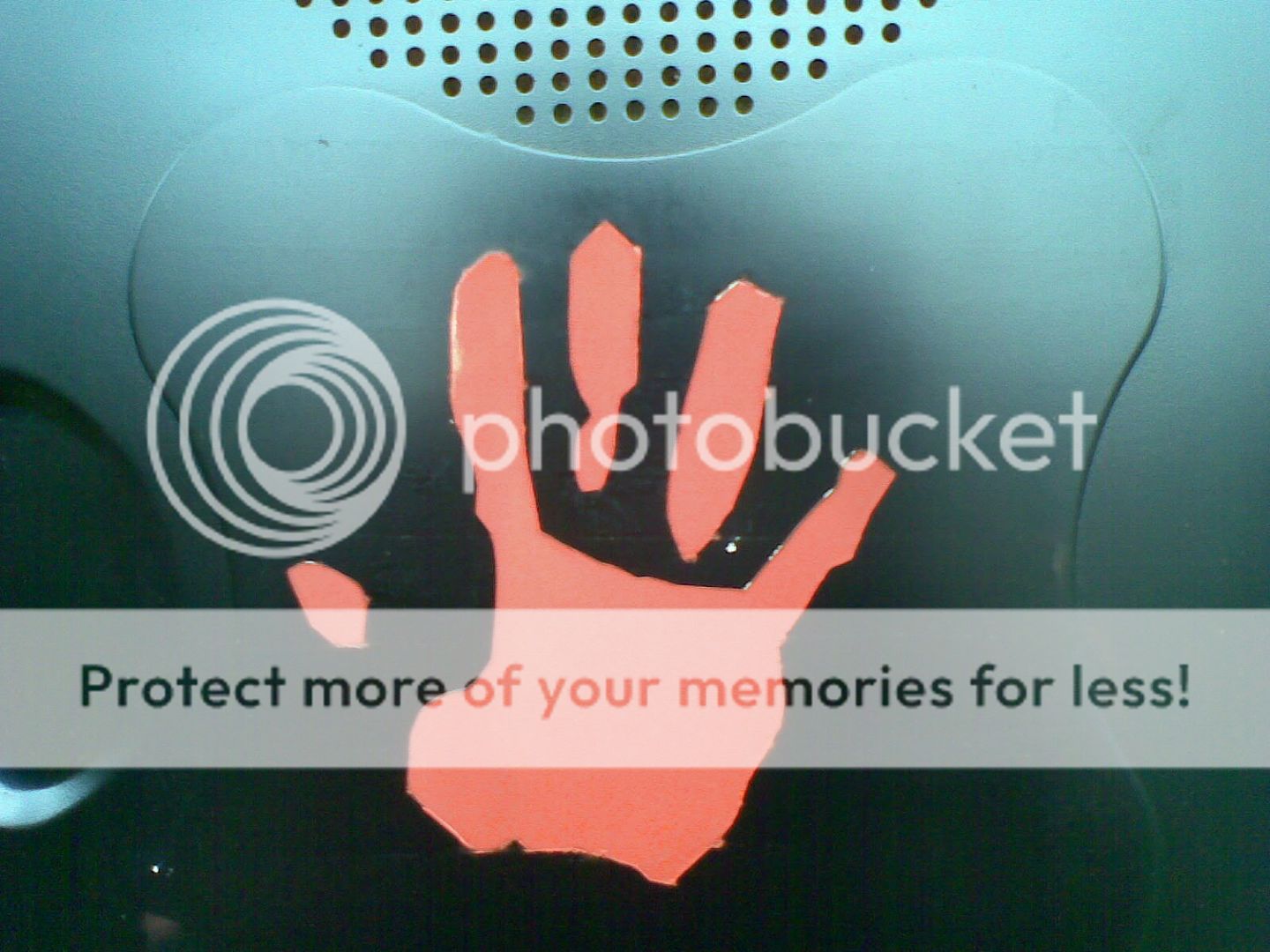 A little bit of cleaning up is needed (first time I have tried stenciling a hand) but otherwise I'm happy with things so far.
Edited by smashblock - 6/26/10 at 7:15pm
CPU
Motherboard
Graphics
RAM
Phenom X3 720
Gigabyte 990 FXA-UD3
Radeon HD6790
Ripjaws 1600mhz 2X4GB
Hard Drive
Optical Drive
OS
Monitor
SpinPoint F3 1TB X 2 RAID 0
USB DVD-RW
Windows 7 Ultimate 64
ASUS VW222U
Power
Case
Mouse
Silverstone ST60F-P
Asus Vento (Temp)
Microsoft Intellimouse 3.0
View all
hide details
CPU
Motherboard
Graphics
RAM
Phenom X3 720
Gigabyte 990 FXA-UD3
Radeon HD6790
Ripjaws 1600mhz 2X4GB
Hard Drive
Optical Drive
OS
Monitor
SpinPoint F3 1TB X 2 RAID 0
USB DVD-RW
Windows 7 Ultimate 64
ASUS VW222U
Power
Case
Mouse
Silverstone ST60F-P
Asus Vento (Temp)
Microsoft Intellimouse 3.0
View all
hide details