Quote:
Originally Posted by SirGazzard
Any advice is much appreciated, as I'm new to this overclocking thing.
Last night following some of the advice on these fine boards I had a wee tweak with the system. The cpuz screenies show what I achieved.
I think my mobo severely limits the memory speeds so I didn't play with them but I upped the fsb to 220 at a 12x multiplier and upped the cpu voltage to 1.55v.
Any tips for the memory?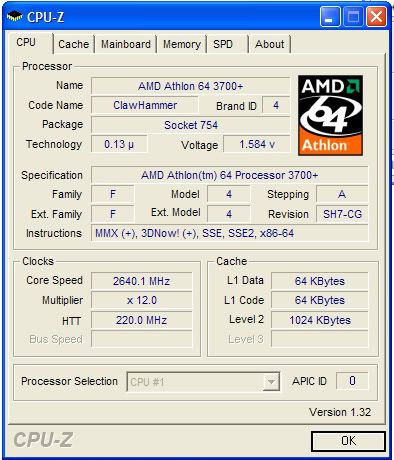 I had this problem for a while, and my mobo had no options to change the memory dividers. I would recomend flashing your motherboard bios with the newest version. I know it is easy for gigabytes, i am not sure how easy it will be with yours though
CPU
Motherboard
OS
Monitor
AMD Athlon 64 3700+
Gigabyte NForcfe3 250GB
XP Pro
NEC 19" CRT
Power
Case
480W Thermaltake
Masscool
View all
hide details
CPU
Motherboard
OS
Monitor
AMD Athlon 64 3700+
Gigabyte NForcfe3 250GB
XP Pro
NEC 19" CRT
Power
Case
480W Thermaltake
Masscool
View all
hide details