Quote:
Originally Posted by
IEATFISH
1) That sounds like a good idea.
2) That sounds like a good idea
3) That sounds like a terrible design.
I remember mentioning this a while back and then promptly forgot about it. XD How were you planning to attach the hinges to the base?
1) Nice.
2) Eeeexcellent.
3) It is my intention to use pass-though hardware (black oxide, low profile allen-head bolts).
If I may be so bold as to make a couple of suggestions....?
erm.. perhaps I could make the rear feet smaller and incorporate a third in the center, it would look similar to this (but without the top-side profiling):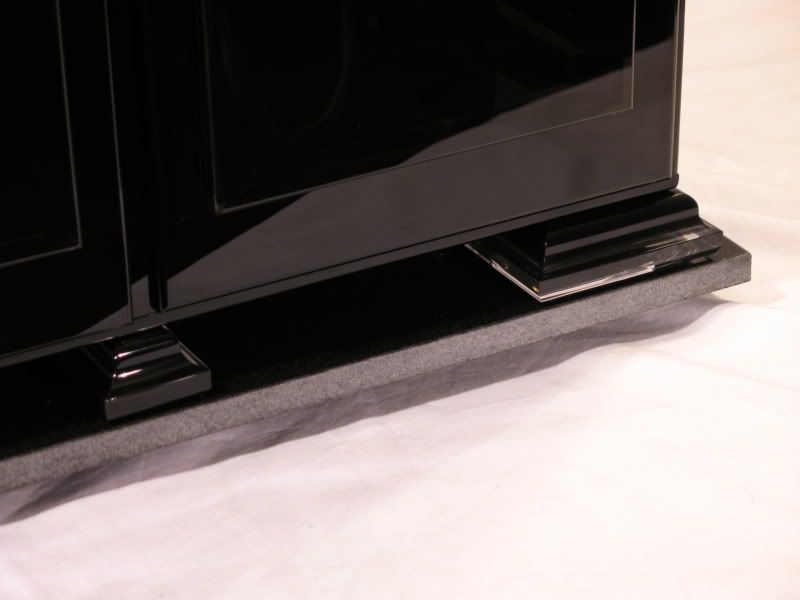 or... maybe change the location of the hinges, but that will alter the visual balance...
Thoughts?
CPU
Motherboard
Graphics
RAM
i7 2600K
GA-P67A-UD7
GTX 580
2 x 2GB Corsair
Hard Drive
Optical Drive
OS
Monitor
C300 (OS), Velociraptor (storage)
Lite-On
W7 64-bit Pro
Samsung 275T
Keyboard
Power
Case
Mouse
Black Widow Ult.
Silverstone DA750
Lian Li T60
R.A.T. 7
Mouse Pad
Q-Pad
View all
hide details
CPU
Motherboard
Graphics
RAM
i7 2600K
GA-P67A-UD7
GTX 580
2 x 2GB Corsair
Hard Drive
Optical Drive
OS
Monitor
C300 (OS), Velociraptor (storage)
Lite-On
W7 64-bit Pro
Samsung 275T
Keyboard
Power
Case
Mouse
Black Widow Ult.
Silverstone DA750
Lian Li T60
R.A.T. 7
Mouse Pad
Q-Pad
View all
hide details