Quote:
Originally Posted by
Chicken Patty
Holy crap, so that 120.3 rad is really shining now
Those are great temps considering the voltages you are running dude
Hell yea man! I ran prime for about 2 hours and the tmeps were pretty much locked into what that pic shows after 30-40min. The NB went up to 39C but never broke 40!
Check this out... After I killed the prime run, I loaded up WCG and went to work for the OCN team. I left it crunching all night full blast and this morning here were the temps: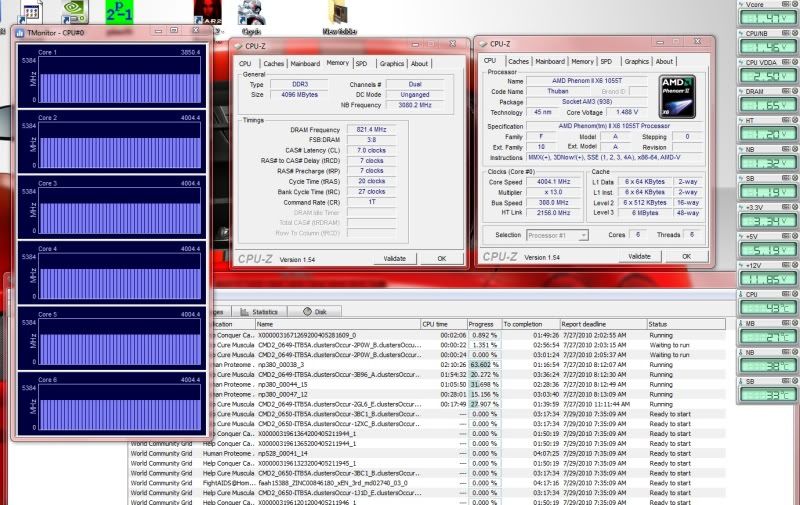 And thats after 10 straight hours! Simply awesome... I could not have asked for more out of this setup... makes me curious as to what this rad can really do with high pressure 38mm fans and some shrouds... oh well can't fit em in the case anyway...
Edited by Phobos223 - 7/19/10 at 5:53am
CPU
Motherboard
Graphics
RAM
Phenom II X6 1055T @4.0GHz (308x13) / 3.08GHz NB
ASUS Crosshair IV Formula w/EK full coverage block
ATI 5870x2 Crossfired @ 950/1250
8GB Corsair Vengeance DDR3 1600
Hard Drive
Cooling
OS
Monitor
OCZ Vertex 3 SSD
Swifttech Apogee Drive Block/Pump
Windows 7 64bit Pro
ASUS 27" LCD
Power
Case
Corsair Professional Series Gold 650W
Lian-Li PC-650A
View all
hide details
CPU
Motherboard
Graphics
RAM
Phenom II X6 1055T @4.0GHz (308x13) / 3.08GHz NB
ASUS Crosshair IV Formula w/EK full coverage block
ATI 5870x2 Crossfired @ 950/1250
8GB Corsair Vengeance DDR3 1600
Hard Drive
Cooling
OS
Monitor
OCZ Vertex 3 SSD
Swifttech Apogee Drive Block/Pump
Windows 7 64bit Pro
ASUS 27" LCD
Power
Case
Corsair Professional Series Gold 650W
Lian-Li PC-650A
View all
hide details