Wanna see your desktop while browsing the internet? Here you go boys and girls and for you no0bs out there (not pointing at anyone tho).
1st Click on Your Nvidia Icon Lower Right Corner and bring your cursor over to nVidia Display and click on your monitor model.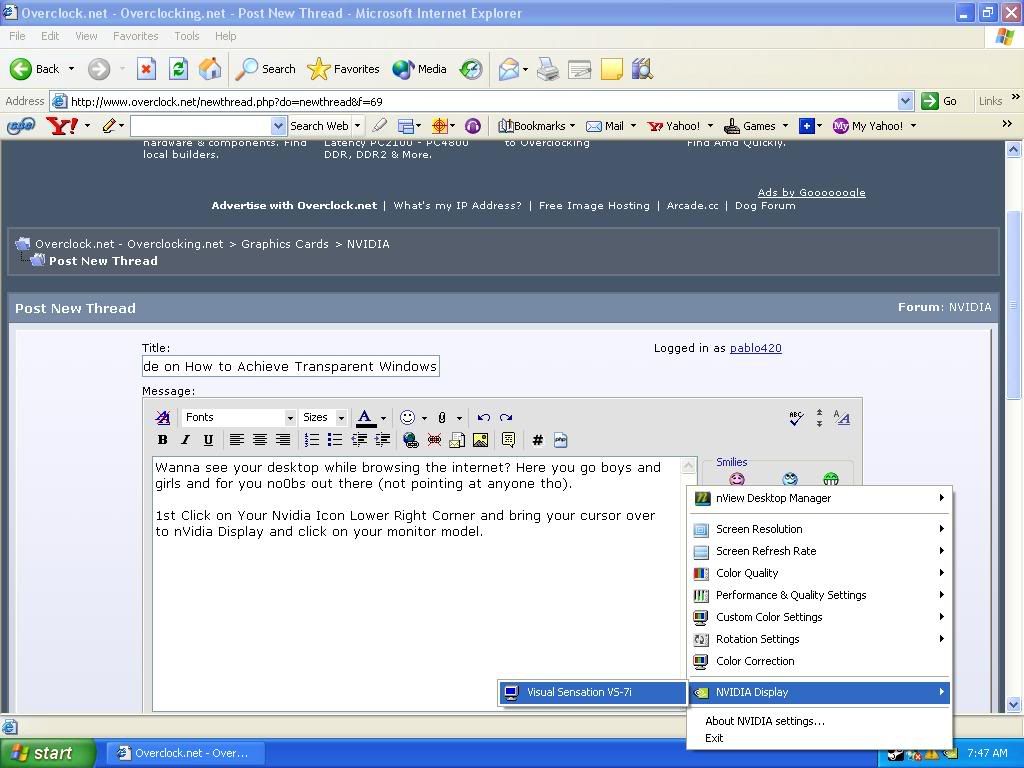 You'll get a Window, and you'll want to click on Desktop Management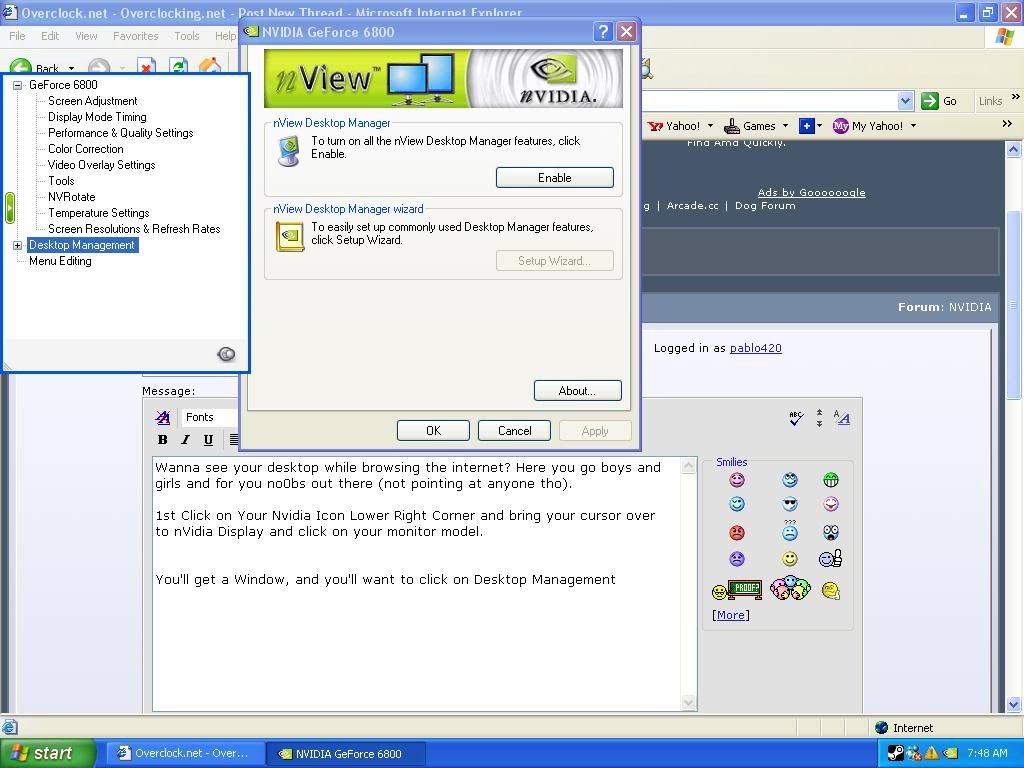 Now click on Enable and you'll get Sub-Menus Under Desktop Management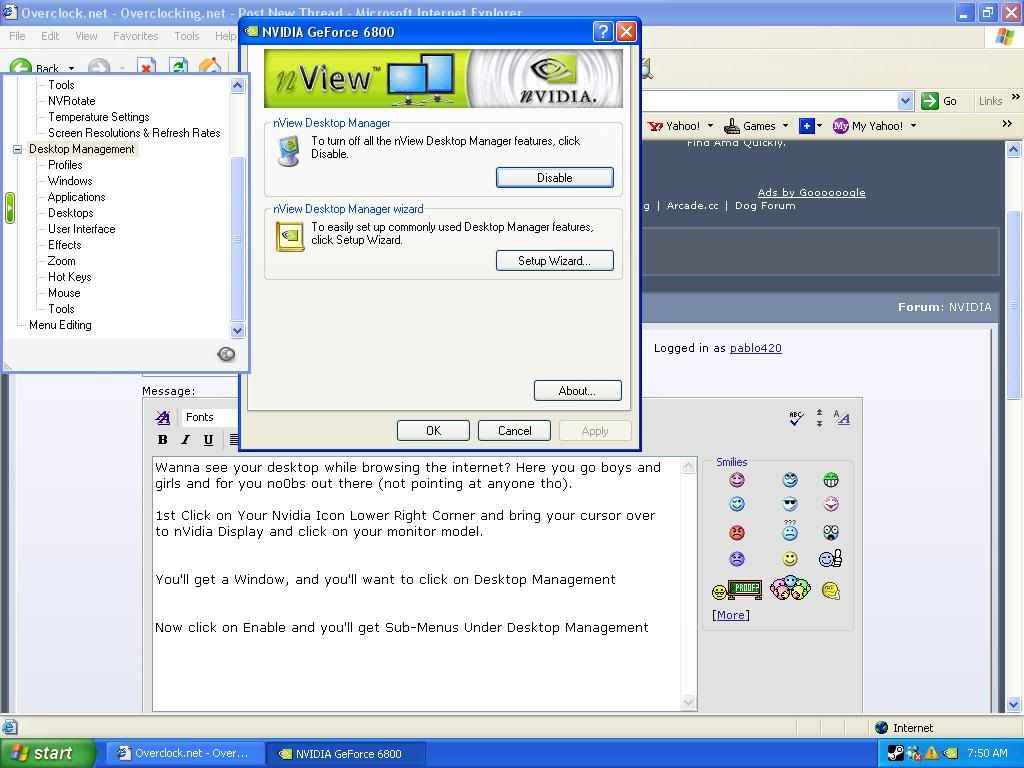 Click on User Interface and check off "Enable nView Option in the Windows desktop right-click menu" & Hit Apply.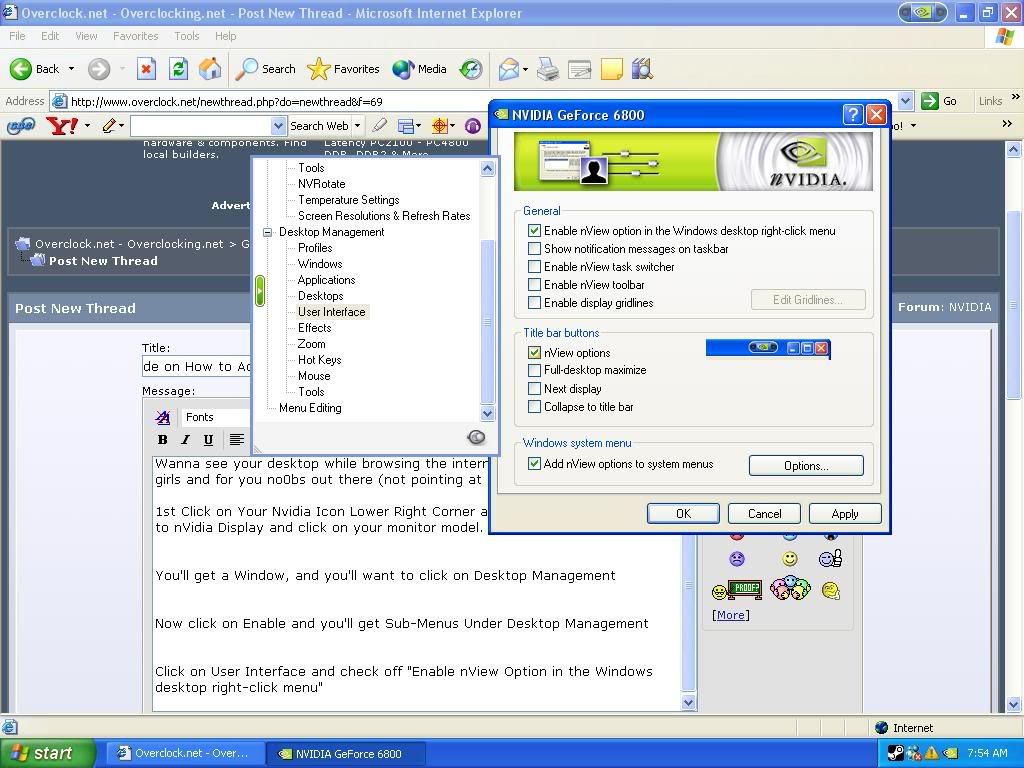 Then You'll Get an nVidia Icon left of the " _ " icon. Click on the nVidia Icon and You'll get MORE sub-menus.
Click On Transparent and your Set!
Enjoy!
CPU
Motherboard
Graphics
RAM
AMD Athlon II X4 630
Biostar TA760G M2+
Sapphire HD5870 2GB EyeFinity 6 Edition
Corsair 4 (2GB x 2) XMS2 DDR2
Hard Drive
OS
Monitor
Keyboard
Hitachi Deskstar 750GB SATA HDD
Windows 7 Ultimate (64)
Dell 20" UltraSharp 2009W
DKT Board EverGlide
Power
Case
Mouse
Antec TPQ-850
Cooler Master 832
A4 Tech X7
View all
hide details
CPU
Motherboard
Graphics
RAM
AMD Athlon II X4 630
Biostar TA760G M2+
Sapphire HD5870 2GB EyeFinity 6 Edition
Corsair 4 (2GB x 2) XMS2 DDR2
Hard Drive
OS
Monitor
Keyboard
Hitachi Deskstar 750GB SATA HDD
Windows 7 Ultimate (64)
Dell 20" UltraSharp 2009W
DKT Board EverGlide
Power
Case
Mouse
Antec TPQ-850
Cooler Master 832
A4 Tech X7
View all
hide details