So this guide is to inform you and teach you how the Shaders work on NVIDIA video cards. I'm only going to show how the shaders work and nothing else. This is mainly for the 8800, 9600, 9800 and GTX 2xx series of cards. I'm not sure how any lower or older models work. My intentions are to give an example of how the shaders move.
The shaders in Nvidia cards move in "straps" or increments if you must. I'll demonstrate how these "straps" work in the following pictures. Most of the video cards mentioned above, with the exception of GTX 2xx 55nm move in 54mhz straps.
Before we continue you will need some of the following applications to overclock, stress test, and monitor your Nvidia gpu.
NOTE: There are no direct links to any of these since they are constantly updated. You will have to search for the latest version.
EVGA Precision
(overclocking utility and can stress test, includes hardware monitoring)
Riva Tuner
(overclocking utility, includes Hardware Monitoring)
Ati Tool
(stress testing)
Occt
(stress testing for cpu, but also has gpu testing in latest version)
GPU-Z
(gives useful video card info and shows temp)
GPUTool
(Useful for stress testing and overclocking, however, I've yet to use it and does not stress multi GPU)
Furmark
S (Useful for stress testing)
In the following pics, I will be using Riva tuner, ati tool, and gpu-z. All of the tests below were conducted using an 8800gs 384mb.
NOTE: There are more pictures than there are steps, I just wanted to give good examples of how they work.
Also, the Straps are listed at the bottom, below all the pics.
1.)
This first pic shows the card at stock clocks. You can see in gpu-z that the stock shader is 1375mhz. In riva tuner the shader is also set to 1375mhz, but in the hardware monitoring screen (thats built into rivatuner) it shows the shader at 1350mhz. This is to show that the card isn't even running at listed speed. The figures show in the HW monitor are the true and effective clocks.
Before moving the slider, it's a good idea to un-link the clocks, by clicking on the "link clocks" box.

2.)
In the second pic, I raised the shader to 1400mhz. You can see that in the HW monitor its effective speed is 1404mhz and not the requested 1400mhz.
3.)
Here I showed that when raising the shader to 1404mhz, it remains at 1404mhz.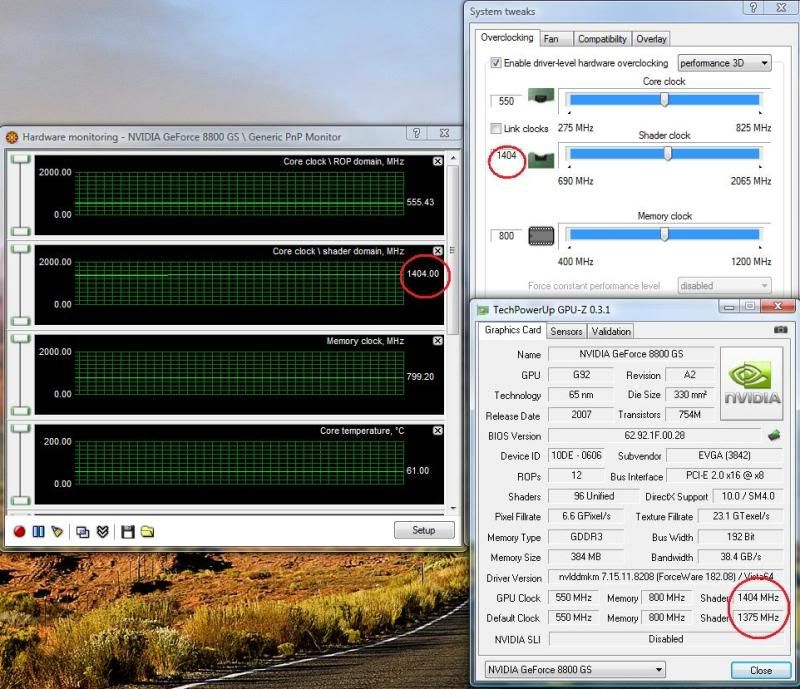 4.)
Once again, I raised the shader to 1450mhz, but the effective speed is 1458mhz. Hopefully by now you are realizing that the shader moves in 54mhz increments, regardless of the requested speed that I input into rivatuner.
5.)
Like in the previous strap, I raised the shader to 1458mhz and it remained at 1458mhz.
From here on out, I'm just going to show how to stress test. I typically stress about 15 minutes at each strap to find out if it artifacts right away. Once the card is reaching it's safe limits, it tends to artifact very quickly. After I have an idea of where the limits are, I stress for longer periods of time.
By no means do these tests guarnatee 100% stability in gaming, folding, benching, or general use. They are just to provide you with a good idea of your cards limits. It might not artifact at all in 24hrs but might crash within 20 seconds of gaming or benching.
6.)
This pic is to show ATi Tool. Ati tool is
only
used to scan for artifacts and is not to be used for overclocking. It doesn't even work with any of my cards. I have highlighted the "scan for artifacts" button to show where it's at.
7.)
Here you can see that ATi tool's artifact scanner has been running for 5 minutes. If the artifacts are small, it will restart the counter and the tests, so make sure you have an idea of how long it has been running. Also make sure to monitor temp.
8.)
After 20 minutes of testing at a higher shader strap and no artifacts yet
9.)
Just to make a point, I raised the shaders enough to where the artifacts would be very noticeable. Initial signs of artifacts would be a small yellow dot here and there.
List of straps and where they fall in:
Green= Requested speed
Red= Actual speed
Most 8800, 9600, 9800, & GTX 2xx 65nm
1216-1269=1242
1270-1323=1296
1324-1377=1350
1378-1431=1404
1432-1485=1458
1486-1539=1512
1540-1593=1566
1594-1647=1620
1648-1701=1674
1702-1755=1728
1756-1809=1782
1810-1863=1836
1864-1917=1890
1918-1971=1944
1972-2025=1998
2026-2079=2052
GTX 2xx 55nm
1242-1271=1242
1272-1315=1296
1316-1342=1332
1343-1364=1350
1365-1385=1368
1386-1423=1404
1424-1451=1440
1452-1467=1458
1468-1494=1476
1495-1532=1512
1533-1559=1548
1560-1576=1566
1577-1603=1584
1604-1641=1620
1642-1668=1656
1669-1685=1674
1686-1712=1692
1713-1750=1728
1751-1772=1764
1773-1791=1782
1792-1817=1800
1818-1854=1836
1855-1880=1872
1881-1899=1890
1900-1925=1908
1926-????=1944
Thanks Grunion for the help and 55nm straps