Here's the deal
I'm running in IDE mode, as my board has problems with AHCI!
So I was encoding a holiday vid and did it wrong, and ended up filling up my SSD. I had turned 6GB into 85GB
So I deleted the file and thought, I wounder if the trim command got through?
So I then moved a 20GB file from one of my HDDs to the SSD and the transfer speeds stayed at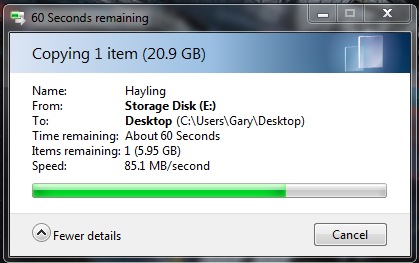 So I would say "Trim does work with IDE"
Sure AHCI mode is faster!
But there seemed to be lots of speculation about Trim and IDE mode.
And I think this has proved works
AC
CPU
Motherboard
Graphics
RAM
Intel® Core™ i5-3210M
Laptop
HD 4000
Corsair Vengeance 8GB
Hard Drive
Optical Drive
OS
Monitor
Samsung 840 250GB
DVD Multi
Windows 8
15.5 inch display (1366 x 768)
Keyboard
LED Back lit
View all
hide details
CPU
Motherboard
Graphics
RAM
Intel® Core™ i5-3210M
Laptop
HD 4000
Corsair Vengeance 8GB
Hard Drive
Optical Drive
OS
Monitor
Samsung 840 250GB
DVD Multi
Windows 8
15.5 inch display (1366 x 768)
Keyboard
LED Back lit
View all
hide details